There's More to See in this Great Sewing Studio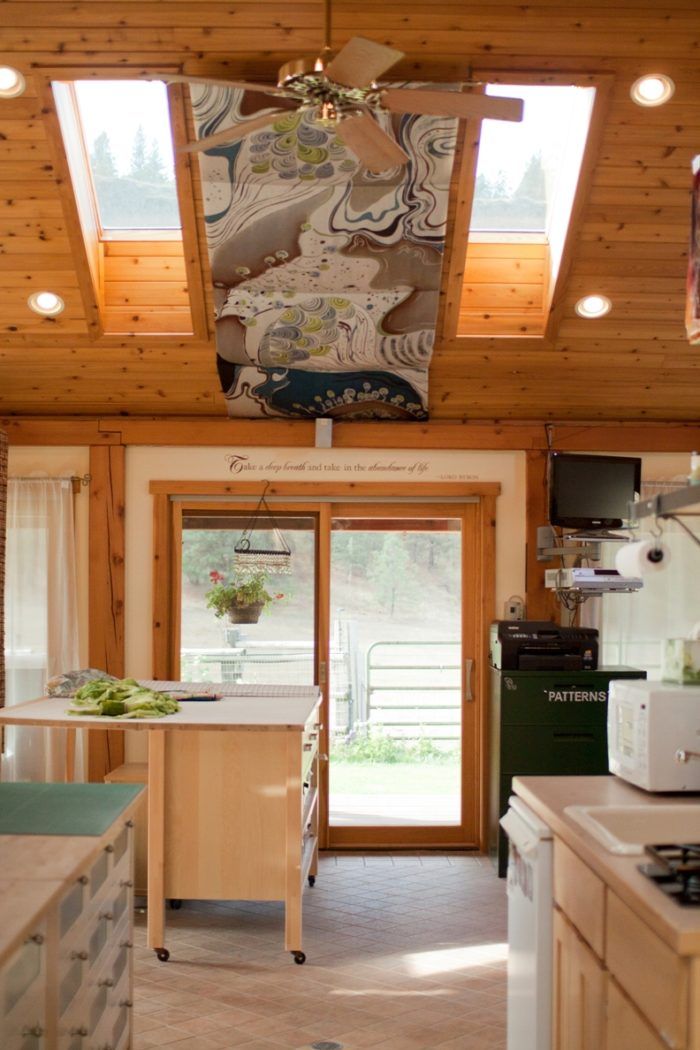 When I first approached designer and sewing educator Katrina Walker about being included in the Threads no. 159 story, "Sewing Spaces that Work," I didn't realize the wealth of images and ideas she would have to share. Katrina and her friend, professional photographer Samantha Cabrera, sent far more material than we could fit into print. Here, I wanted to share a more detailed version of Katrina's thoughts on studio space and organization, and more photos from her lovely farm and workspace. If you would like to more photos of Katrina's cute sheep, visit her farm blog at RoseButteRanch.Tumblr.com. 
Thoughts about Studio Layout and Organization
The smallest space I've worked in was a bedroom closet. I took the accordion doors off the front of the closet and the clothes rod out. I jung a curtain instead of the doors because it took less space. An office surplus desk that was shallow but long fit the space well; the pen drawer worked great for bits and pieces like bobbins, extra sewing feet, etc. Three large drawers to the side provided more storage.
A cubicle-style under-shelf fluorescent light was bolted onto the underside of the closet shelf for lighting. The side wall on my left had a cork bulletin board for pinning up pattern instructions. The other walls had pegboard for storage. Fabric storage was on top of the closet shelf. Layout and cutting was done on the living room floor. It was a very small duplex!
My current studio is definitely the largest workspace I've had. The layout is unusual so it does not offer as much open floor space as the size might suggest. There are five sets of sliding glass doors; I have chosen to curtain off two of them entirely and half of another two to create more "wall" space.
I do think that layout design/organization is as much or more important than square footage, as you can always get creative with folding cutting tables, etc. I've even had tabletops that sat on top of a twin bed before.
It was built by the previous owners to be a guest house/multipurpose room. What was originally a sleeping loft is now storage, and the space above the bathroom has also been converted into a storage loft. A former sauna room has been made into a small but convenient and functional office space just big enough for a desk and a couple of small bookcases. Of course the office walls are utilized for button storage bins as well as cork and white boards for noting deadlines and pinning up pieces of inspiration.
While it is great to have more space, it is possible to have too large a workspace for efficient sewing. No matter how large or small your space is, it needs to be arranged in such a way that related activities, such as sewing and pressing, are close together for convenience and efficiency. A sewing space is like a kitchen; if you have to move too far between functions you are wasting time – and space. Of course, there is no such thing as too much storage!
The most important thing about your studio furniture is that it fits – your body, your space and your work style. There are many wonderful pre-made sewing cabinets and systems that are available and may work well for you. In my case, at 5'10" I am much taller than average for a woman, and so these cabinets are the wrong height for me.
I also chose to use Ikea freestanding kitchen cabinets and countertops for my work areas, as I like to be able to either stand or sit (on a tall stool) at my machines. Being tall, this setup is easier on my body as standard sewing equipment is too short and since I spend more time at the pressing table than sewing chair, it also saves wear and tear getting up and down.
I find that I spend a lot of time moving back and forth from my sewing machine to my pressing or work table. I know that many solve that problem by having a small pressing surface near their sewing machine. I haven't had a workspace that fits that configuration well and I prefer to move around. Because my main issue is getting up and down from a chair, I chose to use freestanding kitchen cabinets and countertops for my main sewing area. They are high enough to allow me to either sit on tall stools or stand at my sewing machines. And they have proven to be very flexible in terms of adapting to new work spaces. I recently moved into my current studio and did not need to purchase or discard any furniture; simply rearrange it. 
Organization is the most important part of studio design. First of all, you must be able to find what you need easily and accurately. Hardware stores are a great place to find sewing organizational equipment. My theory is to get everything I can onto the walls where I can see it. So pegboard is a must. I have pegboard thread racks I've found at store fixture sales, but I also use a lot of hooks. I have over 500 mini-cones of embroidery thread; I organize them by thread color number.
It's the simplest system and makes it easiest for me to find a particular color using my thread charts. Pegboard hooks designed to hold various tools easily adapt to hanging scissors and various other tools. I keep my needles and presser feet in small pegboard bins and jars. My button collection is housed in nut and bolt organizers. So many drawers! They are easy to hang on the wall and inexpensive as well.
If you can't put it on the wall and must use a drawer or bin – label it. My family teases me about this, but I find that labeling drawers, etc. makes sure that I can find what I'm looking for and, just as importantly, I can put it back where it belongs. It's also helpful when I am working with a student in my studio; they can find tools much easier. Under every countertop and table is the potential for more storage. I have a bookcase tucked under my sewing workbench. It's shallow enough that I still have enough room for my foot pedal. I sit at, rather than under, my bench, so this works well for me.
For fabric storage, I prefer to use clear bins so I can see what's inside. And yes, I label them! I sort my fabric according to fiber primarily – silk, wool, cotton, etc. and then by fabric type – sheers, satins, crepes, suit weight, coating weight, knit, etc. In talking with friends I find that fabric organization is a very personal thing. Everyone has a different system. The only thing that matters is that it works for you.
As for studio décor: To paraphrase William Morris – do not have anything in your studio you do not know to be useful or believe to be beautiful – or find amusing, in my case. The ideal studio space is one that inspires as well as empowers your work. I prefer to hang some of my favorite textiles on the wall where I can see them rather than just store them away. They may never see a pair of shears – and that's okay, because they inspire me every day.
I love having my threads and other tools on display; it makes me want to use them. Other items, such as my little red stuffed mermaid provide no useful function whatsoever, but they make me smile and that lowers stress and makes me enjoy my workspace – which actually is pretty darn useful after all.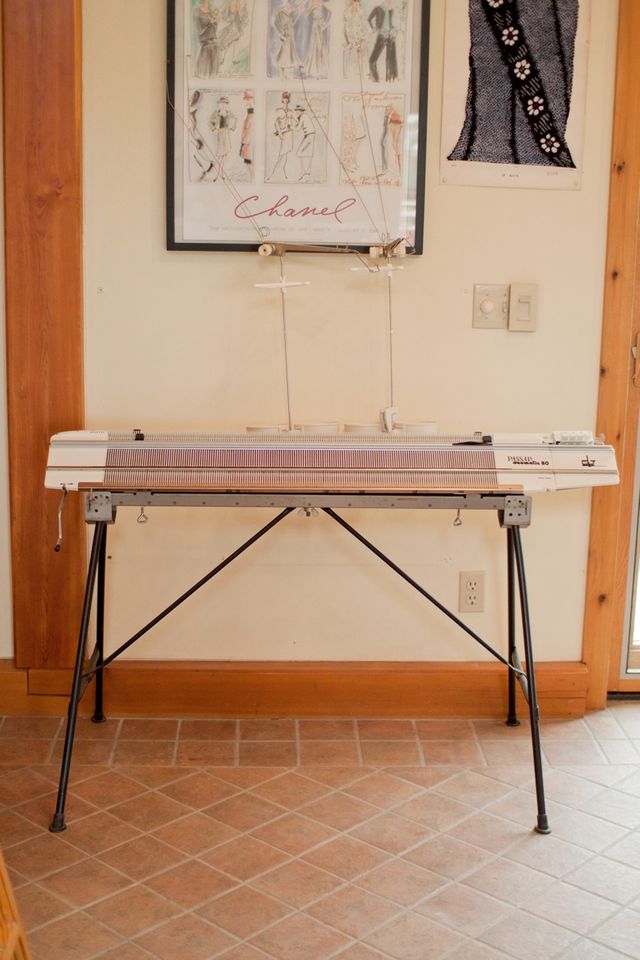 Katrina spins and dyes fibers from her sheep. She has a knitting machine in her studio.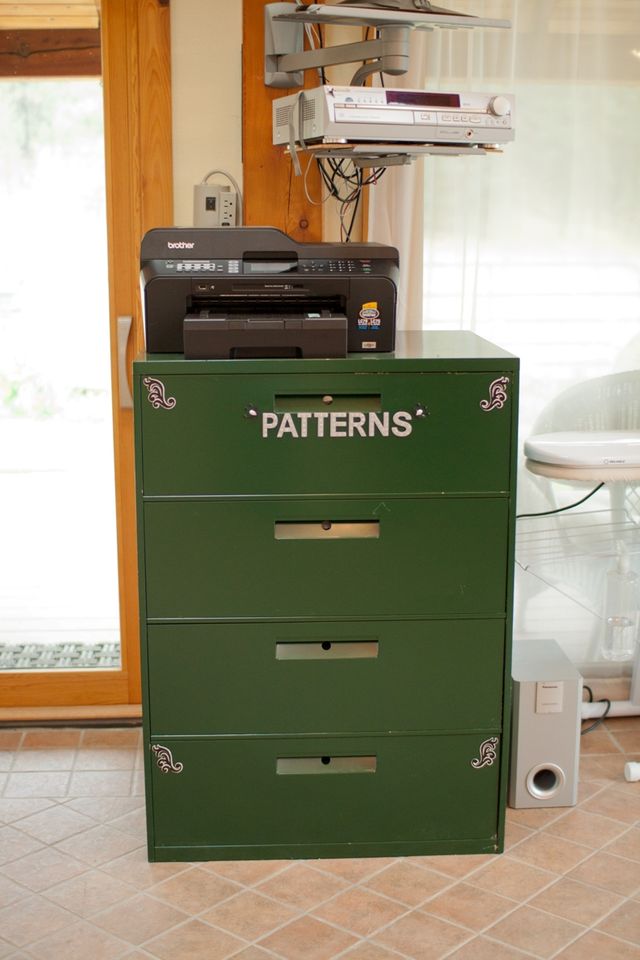 An old pattern cabinet stores - you guessed it - patterns! All of the artists included in our sewing studios story mentioned great storage finds from former fabric stores.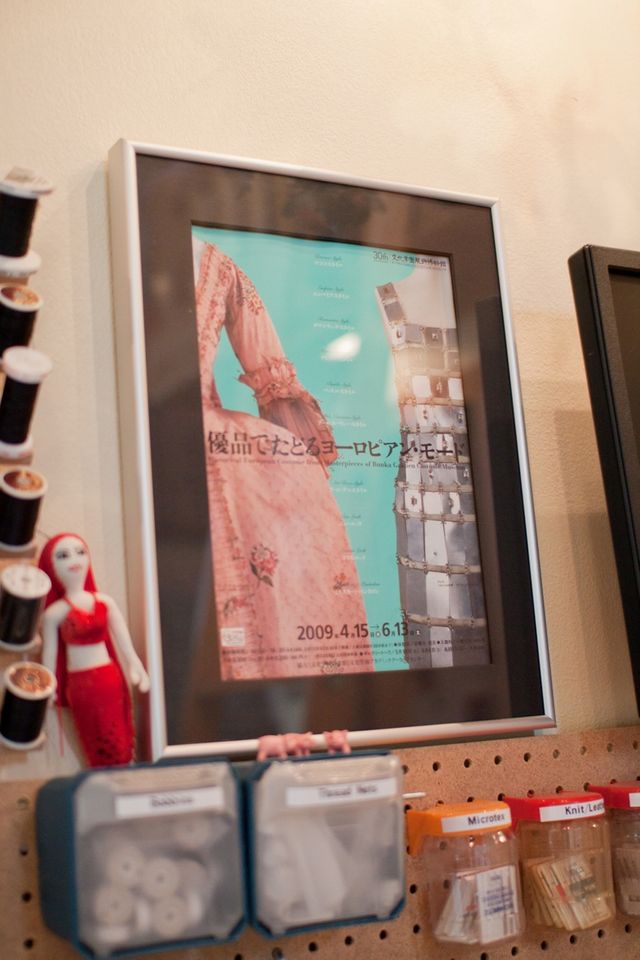 At lower left, the little red-haired mermaid that is one of Katrina's favorite items in her studio. In the frame, the catalog from a Japanese fiber arts exhibition.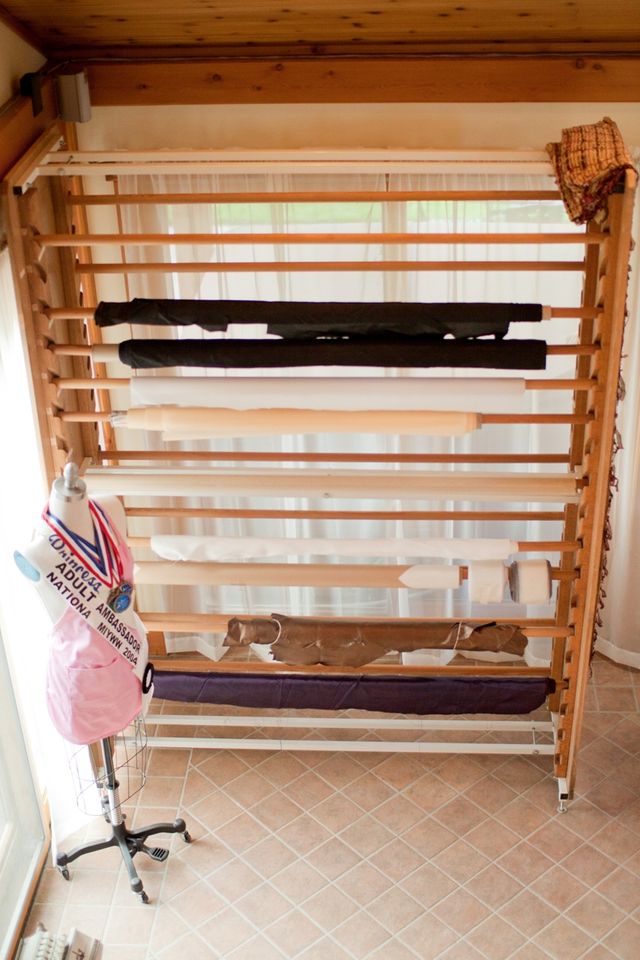 Katrina loves to store fabric on rolls, as well as to store items vertically. She picked up this roller rack system from a going-out-of-business fabric store, but it was a number of years before she had a studio large enough to use it.
Katrina says she's more prone to perch than to sit down to sew. Her studio layout is designed to group tasks, such as sewing or cutting, to particular areas.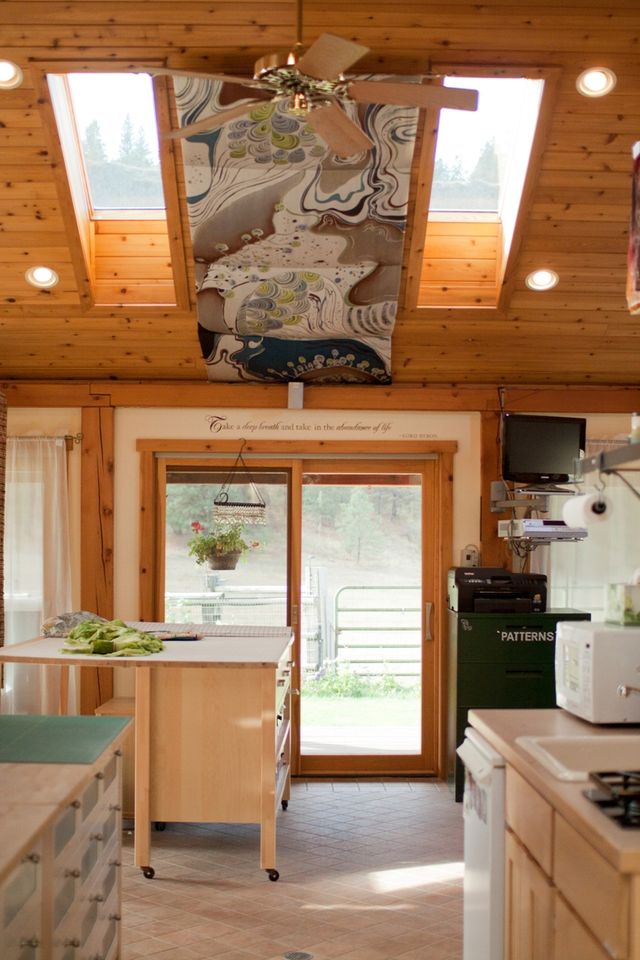 The former guest house that Katrina uses as a studio has almost too much window space! There are 5 sets of sliding glass doors and skylights. All the natural light is a boon, however, for an artist who works so much with color.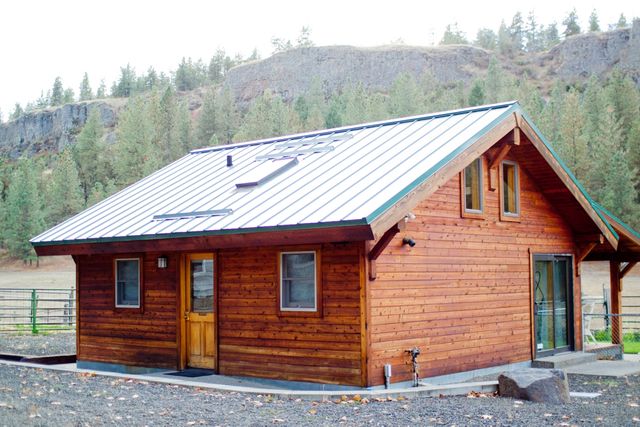 Katrina Walker's sewing studio was originally planned as a guest house - with a sauna!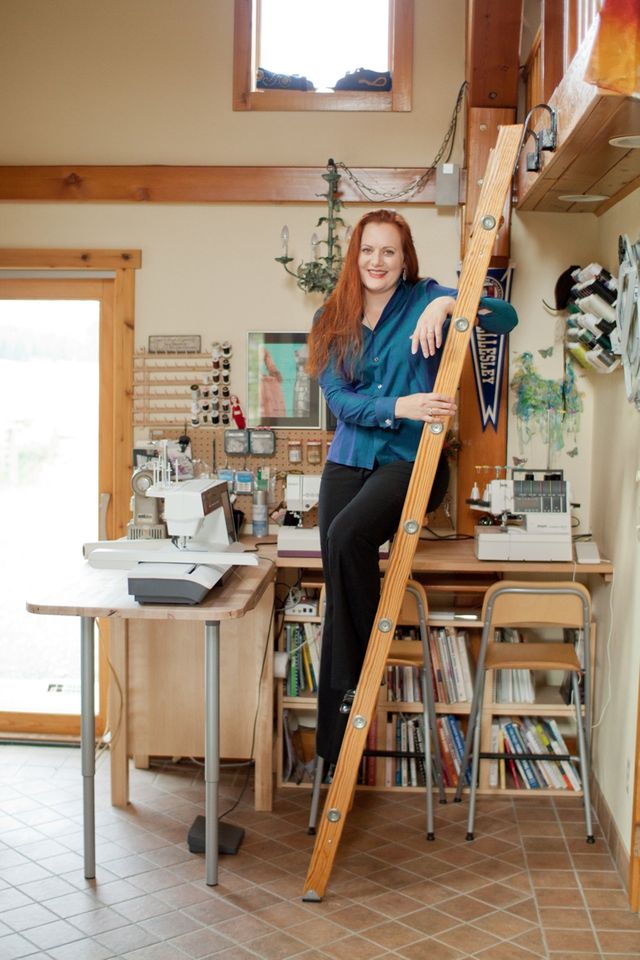 The studio has a sleeping loft area, which Katrina now uses for storage.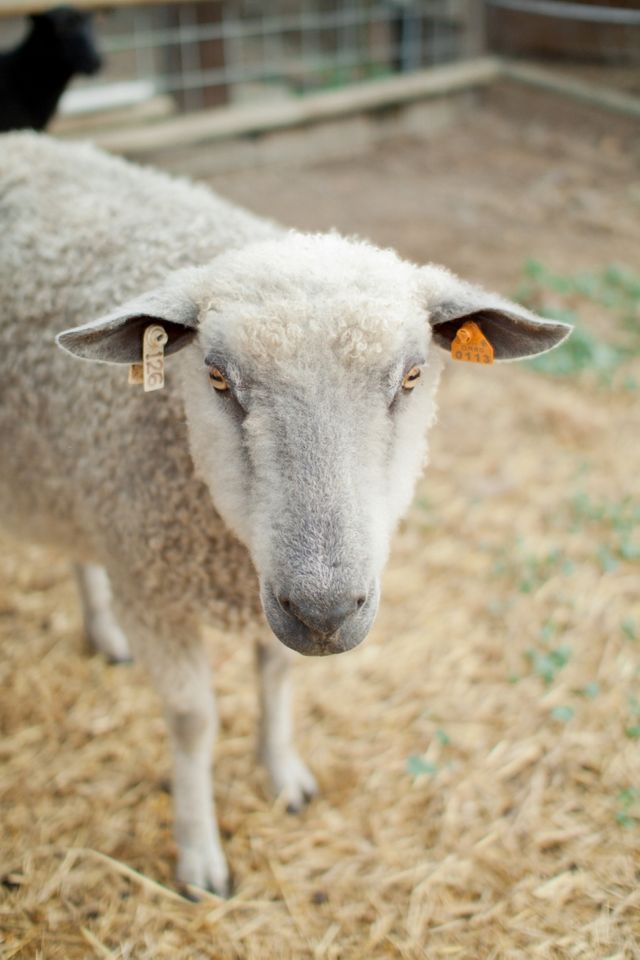 Katrina's farm, Rose Butte Ranch, has dogs, horses, goats, and lovely sheep to help supply her fiber arts projects. To read and see more about her animals, check out the blog at RoseButteRanch.Tumblr.com.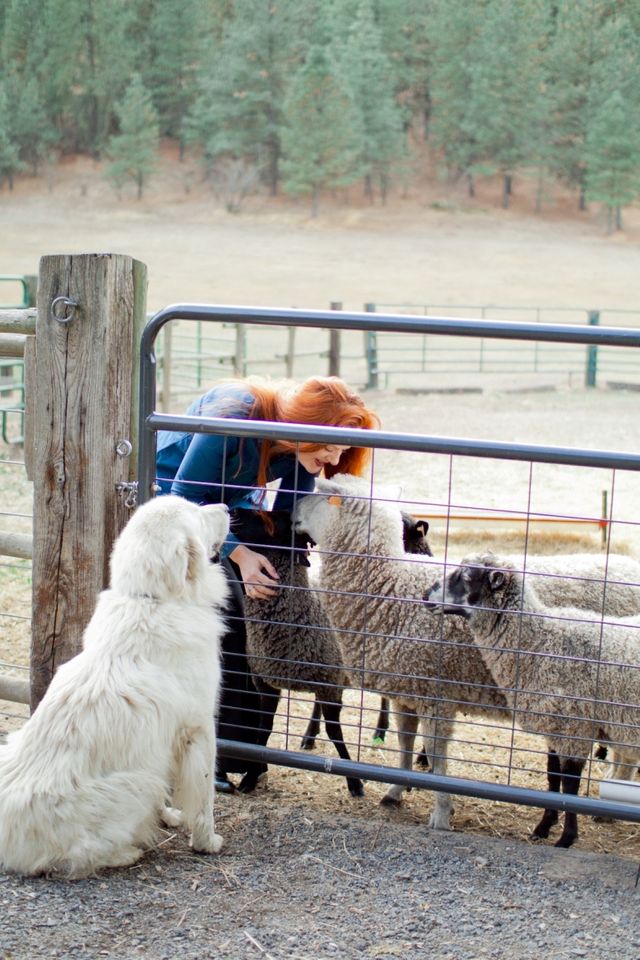 Rose Butte Ranch has three guardian Great Pyrenees to watchover Katrina's sheep and goats.