Holiday Tips: Bake, Sew and Wrap Ideas from Threads Readers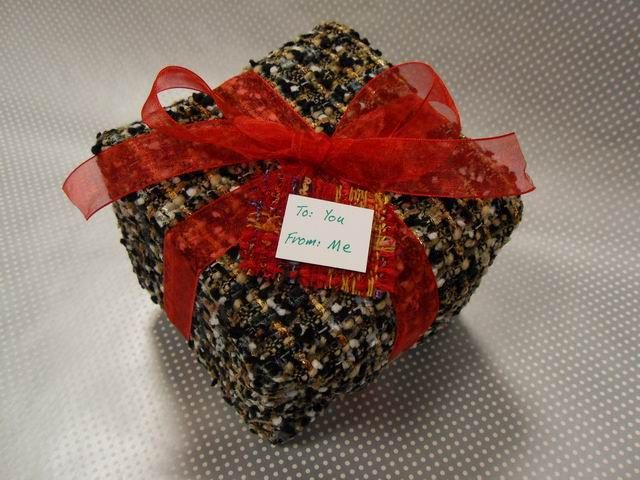 With Christmas just – gulp! – 9 days away, I thought about the many tips Threads has shared between sewers over the years. Inspired first by a cute baking tip in the next Threads issue, no. 153, I took a look back to find reader tips with a holiday connection in materials or mood. Here are a few:
Thread spool cookie press
"I try to be as 'green' as possible by using many items more than once before disposing of them, so an empty thread spool called for a new purpose. I washed it and used it to imprint the peanut butter cookies I made – after dipping the spool's end in sugar to prevent the spool from sticking to the dough. The baked cookies look like snowflakes or flowers and are an easy, creative twist on the traditional use of a fork to press peanut butter cookies prior to baking them. The cookies make a wonderful conversation piece, especially when I bring them to my quilt guild, and the spool press adds a clever 'sewing' touch to my baking." – a tip by Gail N. Rowles of St. Augustine, Florida, in the new issue, no. 153, on sale 1/4/11.
Baking paper pressing aid
"Parchment paper, typically used to line cookie sheets, makes a great press cloth. It's especially useful when pressing fusibles, appliques and the like. It's inexpensive, highly heatproof, transparent, and any excess adhesive stays on the parchement paper. It's impenetrable, however, so it's not good when your task requires steam." – tip by Nancy Macaulay of Micanopy, Florida in issue no. 150.
Fabric gift wrap
"If sewing and quiltmaking were as common among the populace as they should be, nearly every gift could be wrapped in a piece of fabric usable by the recipient in some project, instead of paper, which gets discarded." – idea from Jean SmilingCoyote of Chicago, in issue no. 125.
Handy ribbon pressing
"The next time you need to press a length of ribbon, don't head for the iron and ironing board. The table lamp next to you may be all that's needed.
Simply run the ribbon over any 60- to 100-watt light bulb (turned on and warm-hot to the touch). Be certain the bulb is dust-free. This also works on narrow lace trim." – advice from Carol Curtis of Bellflower, Illinois, in issue no. 79.
That old Magic tape has me in its spell
"I've just discovered a new product that's quickly becoming one of the most useful items in my sewing room. It's 3M Scotch Removable Magic Tape, available with office supplies. I use it to make pattern adjustments or to repair ripped pattern pieces. I also stick it directly on fabric for temporary markings or notes or to affix pattern pieces to fabric to avoid pin marks during the cutting process. (The tape can easily be removed for up to two months with out leaving marks on the fabric.) And it's a great tool when I trace Celtic knotwork patterns onto Irish linen." – tip from Luci Young Blood of Little Falls, Minnesota, in issue no. 76.
If you have any sewing tricks with a holiday link, please share in your comments. I think we all could use some last-minute ways to make things easier!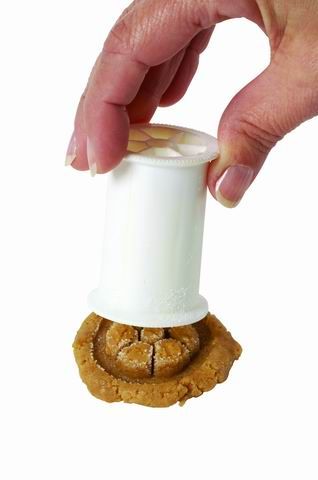 Threads reader Gail N. Rowles sent in a tip about using a thread spool as a cookie press. Imagine the great effect if you used red or green colored sugar. Read Gail's tip and much more in our new issue, no. 153.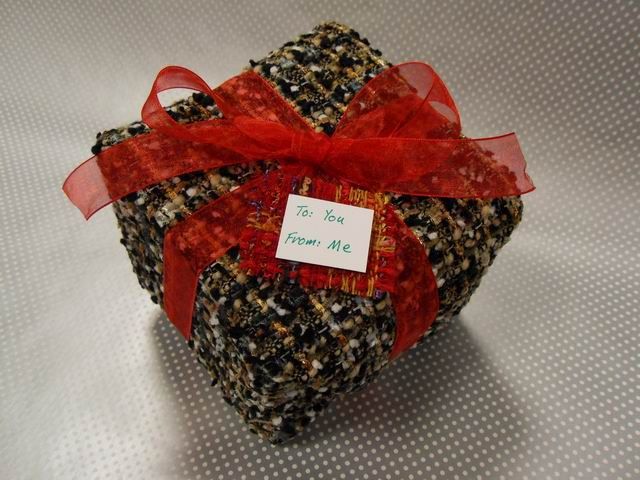 I love the thought of a fabric-wrapped gift, suggested by reader Jean SmilingCoyote.