Magazine Giveaway: Threads Issue #159, March 2012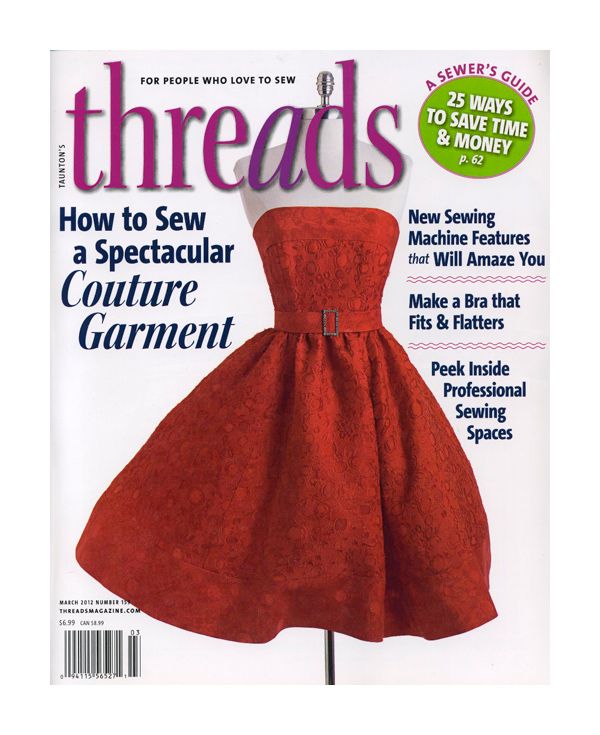 THE MARCH ISSUE OF THREADS WILL BE AVAILABLE ON THE NEWSSTAND ON 1/3/12
We received our office copies of the latest issue of Threads just yesterday, and I can't wait to read it. There are so many fabulous articles in this issue; I suspect it will be considered one of the best this year.
YOU COULD WIN A COPY!
You could win a copy of this amazing issue by simply leaving a comment at the bottom of the page. Tell us which article appeals most to you. Leave your comment on this post before the deadline—11:59 p.m., December 30—and you could win a copy of this issue. The winner will be randomly selected and announced during the week of January 2nd.
THERE'S SO MUCH TO LEARN INSIDE
Here are the highlights:
• Couture Construction by Contributing Editor, Susan Khalje
• Modern Machines will tell you about some of the finest sewing machines on the market today
• Artistry by the Strip is an embellishment technique that's unusual and easy, yet sophisticated and elegant
• Bra-Making Basics will show you how easy it is to make a perfectly fitted bra in no time at all
• Charles James examines distinctive gowns created by this amazing designer
• Sew Frugal will give you tips to save time and money when you sew
• Sewing Spaces That Work visits several professionals and their enviable sewing spaces
And of course, you'll also find our regular departments:
• Notions
• Tips
• Embellishments (Perforated Designs by Contributing Editor Kenneth King)
• How Did They Sew That?
• Designer Spotlight (Babette Pinsky)
• Pattern Review
• Fundamentals (Easy-to-sew boning)
• A Stitch in Time
• Embroidery Essentials (Reverse appliqué on leather)
• Reader's Closet
• Q&A
• Closures
• Back cover
WHAT APPEALS TO YOU THE MOST?
We all have our favorites. What do you think yours will be in this issue?