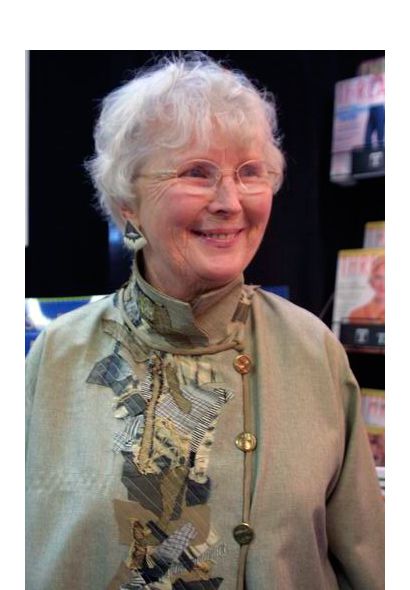 We just learned that our dear friend Lois Ericson died last week. Lois was a wife and mother, but she also was an author, teacher, and artist. She designed patterns and touched the sewing community like no other. Her books, patterns, classes, and persona opened the door to individual creativity for thousands of sewers. We already miss her spark.
Some years before I came to work at Threads, I had the opportunity to work with Lois for several days in her studio in Salem, Oregon. She and her husband, Len, picked me up at a late arrival flight in Portland. They drove me to a cottage, Lois handed me a key, and then said: "Here you are. Make yourself at home. Open closets and drawers, touch anything you want, eat anything you want, call us if you need anything, and I'll see you in the morning." This was Lois's studio about a mile from her home.
Imagine being left alone in the workspace of your idol and given permission to explore to your heart's content. I toured her magnificent button collection. I studied the garments on the rack and tried on some of them. I admired the artwork on the walls—the jewelry, the bags, and accessories she had made. Hanging from a branch in the kitchen was a collection of homemade brushes with twigs and retrieved pieces of wood for handles and feathers, along with straw, grass, and found fibers for bristles. Many treasures from fans and her daughters filled the studio's nooks and crannies, and there was a journal with messages from previous visitors. It was dawn before my head hit the pillow.
When my eyes opened, I saw a row of bodiless garments dancing across a bookcase. What charming and irresistible beings these were. I wondered if I had managed to catch the last of the fairies that came in every night to make sewing magic. Later that day, Lois explained she was working on an idea based on the pithy expression "Clothes don't make the man." She wanted to illustrate how clothes would be without the person in them. She made miniature kimono, coats, and gowns; saturated them in fabric stiffening liquid; and styled them on those wooden drawing models until they dried. Then the garment could be removed from the model and left to dance alone. This woman was a creative force!
Her generous invitation to pore over her studio was not just inspiring. It was her way of giving me, as she had hundreds of students and others, permission to find different paths and unleash personal creativity. In many ways, Lois Ericson changed my life.
Marcy Tilton tells us: If you want to honor Lois, follow her lead. Go into your studio and create. Make. Invent. Teach. Lois continued creating right up to the end, pursuing a renewed passion for watercolors, and—always, always, always—fabric and fiber. Her design sense and style were instantly recognizable. She was beloved by many, and she forged a path in the fiber arts that is a foundation of the work many pursue today.
Lois contributed many articles to Threads over the years. Here are just a few examples of her great work.
Resist-and-Spray Technique for Dyeing Fabric
Textures: From Photo to Fabric
Master Class: More Great Fabric Manipulations
Unconventional Buttonholes