An Inside Look at Mary Ray's Sewing Studio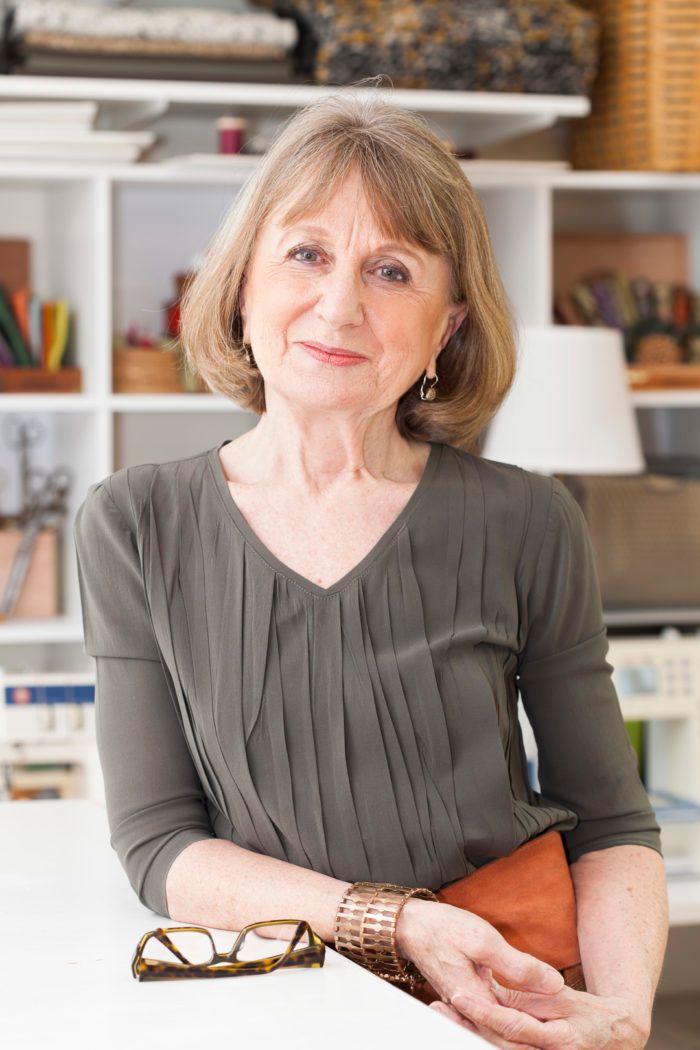 In Threads #175, our contributing editor Mary Ray shared her favorite methods for storing fabrics, notions, and thread in her North Carolina sewing studio. While keeping things neatly stored is important, she also likes leaving certain items out in the open so she knows what she has to work with. Below is an inside look at Mary's studio.

Take a look at more sewing studios and spaces:

• Ruth Ciemnoczolowski's Sewing Room
• Inside Louise Cutting's Sewing Room
• Another Look at Kenneth D. King's Sewing Space
• Helen Haughey's Favorite Tools and Storage Solutions
Here you will notice that Mary's workspace is filled with plenty of storage space and inspiration.
Decorative threads are stored by type in wooden wine boxes while Mary's all-purpose threads are kept in shallow drawers. Some of the thread types shown here include: variegated, embroidery, cotton Aurifil, 12-weight cotton, Sulky, silk, and rayon.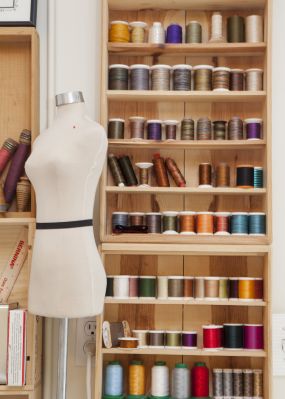 Below Mary models her textured silk top (Vogue 8536) with pressed-in pleats. See how she created the dimension on this lovely top here.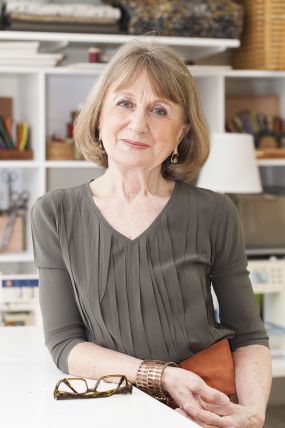 Mary loves her Delonghi steam generator iron because it has a heavy, professional soleplate. It can also be set for continuous steam, which she says is very useful when pressing large pieces of fabric.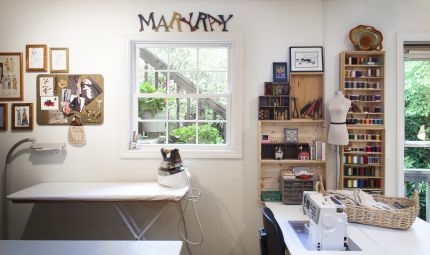 Fabrics and notions are stored on shelves and in cubes so Mary can see what materials she has at all times.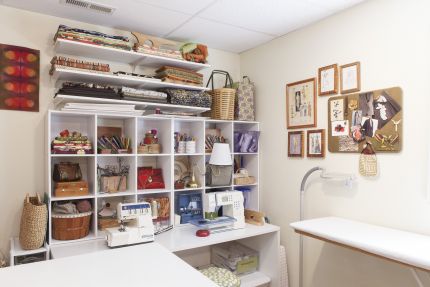 This inspiration board is currently decorated with images and objects Mary finds interesting.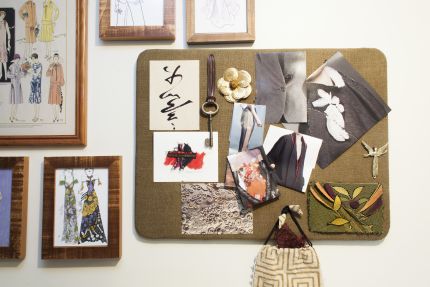 An assortment of straight and curved rulers remains at Mary's 72-inch by 45-inch cutting table at all times.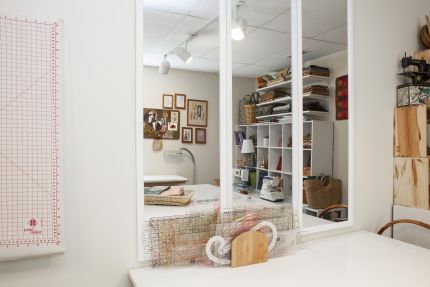 One table is obviously not enough, which is why Mary uses this second table as her "overflow" table.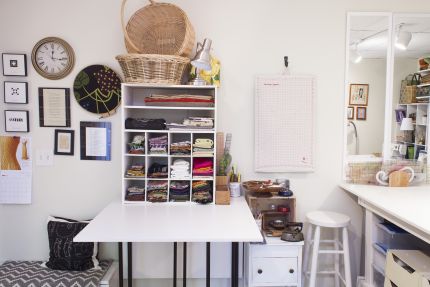 Mary has been collecting buttons for years and believes everyone should have a button jar. Some of the buttons below date back to her grandmother and mother. She generally stores her current buttons in plastic drawers and boxes.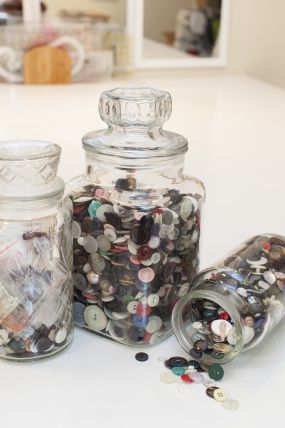 Design, fabric, and pattern-making books are easily accessible in Mary's studio. Still, she has four additional bookshelves filled with sewing-related books in another room nearby, which she calls her "spillover" room.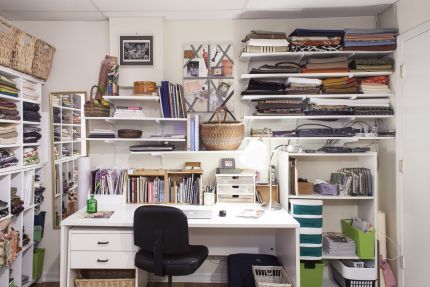 What's your favorite part about Mary's sewing room? Do you tend to accumulate certain sewing notions more than others? Please share your comments below!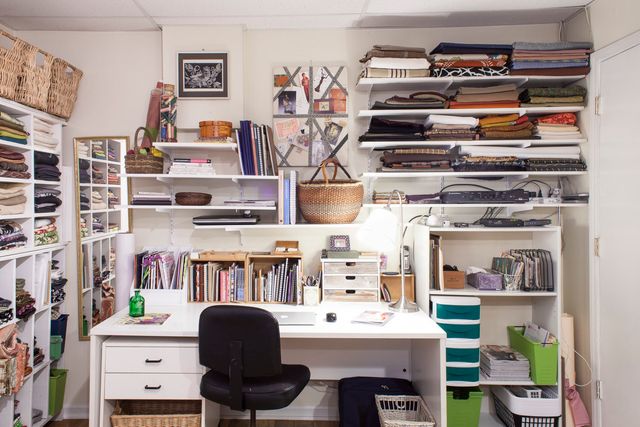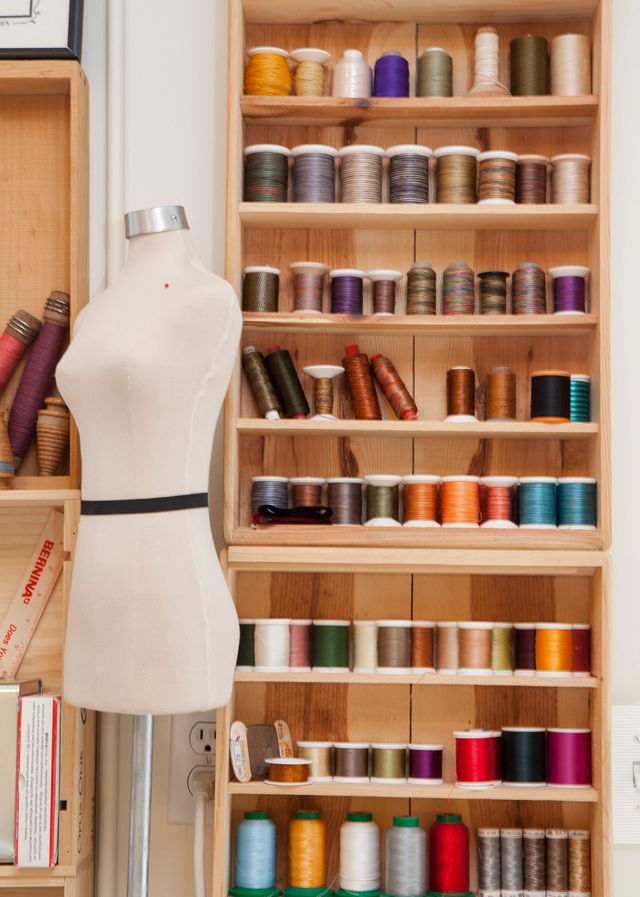 Mary has a large assortment of decorative thread, which she keeps in shallow wooden storage boxes for easy visibility.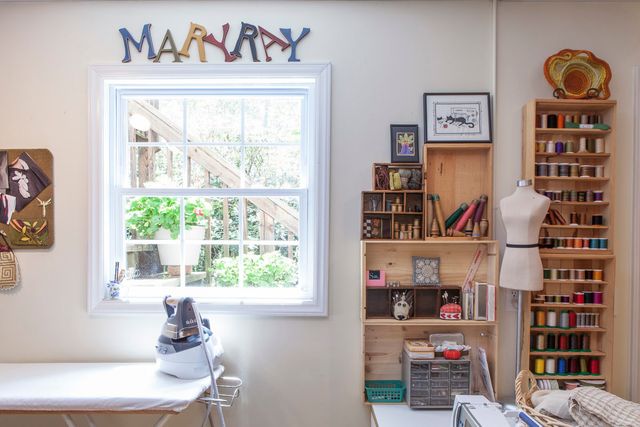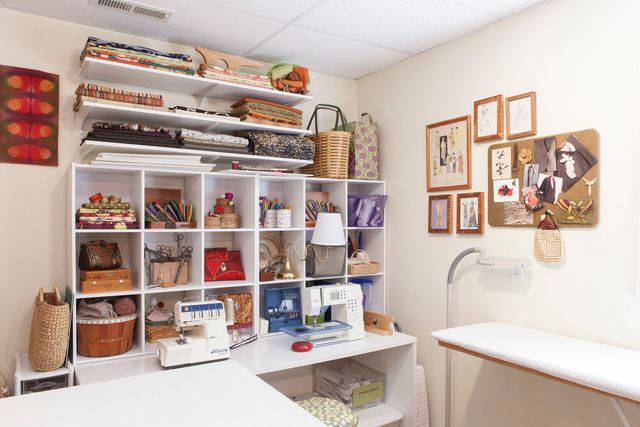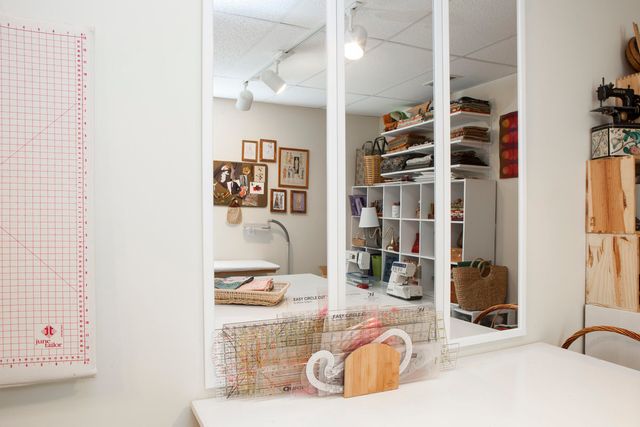 These mirrors were specially requested by Mary to reflect the view from the one window she has in her workroom. This way she can glance outside while working from the opposite end of her table.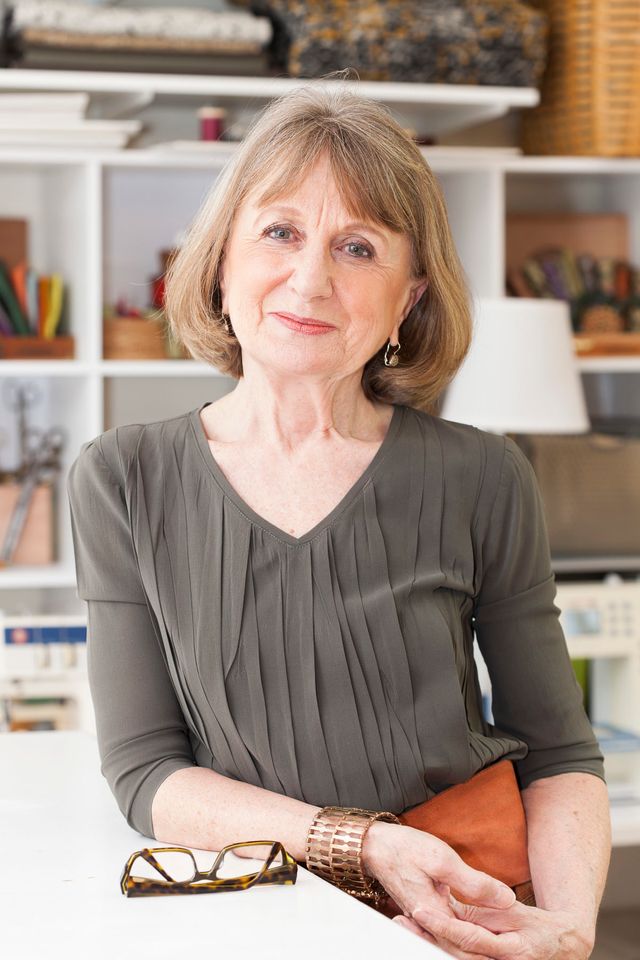 Mary loves that she gets to spend so much time in her inspirational sewing room.