Giveaway: SewStylish Spring 2012 Fashion Sewing Guide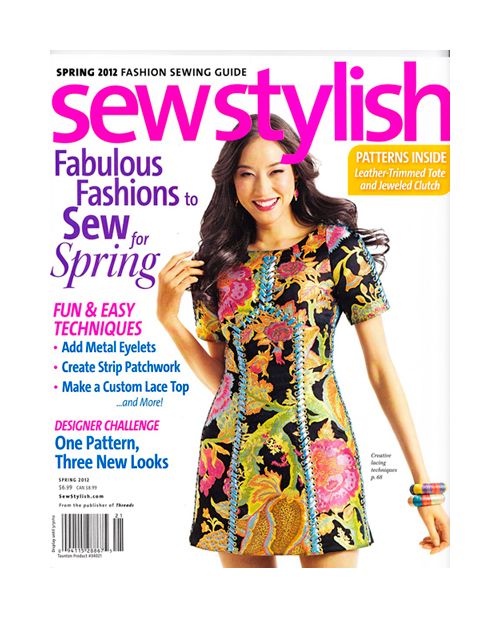 You could win a copy of SewStylish Spring 2012 by simply leaving a comment at the bottom of this page. Tell us which article appeals most to you. Leave your comment on this post before the deadline-11:59 p.m., February 15-and you could win a copy of the issue. The winner will be randomly selected and announced during the week of February 20. 
THERE'S SO MUCH TO LEARN INSIDE
Here are the highlights:
• Stellar Machine Features. These sewing machine options make the job easier than you've ever imagined.
• Custom Lace Top. The season's hottest luxury fabric is simple to sew.
• Get On a Roll. Cut fabric efficiently with rotary cutters and mats.
• Serging Secrets. Discover what a serger can do for your sewing.
• The Mighty Pin. Don't overlook its importance.
• Make It Your Way. Three designers take the same pattern in new directions.
• Copy That. Trace the fit of your favorite sleeve and darts.
• Express Pocket. A quick method for a bulk-free version.
• Easy Ease. Learn how it affects fit, appearance, and comfort.
• Perfect Match Tote. Delicate embroidered fabric meets sturdy lambskin trim in this sweet, yet tough, bag.
• Denim in Detail. This everyday fabric could easily work the runway.
• All Laced Up. Turn and old-fashioned closure into a cool design feature (cover story).
• Sew It, Style It. Mix what you've sewn with what you own.
• Painted Lace. Apply dye with a brush for multicolored effects.
• Metal Eyelets. Embellish with a hint of hardware.
• Piece Movement. Strip patchwork creates exciting color panels.
And of course, you'll also find our regular departments:
• Designer Insider. Suede Sews.
• Fabric Lab. Light Layers.
• Cool Tools
• Trend to Technique. Jeweled Clutch.
• Couture Know-How. How to Trim a Neckline.
• Fast & Fabulous. Bows Galore.
WHAT APPEALS TO YOU THE MOST?
We all have our favorites. What do you think yours will be in this issue? Tell us in a post.