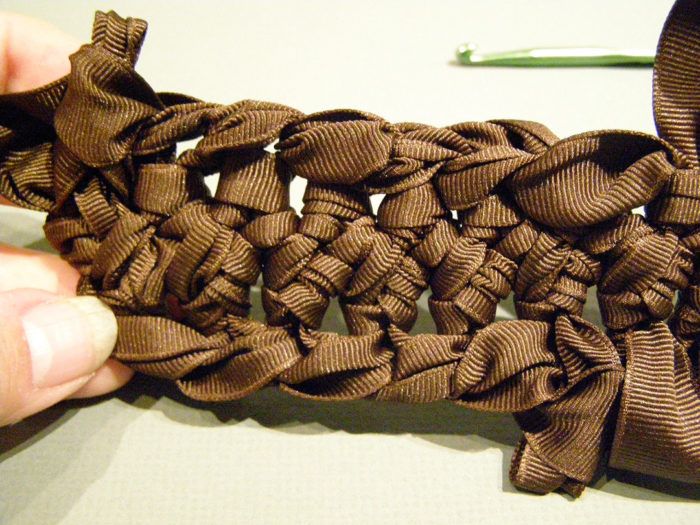 When I was a kid in Kansas, I learned how to crochet hairpin lace from my grandma. Though my mother discouraged such pursuits, the kindly next door neighbor man, who was a welder by trade, made me a hairpin lace loom from a welding rod, which was sturdier than the store-bought one I had. (Terminology–this is also called a hairpin lace fork–same thing.)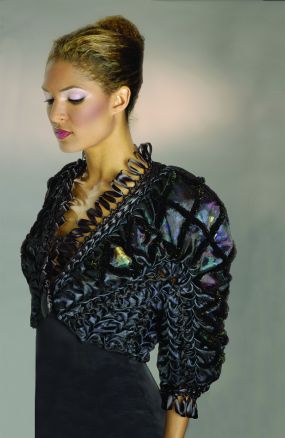 This organza jacket has a trim that is hairpin lace, crocheted from 1/2″ wide double faced satin ribbon.
Through the years, I've experimented with the potential of this crochet technique, so I thought I'd show you some of my research. I'm not going to burn through space with a tutorial on crocheting the hairpin lace, because there are some good videos on the internet showing this. One is here, another here, and yet another here.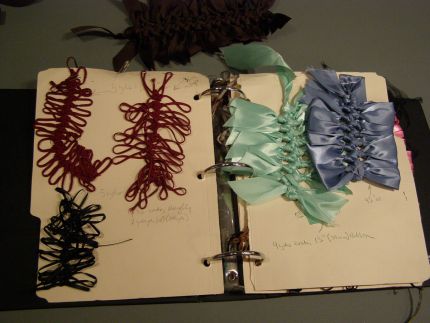 The photo here is one of my binders of lab notes, where I record experiments.
Once I discovered the potential of making a nice trim from the hairpin lace, I had a machine shop make me large looms–I have several, 30″ long, and different widths, from 6″ all the way to 10″. This way I can work very wide ribbon.
Here's my very first hairpin lace loom from all those years ago. The width, measuring outside to outside is 3 3/4″ wide, and it's 15 inches long. I've worked a length of the crochet on it, using 7/8″ wide grosgrain ribbon.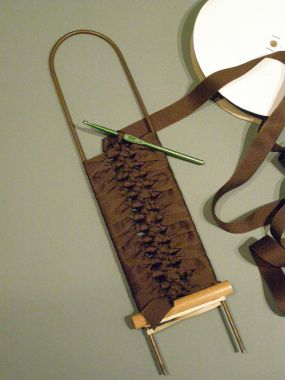 To figure yardage for this kind of trim, you'll want to test your ribbon and loom, but you can estimate that the ribbon will be eight times the finished trim length. So, for one yard of trim you need eight yards of ribbon to make it.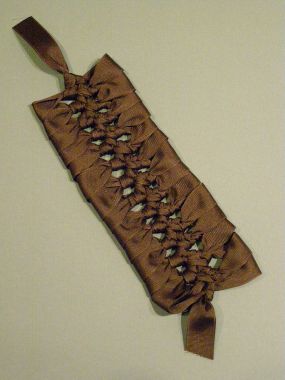 After working, remove from the loom.
Now the fun begins!
Start your 14-day FREE trial to access this story.
Start your FREE trial today and get instant access to this article plus access to all Threads Insider content.
Start Your Free Trial
Already an Insider? Log in