Antique Fabric Swatches Online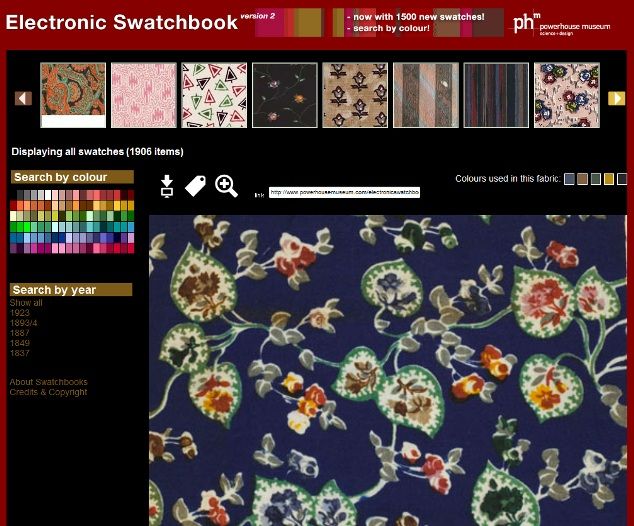 I love looking at fabric prints–whether it's in the quilting section of JoAnn, clicking through the pages at my favorite online fabric shop, or feasting my eyes on the thousands of truly unique designs on Spoonflower.com. It's easy to think that no prior generation has had access to complex, rich fabric prints. But textile technology has a long, deep history, and every once in a while, it's interesting to look back at the fabrics our foremothers may have used in their sewing endeavors.
The Powerhouse Museum in Sydney, Australia has recently launched an online database containing images of fashionable fabric designs scanned from extant swatchbooks held in its archives. The fabric swatchbooks used to create this database–dubbed Electronic Swatchbook 2.0–are dated 1923, 1893/94, 1887, 1849, and 1837. Some of these swatchbooks were used to promote fabric manufacturers' wares to dressmakers and tailors, while others were used by local merchants to sell fabrics to their customers.
You can scroll through the swatches all jumbled together, or view them by the year of the book they were taken from. Each swatch is displayed with the colors it incorporates, and you can also search the database for swatches by color. Just click on a color in the palette provided, and the database pulls up all the swatches it contains that incorporate that color. You can download a high-resolution image of each swatch and zoom in to see fine details of the print, colors, and fabric texture.
There is no information provided with the individual swatches about the fabric each design is printed on or the type of printing and dyes used, but the page "About Swatchbooks" gives some of this information. From this page you can also link to the extant swatchbooks and read some details about the source and in some cases to see a few images of the original book.
It's fascinating to look back at some of the fabric prints that were available in these years, as well as the colors that were popular, and to see how they differ from period to period. Do you like to look at vintage or antique fabrics? What will future generations think about the fabric prints and colors available to sewers now?