Who's Going to the Sewing & Stitchery Expo?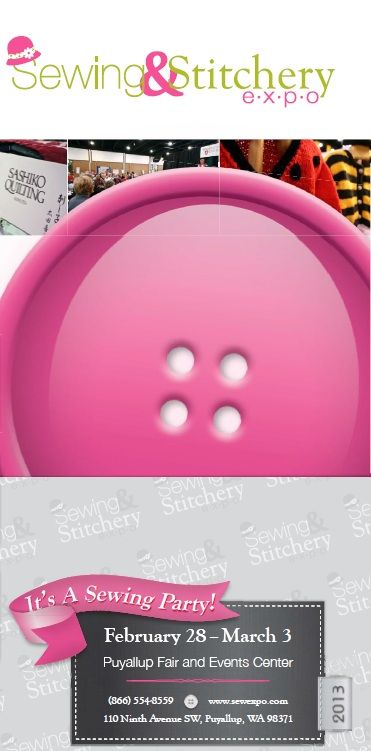 The 2013 Sewing & Stitchery Expo is just one month away, and there's no place I'd rather be at the end of February than the lovely Pacific Northwest at the Puyallup Fair and Events Center. There's also nothing I'd rather be doing February 28 to March 3 than taking in the atmosphere of thousands of devoted sewers all coming together for one purpose: learning new techniques to improve their sewing. Plus shopping for new sewing supplies and fabrics and catching up with old friends!
I love attending sewing conferences because of all the educational opportunities and the chance to talk to sewers from all around the country. At the Puyallup expo, there are more than 100 educational seminars and workshops to choose from each day–all of them geared to sewers and quilters of all skill levels and taught by some of the brightest lights in the sewing world, including some Threads authors. The seminars are categorized as one-needle, two-needle, three-needle, and four-needle. More needles indicate more in-depth instruction, longer class periods, and hands-on technique experience.
It's also a great chance to check out other sewers' creative aesthetics and get inspiration for your own sewing projects, because there are several fashion shows on the free stage. Several free demos and special events are also scheduled.. Finalists in the Independent Pattern Company Association's 2013 sewing challenge, "Ticket to Paradise", will also be revealed in a special runway fashion show on March 3.
Registration is ongoing, and you can buy daily entrance tickets at the door, but several of the classes are already sold out, so time is of the essence. Visit the Sewing & Stitchery Expo website to purchase tickets to the expo and to register for classes online. You can also stay up-to-date on the latest news at the official Sewing & Stitchery Expo blog: http://sewingandstitcheryexpo.blogspot.com/
Are you going to Puyallup this year? Have you attended the Sewing & Stitchery Expo before? What's your favorite part of going to sewing conferences and expos?