Finding Fabric Shops in Paris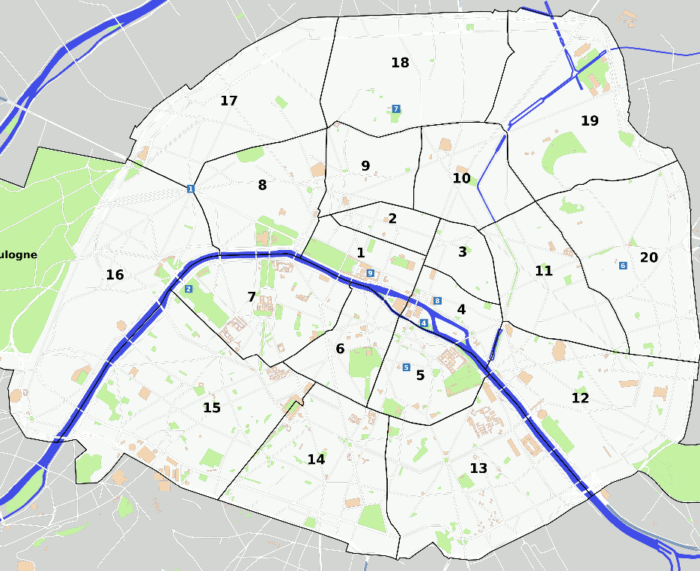 Some of the shops mentioned in Susan Khalje's "Sewing Destination: Paris, France" article in Threads #167 (June/July 2013) may be difficult to find because they are located in out-of-the-way corners of Paris's labyrinthine streets. Here are site markers and directions to help you locate the more difficult-to-find shops–plus some budget-friendly fabric shops to visit.
Remember that Paris is divided into 20 sections called "arrondissements", which spiral out from the city's center, and that addresses include the arrondissement number.
Sophie Hallette
3, rue Saint-Fiacre, second floor (2nd arrondissement)
Métro: Sentier
Telephone: 01 42 36 98 11.
Hours: Monday-Friday, 9:30 a.m. – 12:30 p.m. and 2:00 p.m. – 6:00 p.m. (5 p.m. on Fridays)
SophieHallette.com
Push open the big wooden door, and once you're inside the courtyard, you'll see another door to your right. Use the buttons on the left of the keypad to find Sophie Hallette, then push "appel" (call). Go to the second floor, and they'll let you in.
Janssens & Janssens
3-5, rue d'Anjou (8th arrondissement)
Métro: Madeleine or Concorde
Telephone: 01 42 65 04 00
Hours: Monday-Saturday, 10:00 a.m. – 6:30 p.m.
Janssens & Janssens is just off rue Faubourg St. Honoré.
Tissus Edré
16, rue de Jean Bologne (16th arrondissement)
Métro: Passy
Telephone: 01 46 47 60 18
Hours: Monday, 2:30 p.m. – 6:30 p.m.; Tuesday – Saturday, 10: a.m. – 6:30 p.m.
As you exit the metro station, head up the hill and make a left on rue Passy. Walk until you see rue de Jean Bologne; make a left, then turn immediately into the small courtyard.
Legeron
20, rue des Petits-Champs (2nd arrondissement)
Metro: Pyramides
Telephone: 01 42 96 94 89
Hours: Monday – Thursday, 8:00 a.m. – 12:00 p.m. and 1:00 p.m. – 6:00 p.m.; Friday 8:00 a.m. – 12: p.m. and 1:00 p.m. – 5:00 p.m.
Legeron.com
While the number 20 is clearly marked on the building, you'll have to go to the back of the courtyard to find Legeron's workroom. There's a wooden stairway on your left: walk up to the second floor (actually the third level above ground) and you'll see the workroom's door on your left.
Les Perlés d'Antan
142, rue des Rosiers (in the Clignancourt Flea Market, Saint-Ouen, just beyond the city's boundary)
Métro: Porte de Clignancourt
Telephone: 01 40 10 95 49
Hours: Saturday and Sunday 10:00 a.m. – 6:00 p.m.; Monday 11:00 a.m. – 3:00 p.m.
LesPerlesDAntan.com
As you exit the metro, keep going straight. Pass the vendors in the flea market who are selling new items, and turn left onto rue des Rosiers. On the left, you'll see the Marché Malassis building. Flora is on the left, towards the back of the flea market.
Budget-friendly Fabric Shopping in Paris
In Paris, the cream rises to the top, and this holds true for fabric shopping. But there is still a market for the "milk"–the everyday shopping destinations that offer familiar fabrics at prices similar to those you'd find at the average American fabric store. The streets of the 18th arrondissement, particularly in the neighborhood of the Sacre-Coeur and Montmartre, are full of fabric stores, many of them well-known, popular destinations offering goods at reasonable prices. It's a lively and colorful area, and there are bargains to be had.
Paris Tissus
15 rue de Steinkerque (18th arrondissement)
Paris Tissus is one of my favorites, because it carries a small but very nice range of suiting fabrics.
Tissus Reine
5 Place Saint-Pierre (18th arrondissement)
Tissus-Reine.com
Tissus Reine is one of the largest fabric stores in Paris and stocks a wide range of goods, all reasonably priced: bridal fabrics and lace, Liberty cotton, dupioni, and home decor fabrics, as well as patterns and notions.
Marché St. Pierre
2 rue Charles Nodier (18th arrondissement)
MarchestPierre.com
Also a large store, Marché St. Pierre has multiple floors and a similarly broad offering.
Have you ever shopped for fabric in Paris? Are there any shops you would add to this list of budget-friendly fabric stores?