How to Support a Dramatic Sleeve Cap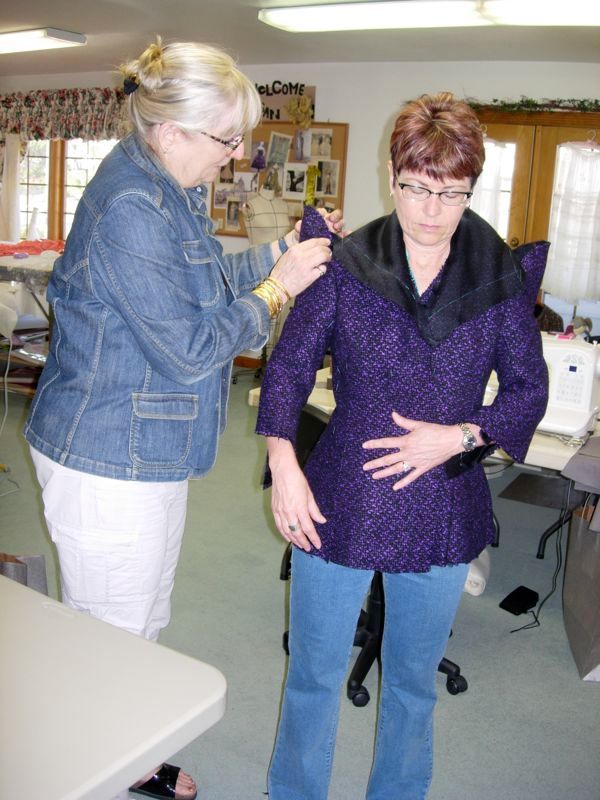 There are standard shoulder pads and shaped and extended shoulder pads that can provide support in the top of a sleeve, and there are all manner of sleeve heads. However, none of these options was right when it came to supporting the pleated sleeves on a wool jacket created recently by a student in San Diego. 
Jeanne Roy was inspired by the Steam Punk overtones of Simplicity 1732, but wanted to scale things down. She wanted to wear the jacket to work, so she didn't want it to feel "costume-y." And while it would eventually have a black sheared fur collar and cuffs, it would still work at the office.
When she was working on her muslin in advance of the class, Jeanne cut down the sleeve cap considerably but what was left needed more drama. She used a beautifully bodied purple and black wool that she'd found recently at Mood Fabrics in Los Angeles. While the sleeves were underlined with silk organza, we knew she needed help to keep their dramatic contours in place. Jeanne certainly didn't need shoulder pads, and we didn't want to add bulk to the armscye with a traditional sleeve head.
Jeanne's initial fit, with the jacket hand-basted together, let us know that we were on the right track with the proportions of the sleeve cap.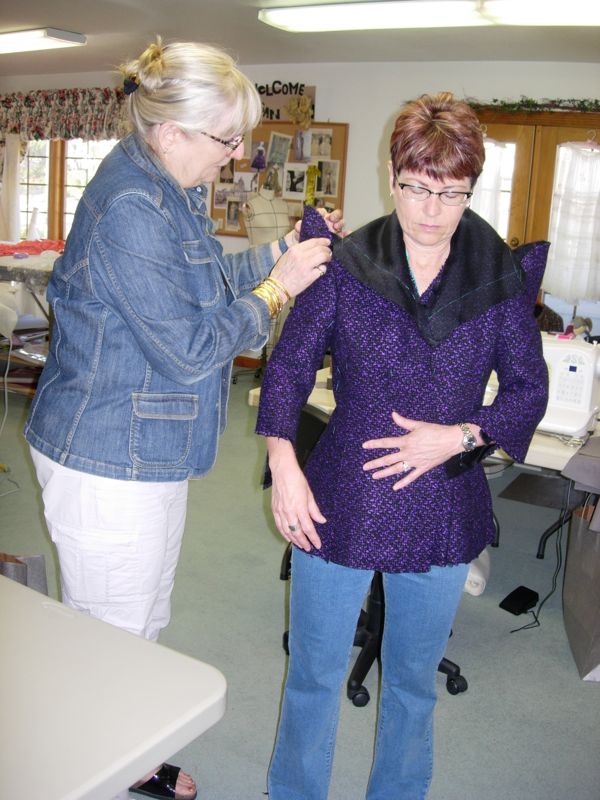 We decided to do some spot interfacing. We used two layers. Thanks to the bodied wool, we didn't need anything to keep the pleats in place. But we did need to keep the area just below them nicely shaped and supported. Enter tricot interfacing, which we fused to the silk organza underlining.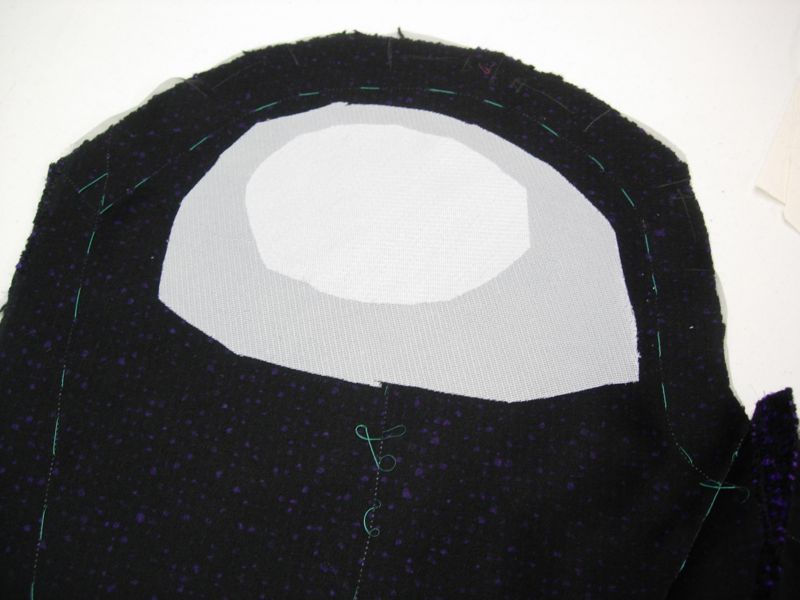 Here's the entire sleeve.
After the interfacing was in place, Jeanne gathered the sleeve cap seam allowance with three rows of machine stitching. One row of stitching was placed on the stitching line, and the other two were sewn in the seam allowance. This drew in the fullness of the sleeve cap.
To set the sleeve, the underarm of each sleeve was sewn into the armscye by machine with two rows of closely spaced stitching; the overarm section was sewn by hand.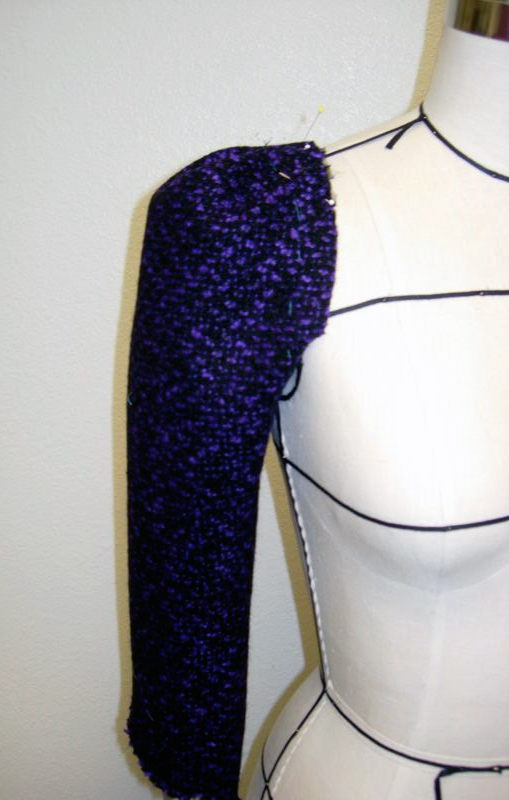 By this point, the sleeve was bulky along the sleeve cap. Orienting those folds and expecting them to stay in place perfectly while being sewn on a machine was too risky.  So Jeanne sewed them by hand using a backstitch, with doubled thread coated with beeswax.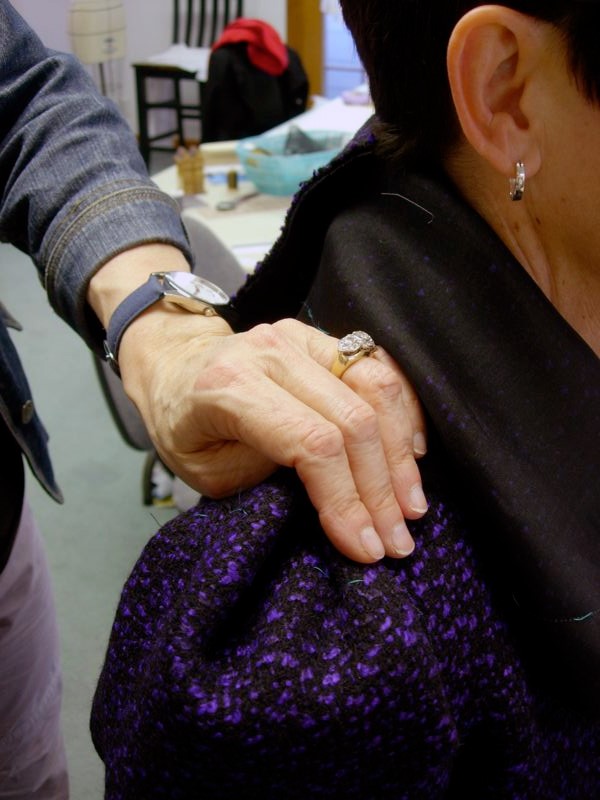 I pushed on the sleeve cap hoping it would spring back into place as soon as I removed my hand.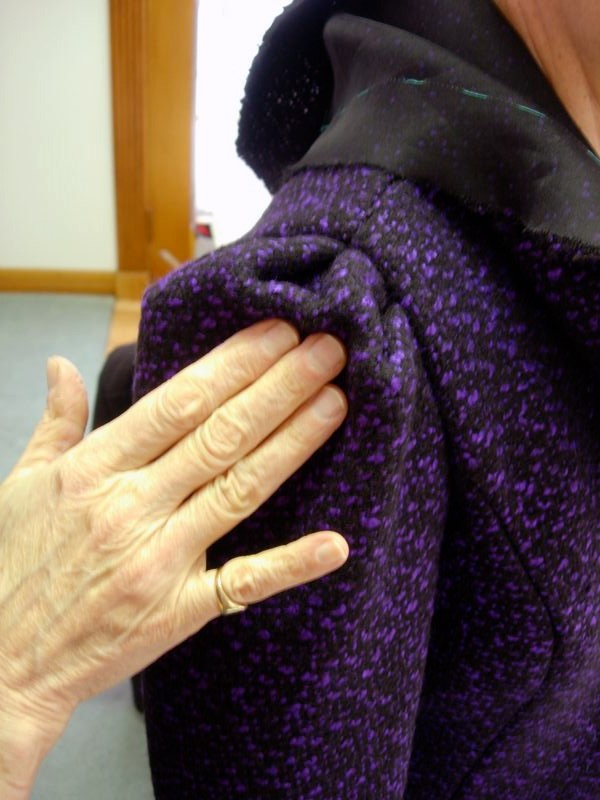 It did, thanks to the good-quality fabric, the right proportions of the sleeve cap, and the bit of well-placed interfacing.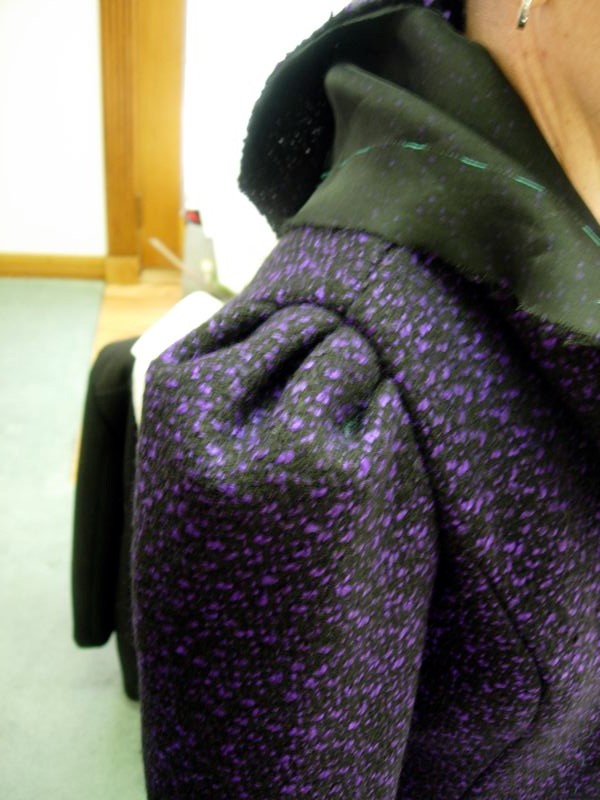 Here's the sleeve cap.
My thanks to fellow student Joanne Alkazin for her photographs.
What do you think about this technique for supporting and shaping a sleeve cap? Do you have any suggestions or tips?