Book Giveaway: "Marge's Custom Slipcovers"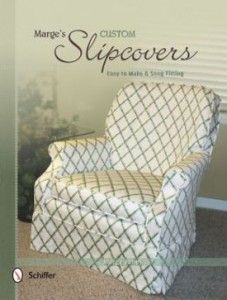 MARGE'S CUSTOM SLIPCOVERS
Are you tired of purchasing slipcovers that don't quite fit? Does your great-grandfather's chair need a face-lift, or did you buy a fabulous old chair with upholstery that's threadbare? Either way, Marge's Custom Slipcovers by Marge Jones (Schiffer Books, 2013) will help you make a perfectly fitted slipcover to give the chair a new look. Marge assists you in deciding what types of fabric to use and how much fabric you'll need. She gives help for all types of chairs, including:  benches, barstools, dining chairs, button-back chairs, and more! She also covers topics such as how to install slipcovers, how to create a skirt, and solutions to any problems you might run into.
COMMENT TO WIN
Do you need this book to help you bring new life to one of your favorite chairs? If so, tell us why in the comments section below before 11:59 pm ET on June 20, 2014 telling us why your chair needs a slipcover. We'll select a winner at random who's name will be announced online and via email during the week of June 23. Good luck!