Q&A: Stitch a Shirt Hem That Won't Roll Up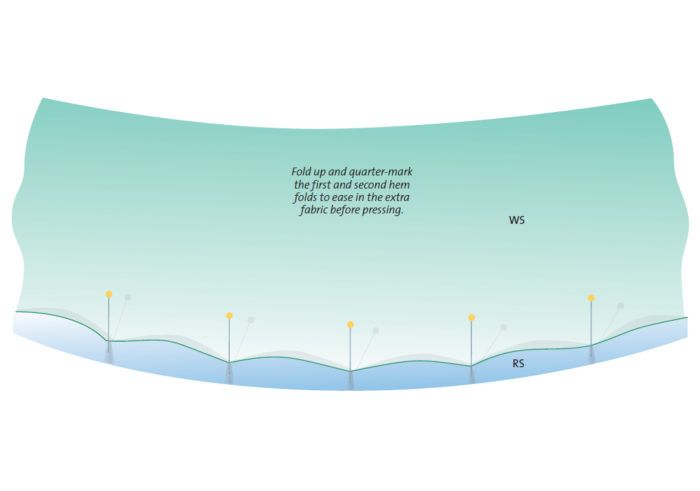 READERS' QUESTIONS – EXPERT ANSWERS
Q: I made a blouse last year out of cotton shirting, but the back hem flips up whenever I wear or wash it. It's the only shirt I've ever made that does this. I read in a Threads article that the only way to fix this problem is to take out the hem and restitch it correctly. But what is the correct way to sew a shirt hem? I wasn't aware there was an incorrect way. Thanks for the advice!
-H. Endersen, via letter
A: Louise Cutting, sewing educator and a Threads contributing editor, answers:
I assume that you're referring to a standard, narrow shirttail hem that is turned twice and curves up at the side seams. When you turn a narrow garment hem twice, the hem's center often shifts slightly away from the garment's center. The solution is to ease the longer curve that gets folded under into the shorter curve as you sew. Good patterns generally include a direction for easing a shirttail hem. However, some don't adequately describe how best to do this.
For this type of hem, I like to serge the raw hem allowance edge all the way around with a three-thread overlock stitch to beef up the fabric edge and make it much easier to fold. After serging the edge, take the garment to your ironing board and locate the middle of the hem allowance, wrong side up.
To make the first fold, fold up and stab-pin the serged edge at center back, then at the side seams and front edges. At the halfway point between each of the pinned edges, stab-pin the fold again. Continue halving and stab-pinning the hem's first fold along the serged edge, until the pins are spaced about 2 inches apart. Press the first fold with the tip of a hot iron.
Repeat the same process to make the second hem allowance fold, using the serged edge as a guide. Stab-pin the hem by halves, then press the second fold. From the garment's wrong side, edgestitch the hem in place, following the folded edge.
For extra help in preventing it from shifting while you're edgestitching it, use paper-release fusible web tape to secure it before stitching. The fusible web also functions as an interfacing within the hem allowance, stabilizing it.
Steam-A-Seam paper-release fusible web tape was briefly off the market but is available again, and there are several other similar products available, as well as various basting tapes. When you choose a fusible tape, make sure it's narrower than the shirt's hem. If necessary, you can cut wider fusible web tape into narrower strips to fit the hem width.
This post was originally featured in the Q&A department of Threads #176 (December 2014/January 2015).
---
Have a Question? Send it to us and we'll find an expert's answer.
via mail: Threads Q&A, PO Box 5506, Newtown, CT 06470-5506
via email: ThreadsQ&[email protected]
via the Contact the staff page to submit your entry