How to Hand-Roll a Hem
Options for stitching a beautiful edge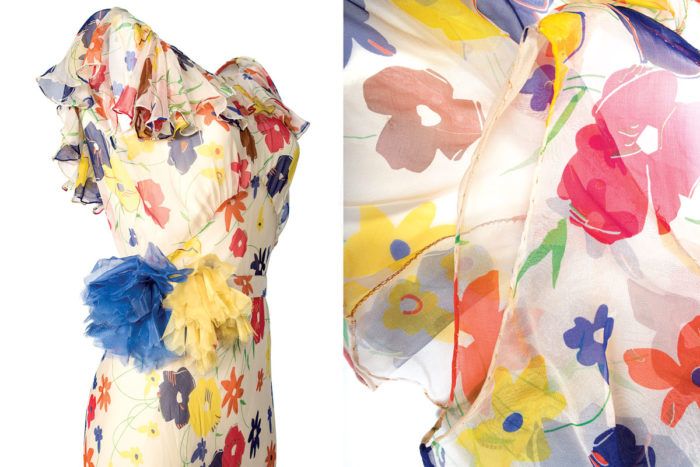 Floral-print silk chiffon epitomizes the wonderful sensations of a summer's day. Though this dress is from 1935, it is perfect for this year's garden party. Light, airy, and translucent, the fabric is held together by the finest silk threads. Part of the lightness comes from the hand-rolled hems that edge the dress's soft flounces. A hand-worked rolled hem takes longer to stitch than a machine-sewn hem, but it is the best choice when you want a finish that does not weigh down a gossamer textile. See more about rolled hems from Threads #197 below.
Weightless edges are part of the magic that makes the silk chiffon dress shown at left and on the back cover appear to float. A hand-rolled hem is the key. There are many machine-sewn shortcuts to making faux rolled edges, but the hand-worked version is softer and more flexible.
Here are three ways to prepare the fabric edge—including one that helps when hemming a curved edge—and three different stitching techniques. Try combinations of edge preparation and stitching techniques to find the method that works best with the fabric.
Ready your supplies
Collect the necessary tools, and get the fabric's edge set for stitching.
Tools and materials
I recommend hand-hemming with fine, smooth thread, preferably #100 silk thread. Select a fine needle, such as a milliner's/straw needle in size 8 or 10. Look for a needle whose eye is the same width as the shaft, so it doesn't make large holes in the fabric.
To trim the fabric edge, use sharp scissors. A microserrated blade is beneficial because the serration prevents slippage as you cut. Finally, prepare an anchor to which you can pin the hem's end, enabling you to pull the fabric taut while you're stitching. A wrapped brick, a fabric bag…
Start your 14-day FREE trial to access this story.
Start your FREE trial today and get instant access to this article plus access to all Threads Insider content.
Start Your Free Trial
Already an Insider? Log in