A Fashionable Tribute to Nancy Reagan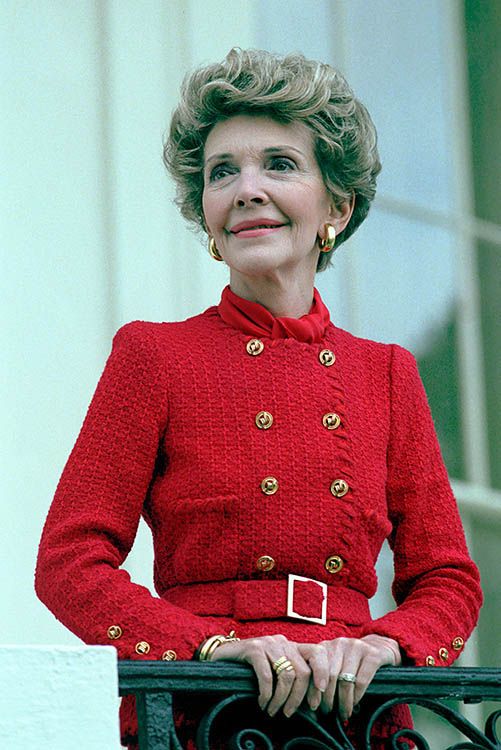 by April Mohr
An American fashion icon remembered
Our hearts were saddened by the passing of former First Lady Nancy Reagan on March 6, 2016. In addition to her contributions to the "Just Say No" to drugs program and Alzheimer's research, she will be remembered for her fashion sense.
Nancy, her nickname since childhood, was born Ann Frances Robbins in New York City in 1921. She started her career as a Hollywood actress in the 1940s and met actor Ronald Reagan in 1949. They married in 1952. Fifteen years later, Ronald Reagan became governor of California and served two terms. He was first elected president of the United States in 1980 and served two terms. As First Lady of California and later, as First Lady of the United States, Nancy Reagan was known for her elegant, classic style. While at the White House, Nancy's fashionable attire often was the focus of media attention. Frequently, she was likened to former First Lady Jacqueline Kennedy. 
News reports describe Nancy as an icon of extraordinary American style and suggest that her Hollywood past had influenced her tendency to choose garments for their "photographic" attributes. Her simple, sophisticated styles complemented her petite, 5-foot-4-inch frame. She dressed mostly in fashions from American designers including Adolfo Sardina, James Galanos, Bill Blass, and Oscar de la Renta. In 1988, the Council of Fashion Designers of America awarded Nancy a lifetime achievement award for her loyalty to U.S. designers and her devotion to fashion. 
For the Reagans' first presidential inauguration, the First Lady wore a bright red Adolfo dress and coat. On other notable occasions, she chose more subdued tones, but she frequently returned to what was reported as her favorite color. Many media sources referred to the bold hue Nancy often wore as "Reagan red."
Nancy's eveningwear started with a sleek silhouette that incorporated luxurious fabrics or lavish stitching details. While unpretentious, her ensembles were chic. Her daywear was most often classic and sophisticated.
While at the White House, the Reagans owned a ranch in Santa Barbara, California, and traveled there for vacations and weekends away. Nancy dressed informally while on the ranch, wearing button-down shirts or sweaters and, sometimes, jeans. Even then, her dress was flawless and stylish.
Nancy died at the age of 94, nearly 12 years after her husband. She will be remembered for many things, but perhaps most notably for her simple, elegant, and always impeccable fashion.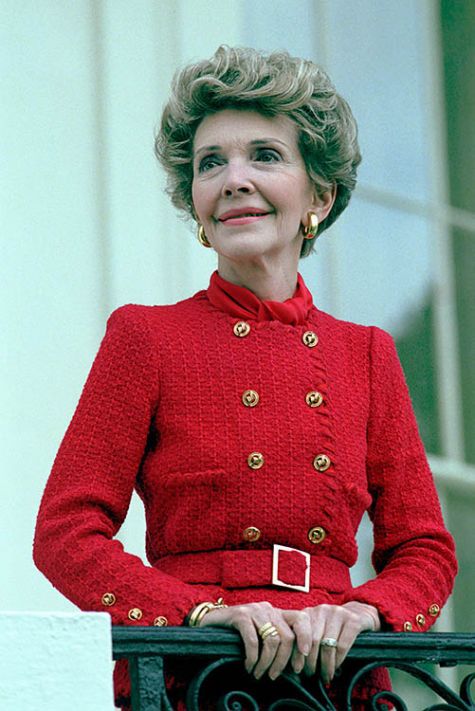 Nancy Reagan brought simple, classic style to the White House and was often likened to First Lady Jacqueline Kennedy. She often wore red, admittedly her favorite color, frequently with gold button accents. 12/19/84.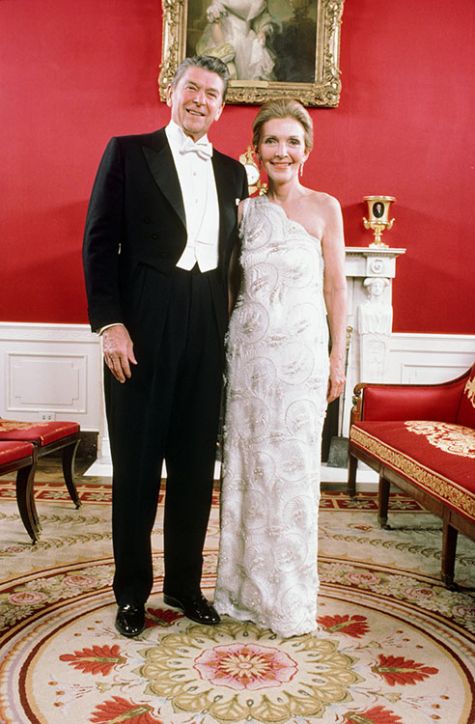 President Reagan and Nancy Reagan posing in the White House red room before attending the Inaugural Balls in Washington, DC. Nancy Reagan wore a simple, yet gorgeous, James Galanos gown. The one-shouldered, beaded, floor-length sheath gown of lace over silk satin is now in the Smithsonian collection and estimated to be worth $10,000. 1/20/81.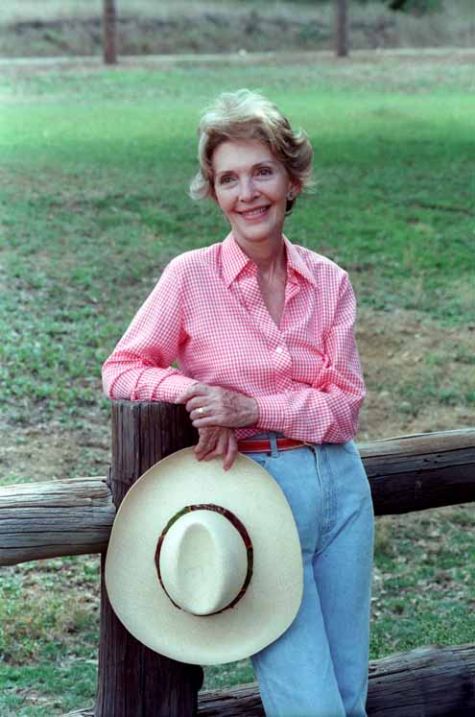 Rancho Del Cielo. 8/17/83.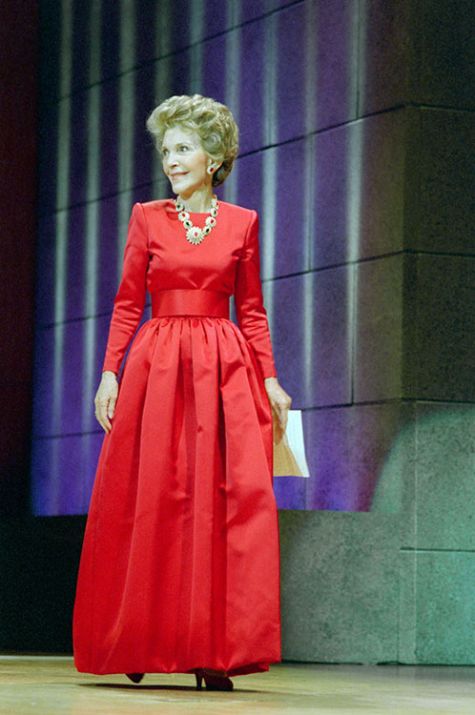 Nancy Reagan ready to accept the Council of Fashion Designers of America CFDA Lifetime Achievement Award. 1/9/89.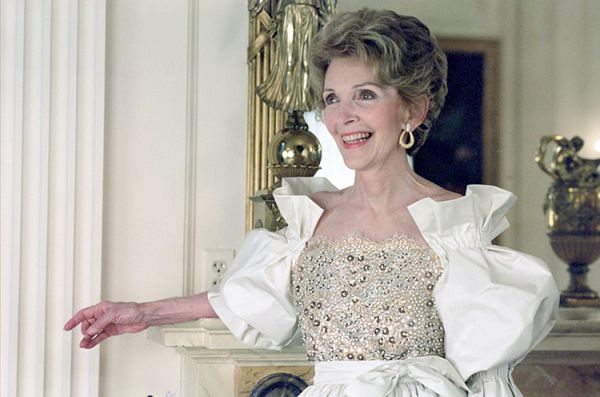 Photoshoot with Harper's Bazaar. 10/25/82.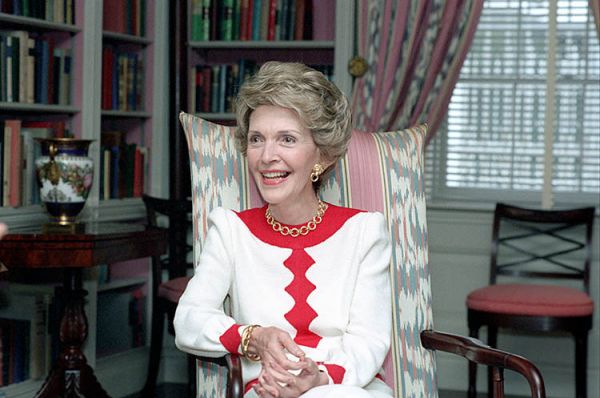 Interview with McCall's magazine. 7/10/85.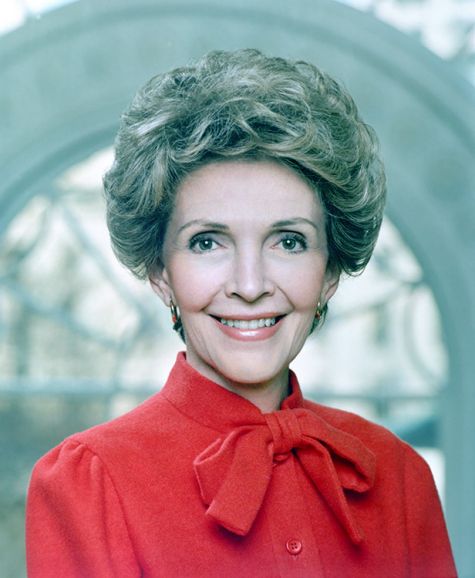 Official portrait. 2/1/83.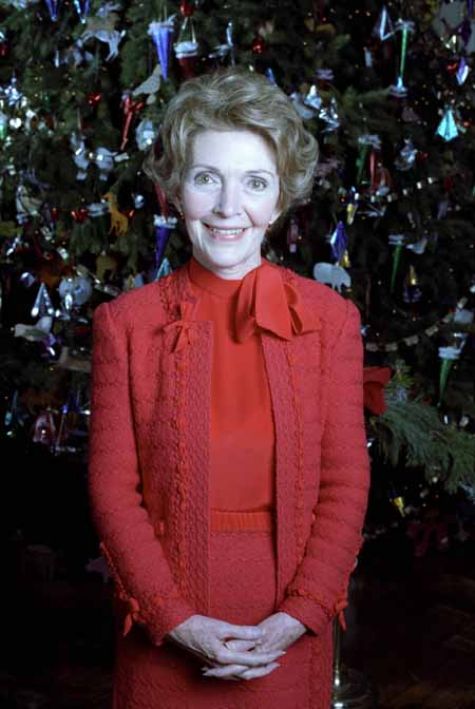 Nancy Reagan in front of the White House Christmas Tree. 12/7/81.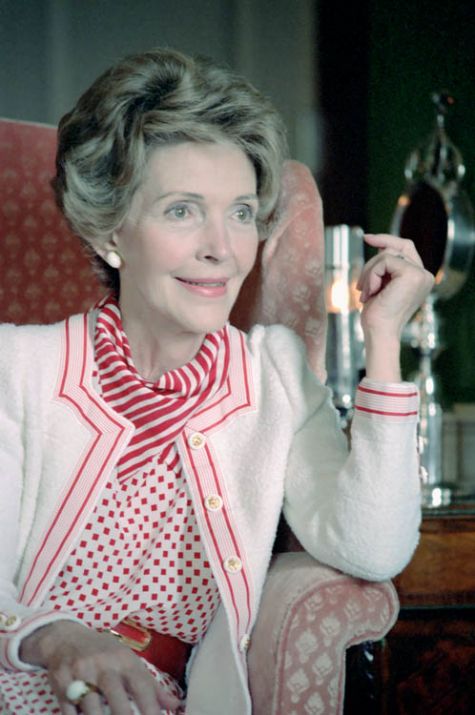 Nancy Reagan having tea in the Green room. 6/18/84.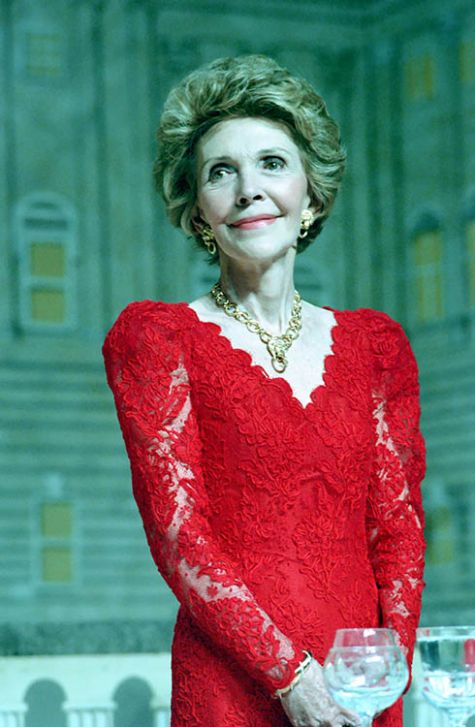 Nancy Reagan at a fundraising event in Washington, DC. 5/11/88.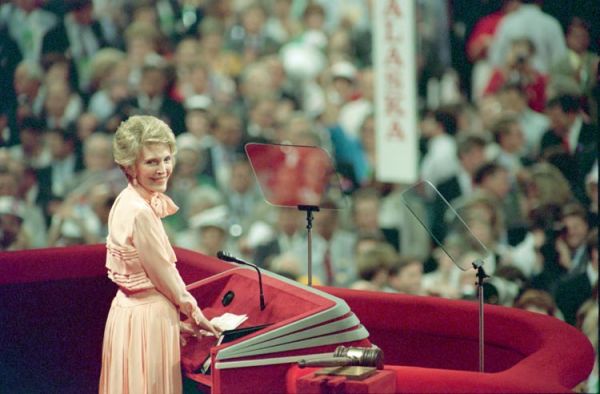 Nancy Reagan giving a speech at the Republican National Convention in New Orleans, Louisiana. 8/15/88.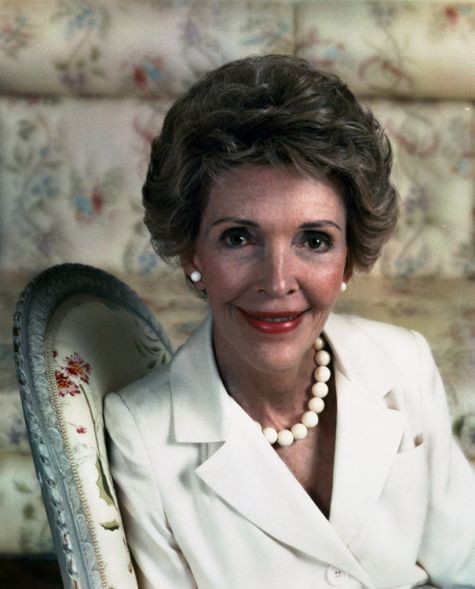 Portrait. 2/24/88.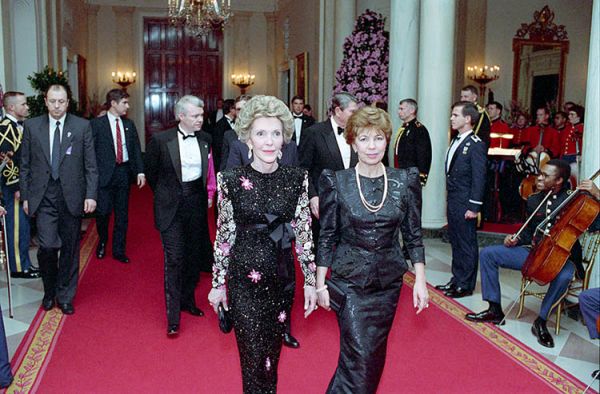 Nancy Reagan and Raisa Gorbachev during state dinner for General Secretary Mikhail Gorbachev. 12/8/87.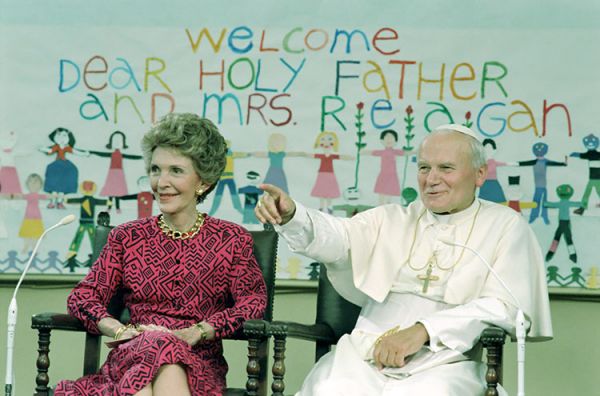 Nancy Reagan and Pope John Paul II visiting Immaculate Conception School in Los Angeles, California. 9/16/87.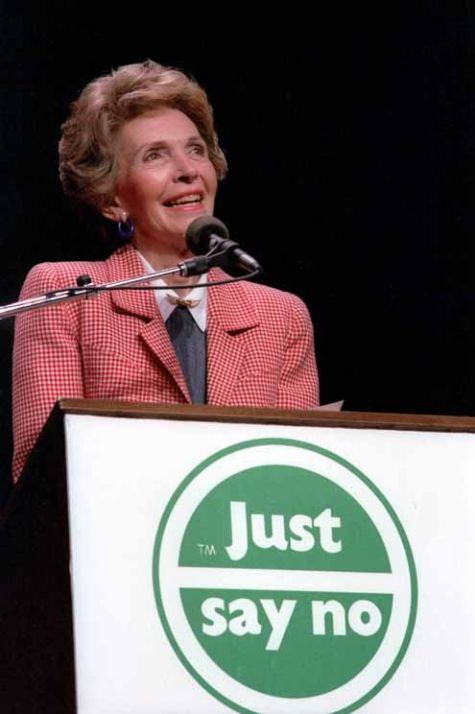 Nancy Reagan delivering a speech at a drug awareness rally. 5/13/87.
If you followed her career, what aspect of Nancy's style would you adopt if you could?
Photos: Ronald Reagan Presidential Library