Profiles in Sewing: Meet Bonnie Simmons, Simplicity Pattern Group's Senior Design Director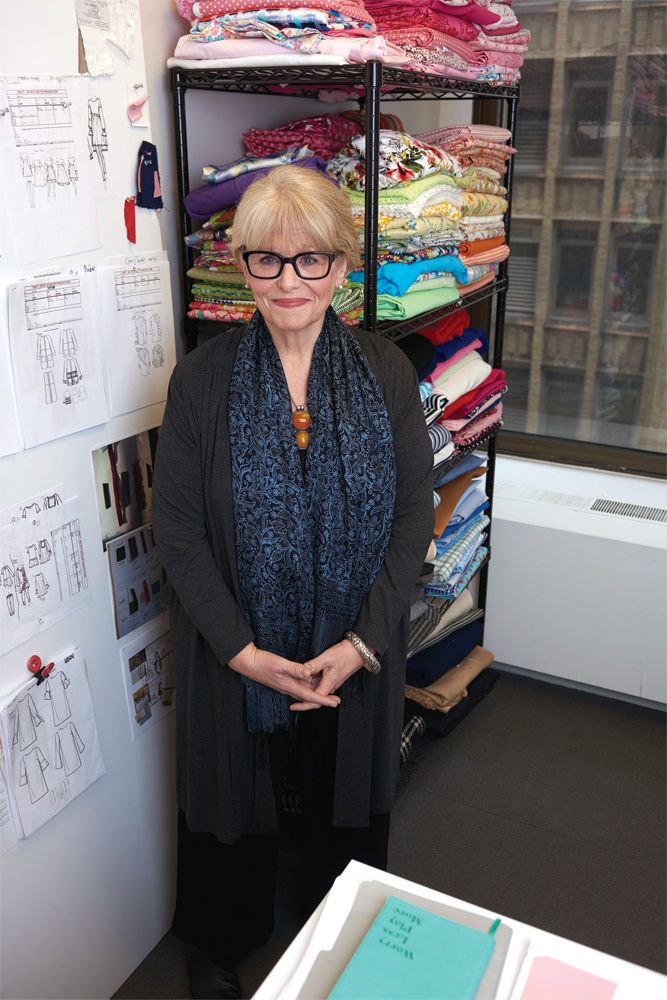 This was originally featured in the Profile in Sewing department of Threads #192 (August/September 2017).
It's a rare home sewer in the United States who hasn't used at least one Simplicity pattern. The brand offers styles that suit a wide range of women-not to mention children and men. But who is responsible for ensuring that the pattern catalog always features designs that are up-to-date, versatile, flattering, and sewable? That job falls
to Simplicity Pattern Group Senior Design Director Bonnie Simmons. Bonnie's quarter-century tenure with Simplicity was prefaced by a stint as a designer in New York City's Garment District. These days, her role encompasses many aspects of developing Simplicity's designs. Bonnie shares a bit of her background and gives us a look into what she does to get contemporary designs into the hands of enthusiastic sewers.
Carol J. Fresia is Threads' senior technical editor.

Threads: Tell us about your sewing and fashion design background.
Bonnie Simmons: I learned to sew from my mother, and her mom taught her to sew. She had six kids, so it was a necessity! I then attended the Fashion Institute of Technology (FIT) in New York City to pursue a design/illustration major.
TH: What was the first garment you made?
BS: It was a kilt for my Barbie doll, when I was in second grade. I took a small piece of plaid from my mom's stash, lined it up at Barbie's waist, and cut a mini-length shape, leaving enough fabric so it could be wrapped around her. Then I hand-stitched three little pleats, hemmed it, and put two little snaps to hold it in place. It could have used darts, but I didn't know what they were at the time. My finishing touch was a gold safety pin. I thought it looked great, and I had that wonderful feeling of "I made this!"
TH: How about clothes for yourself?
BS: The first garment I made for myself was a checked skirt with a side zip and darts. I wore it on the first day of sixth grade and felt quite accomplished.
TH: Describe your first design job.
BS: Through a college freelance job I met a designer, Eleanor P. Brenner, who hired me to sketch for her. Eleanor was a wonderful mentor. Her design room was filled with skilled sewers making beautiful samples. I learned so much from her and watching them work. I helped choose buttons and shopped the trim and belt market. That was the beginning of my "garment center years." For the next dozen years or so, I worked for various manufacturers, designing many different types of clothing in a broad range of fabrics. At that time, I didn't realize how well these experiences would serve me in my duties at Simplicity, where we strive to offer pattern designs for all segments of the population.
TH: What does a senior design director do?
BS: My main responsibility is to deliver high-quality, on-trend, and best-selling apparel pattern designs for every issue and season. This includes all style and size categories we offer in our catalog. I identify and interpret design trends; take note of best-sellers; and maintain a design-to-production workflow of sketches, fabrics, fittings, and artwork. In addition to my own design input, I manage in-house design staff and licensed designers.
TH: How do you choose which designs to develop and produce?
BS: Our goal is to offer an assortment of designs for our many different types of customers, from the newbie to the experienced sewist. When developing our collections, we consider trends-research includes runway, retail, and social media buzz-past best-sellers, and which customer we are designing for. We include items that people want to sew since they can't always find them at retail. After reviewing research, decisions are a collaboration between our merchandising, design, and production teams.
TH: Do you use a trend-spotting service?
BS: We do; it's useful because we cover so much ground, and it's great to get confirmation that we are on the right track. But it's by no means our only source of information or inspiration. A good idea can come from just observing folks walking to work, what people are wearing at the airport, characters on TV-even a painting in a museum.
TH: Do you have a favorite among the patterns you've designed for Simplicity?
BS: It's difficult to name only one; there have been many all these years. But about fifteen years ago when the Chanel-inspired jacket had a resurgence, we produced a Design Your Own jacket pattern, Simplicity 4954, with the Chanel "flavor." The response to that pattern was terrific. We built on that success and offered a plus-size version, then a new pattern that included bust-cup adjustment pieces, which help the sewist achieve her best fit. To our next consumer show, we brought a whole range of jackets in different sizes. We encouraged visitors to try them on in front of a mirror in our booth. When they found the correct fit, even their posture changed. It felt like we were reaching out of our catalog and talking directly to them. Wow, what a connection we made to our customers!