8 Best Notions for March 2019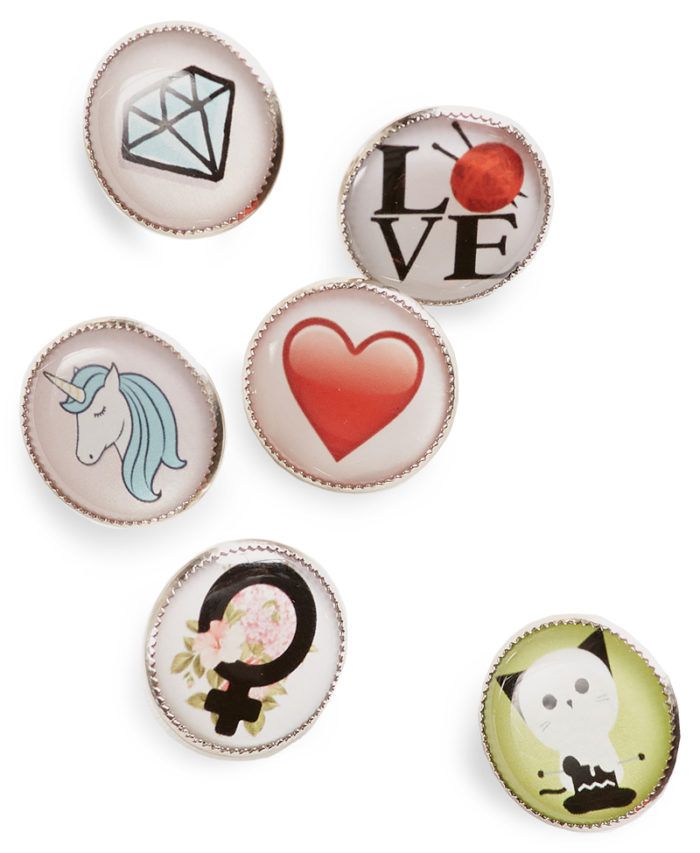 Buttons with cute images
Give garments individualized flair with these crimp-style shank buttons from Winky&Dutch. They are available in a host of fun themes, including sewing and knitting, nautical, and emojis. The image is sealed in resin for a smooth, long-lasting finish. Order the buttons in 13-mm (about 1/2 inch) and 18-mm (about 3/4 inch) sizes. They are machine-washable and dryable because they contain no adhesives. The shank is brass electroplated with nickel. The buttons are manufactured in the United States and sold individually or in sets of six.
(ShopWinky.com; $2.27 each, $11.99 for six)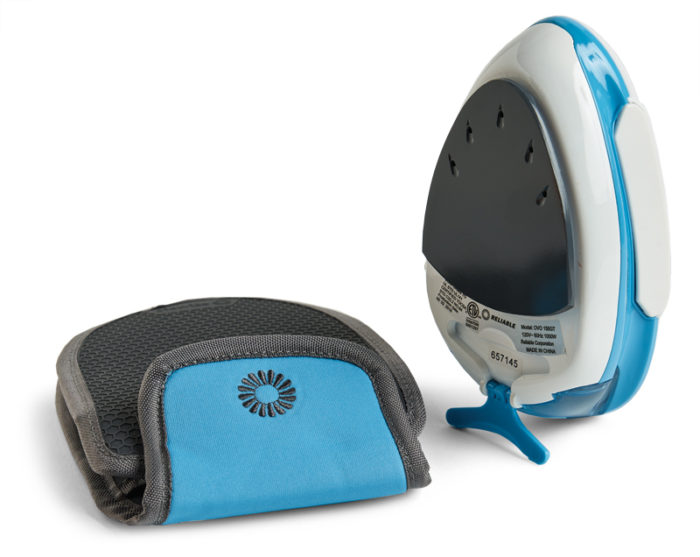 On-the-go steam iron
Traveling without an iron can leave you with wrinkled clothing, but steam irons are often too heavy or bulky to pack in luggage. The Ovo 150GT from Reliable is a travel-size iron with steam capabilities that removes wrinkles on the go. This 1,180-watt iron features a 3.7-ounce water capacity, 6-foot, 4-inch cord, a collapsible kickstand to support it upright, and a ceramic soleplate. It weighs
1-1/2 pounds and measures 7 inches by 3-1/2 inches by 3-3/4 inches, roughly half the size of a typical full-size iron. It includes a lint brush attachment and a heat-resistant carrying case that doubles as an iron rest. Vertical steam capability enables the Ovo to steam hanging garments or fabrics.
(ReliableCorporation.com; $49.00)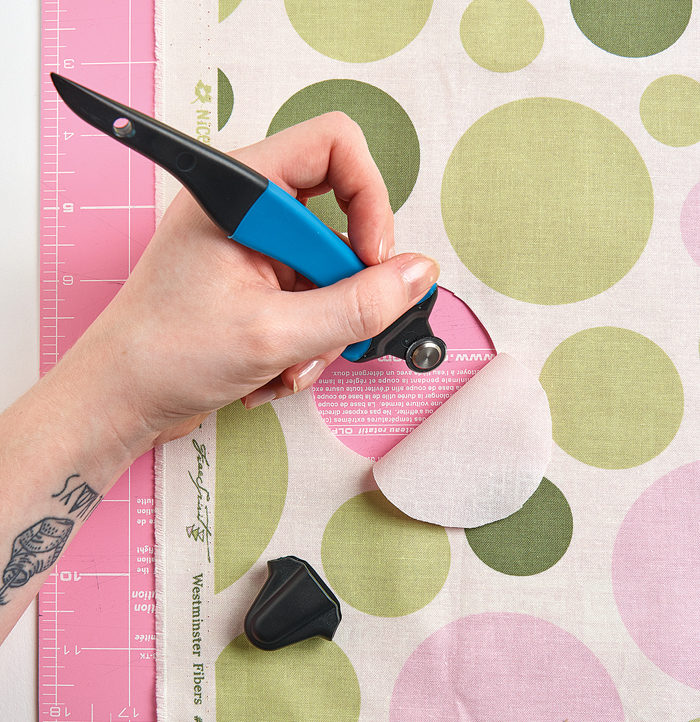 Accurate rotary cutter
When working with small pieces or intricate edges, a standard 45-mm rotary cutter cannot be maneuvered easily for detailed cuts. The Precision Rotary Cutter from Precision Quilting Tools is designed to navigate tight curves and corners. This tool has a no-slip rubbery grip. It is meant to be held like a pencil for complete control when cutting.
The 14-mm blade can work for either left- or right-handed use. The other end can be used as a stiletto or to fold creases. It comes with a cap to shield the blade.
(QuiltInADay.com; $13.99)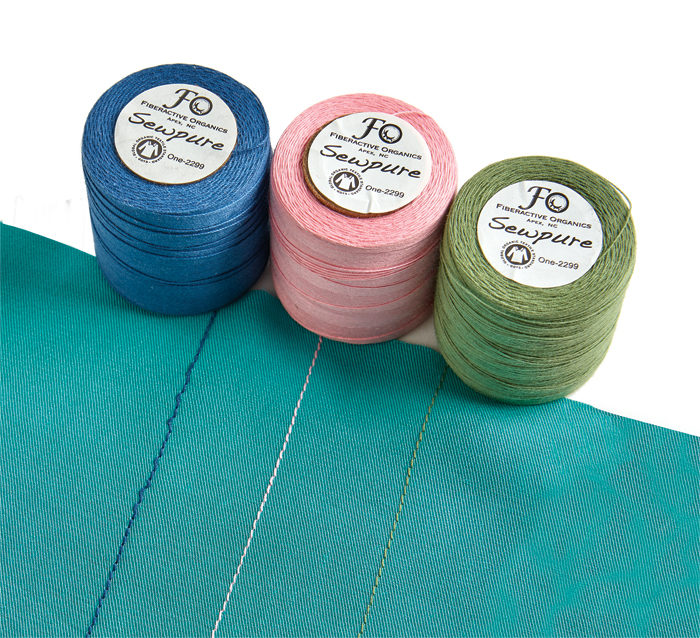 Environmentally friendly thread
For those concerned about the environmental impact of their sewing, Sewpure thread from Fiberactive Organics is made of 100 percent organic cotton grown and processed in India. The largest verifier of organic fibers in the world, the Global Organic Textile Standard (GOTS), has certified this thread, which means that its production follows guidelines for economic and environmental responsibility. Sewpure comes in two weights: Tex 40, a multipurpose thread available in 17 colors; and Tex 70, a heavy-duty thread in 11 shades best suited for stitching on denim, canvas, and upholstery materials. You can also order custom colors to match fabric samples or a Pantone color. Tex 40 is available in 500-meter spools and 5,000-meter cones, and Tex 70 is available in 300-meter spools and 3,000-meter cones. The spools and cones are packaged with recyclable materials.
(FiberactiveOrganics.com; $8.25–$40.00)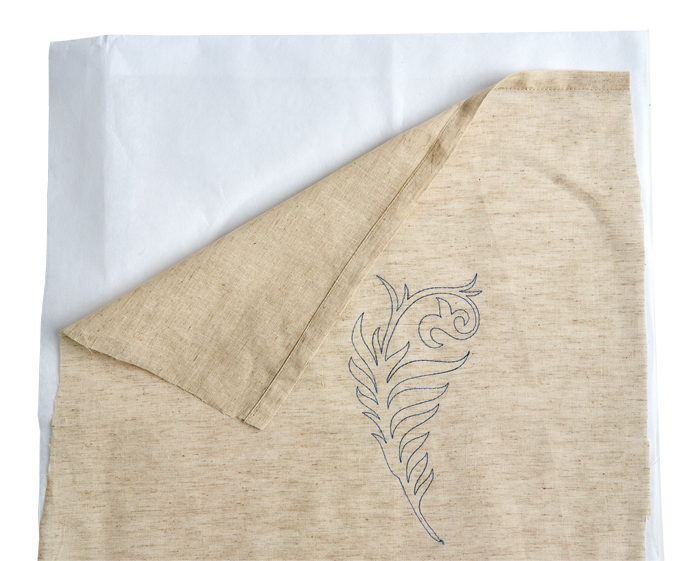 Heavy tear-away stabilizer
For stability when embroidering on stable knits or woven fabrics, turn to 1.5-ounce tear-away stabilizer from HTC Retail. This stabilizer is designed to work with heavyweight fabrics such as denim, canvas, and terrycloth. It is made of 75 percent rayon and 25 percent polyester, treated with a chemical binder, and created using a wet-laid process so it is stable in all directions. It is machine-washable and safe for dry cleaning. The stabilizer contains a needle lubricant for smooth sewing and tears away cleanly after embroidering. It contains recycled polyester fibers and sustainably sourced cellulose fibers. Purchase it from the HTC website in 20-inch by 40-yard bolts, or find a local dealer to buy smaller quantities.
(HTC-Retail.com; $78.00)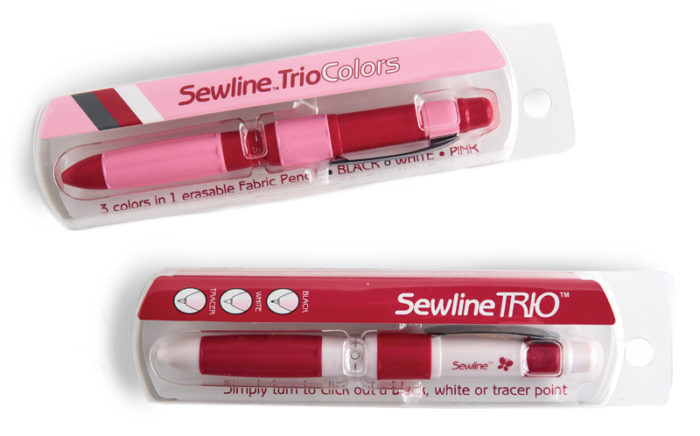 Three marking tools in one
Different materials need different marking tools, but having so many pens and markers can take up space. The Sewline Trio and TrioColors marking tools contain multiple methods of marking fabric in a single tool to minimize clutter. The Trio includes black-and-white washable pencils, as well as a rollerball tracing tool. TrioColors has black, white, and pink washable pencils. Both tools use 9-mm ceramic lead. Rotate the grip to change the selected tool. The clip indicates which marking tool is selected; turning it between two tools retracts the tip. Press down on the top to extend the marking tool, as you would with a mechanical pencil.
(FatQuarterShop.com; $15.98–$16.98)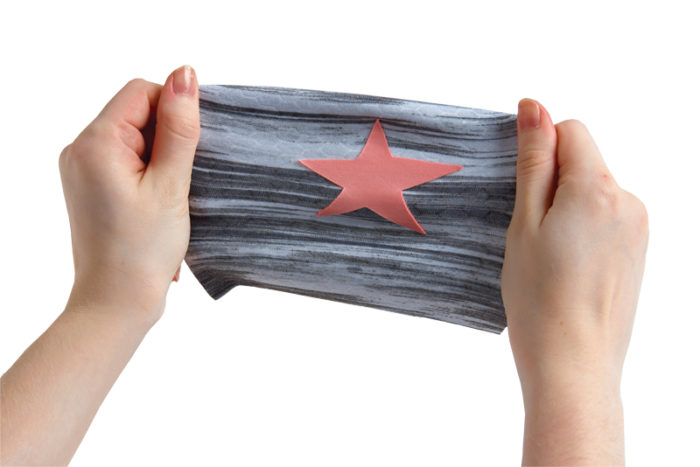 Stretchy fusible web
Stiff or nonstretch fusible web has limited applications with stretch knits because it can reduce or eliminate the fabric's inherent stretch. HeatnBond Soft Stretch from Thermo-Web is a fusible web that is designed to stretch with knits and fabrics that stretch. It comes in 10-yard rolls of 5/8-inch-wide tape, and in rolls measuring 17 inches by 2 yards. The tape and rolls come in two weights, lite and ultra. Soft Stretch Lite is thinner than Soft Stretch Ultra and is designed to be sewn over without gumming up the needle. The tape is recommended for fusing seam or hem allowances or adhering long, narrow trim to knit fabric, while the wider roll is useful for appliqué and for fusing large fabric areas together.
(ThermoWeb.com; $3.49–$8.99)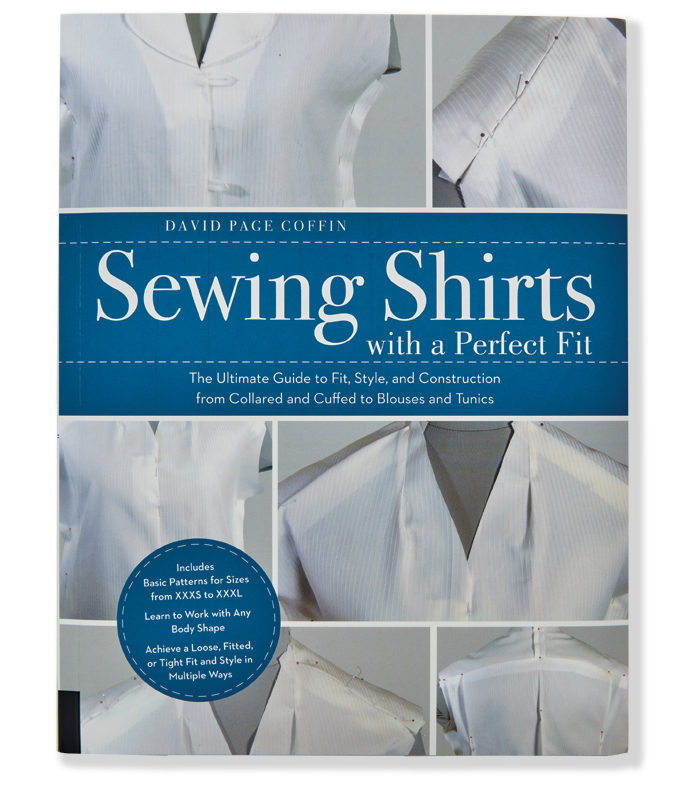 Bookshelf: Sewing Shirts with a Perfect Fit
For an in-depth guide to draping custom men's and women's shirts, check out Sewing Shirts with a Perfect Fit (The Quarto Group, 2018) by David Page Coffin, a former Threads senior editor. This 144-page, softcover book contains instructions for sewing shirts in sizes from XXXS to XXXL, and beyond. It is organized into five main chapters about fit and the terms and techniques necessary for sewing a shirt. The book explores three fit styles: loose, fitted, and tight fit, and explains how to achieve each look. The techniques are accompanied by color photos featuring garments with each section in a different color or print so the details can be seen. David's method is based on draping the shirt on a customized dress form rather than drafting by measurements. Included in the book is a section that explains an inexpensive and easy way to adjust a dress form's shape to match a real figure. The book presents four projects: a loose-fitting shirt jacket, a V-neck women's dress shirt, a wrap shirtdress, and a fitted men's western-style shirt. Online resources mentioned in the introduction offer extended instructions for the projects, a PDF with full-size pattern pieces for details such as collars and pockets, and explanations of construction techniques. Two sheets of "Pattern Tools," tucked in an envelope attached to the inside front cover, provide full-size templates and instructions for adjusting garment details such as the armscye, sleeve cap, yoke, and hem curve.
(QuartoKnows.com; $27.99)