Ultimate Guide to Thimbles
Increase hand-sewing efficiency with this classic notion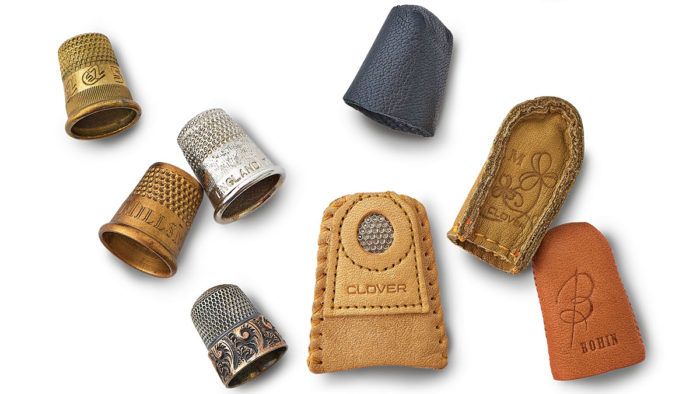 There are many great pleasures in my sewing practice that I originally resisted. One was the use of a thimble when hand sewing. A thimble felt awkward and in the way. However, a professor I encountered during my studies required me to wear a thimble for handwork. After a bit of practice, I was hooked. My thimble now feels like an extension of my hand and is possibly my most treasured sewing tool. I teach my own students—and encourage all  sewers—to embrace the benefits and joys of wearing a thimble while hand sewing.
A thimble enables you to use more of your hand while hand sewing, as opposed to simply pinching the needle between two fingers. When you have a thimble protecting the middle finger of your stitching hand, you can push the needle through the fabric, giving you greater control, precision, and speed. I'll show you how wearing and using a thimble compares to holding a pencil—something you probably do every day. With practice, you'll stop dreading hand sewing and start discovering all the ways it can improve the quality of your garments. A thimble might even help you fall in love with handwork.
Choose the right one
The key to using a thimble effectively is finding one that fits your finger and suits your sewing style. You may need to try a number of thimble types and sizes before you settle on the one that feels comfortable and helps, rather than hinders, your sewing.
Find your fit
Most often, a thimble for garment construction is worn on the middle finger of your sewing hand. There is no consistent sizing convention for thimbles, so trial and error is the best way to find one that works for you. To test for a good fit,…
Start your 14-day FREE trial to access this story.
Start your FREE trial today and get instant access to this article plus access to all Threads Insider content.
Start Your Free Trial
Already an Insider? Log in