All About Needle Felting
Meld motifs into the fabric of a garment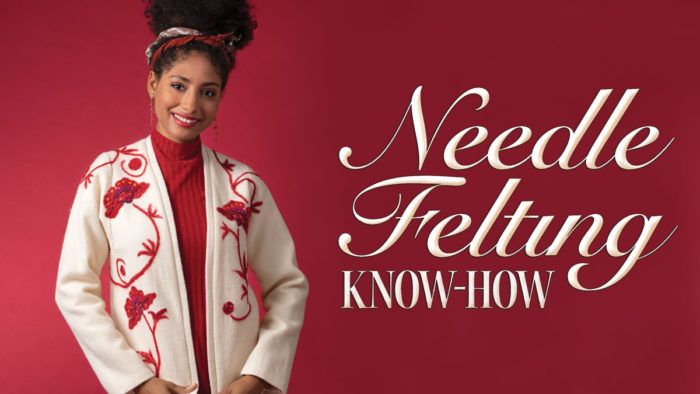 Imagine painting with wool: golden shooting stars flying across a navy dress, with a blaze of stardust streaming behind, autumnal leaves tumbling down a dark brown jacket, or a Mondrian-inspired abstract color pattern gracing a jacket's sleeve.
Needle felting, also referred to as dry felting, is an embellishment technique that permanently embeds batt or roving fibers into a base fabric.
To achieve results, you work a sharp, barbed needle through fibers layered on a fabric's surface. The needle's barbs carry some of the fibers into the fabric. When the needle is withdrawn, the fibers stay enmeshed.
As long as the fabric and the needle felting fibers match, they can be felted together. In other words, wool fibers felt to wool fabric, and silk fibers felt to silk fabric.
I'll demonstrate the method for needle felting with wool. Silk fibers are not as readily available, and wools are particularly successful because their natural crimps help mesh the fibers.
Depending on your design, the wool can be needled flat to the fabric surface, becoming an integral part of the textile, or left raised above the fabric in textured designs. You can create any  design you can imagine, involving simple opaque shapes, complex diaphanous webs, and anything in between.
All you need are a few tools, wool fibers, wool fabric, and your imagination. 
Tools and materials
This technique requires felting needles, a cushioned surface, and prepared wool fibers in batt or roving form. A few additional notions may help you manage materials and complete the process more efficiently.
Needle anatomy
Felting needles have barbs, tiny razor-edged indentations, designed to push wool fibers into fabric and enmesh them there. Common felting needle types are triangle- or star-shaped in cross-section, and available in sizes 36 (coarse), 38 (medium) and 40 (fine).…
Start your 14-day FREE trial to access this story.
Start your FREE trial today and get instant access to this article plus access to all Threads Insider content.
Start Your Free Trial
Already an Insider? Log in