Strategies For When There's Not Enough Fabric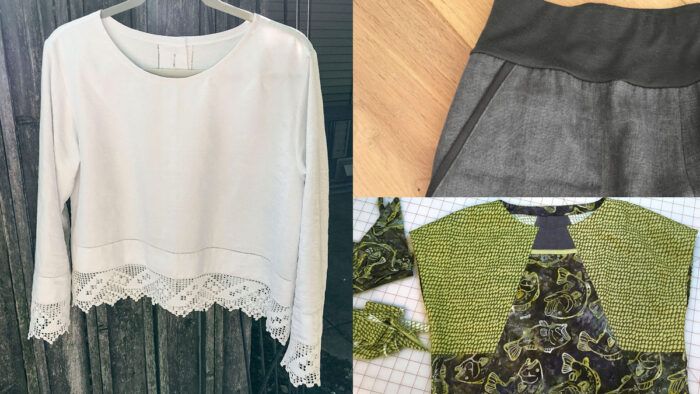 I am notorious for not having enough fabric. I am not talking about the mountains of fabric I have been stashing away my whole life. No, I am talking about "not enough" yardage for the particular project I have in mind. If the pattern calls for two and a half yards, I will have two. I will be close, and I will spend hours rearranging pattern pieces and folding the fabric every which way to try and eke out the pieces I need. Sometimes I figure it out, and other times, it just is not enough fabric.
Deliberately not enough
The other thing I am notorious for is buying a single yard of fabric. Why on earth would someone who sews mainly garments ever buy a single yard of fabric? But I fall in love with a piece and not knowing what I might do with it, I buy one yard.
So, you may ask, what do you do with bits and bobs and one-yard cuts of fabric? As it turns out, plenty. Over the years of "not enough," I have developed strategies for dealing with less-than-optimal yardages. These are great for getting closer to zero waste in sewing, as well.  Here are some of my tricks that turn small amounts into big successes.
Choose small garments
Even though it is obvious, there are patterns and garments that use fabric amounts more efficiently than others. I am partial to square shapes, so T-shirt shapes and cropped tops usually call for shorter lengths. My favorite hip-length, short-sleeve tee fits easily on a yard of 60-inch jersey knit. (For reference, I usually make a commercial pattern size 12 or 14.)
Work your pattern
There are several ways to work a pattern to conserve precious yardage. Next time you're faced with "not enough" try some of…
Start your 14-day FREE trial to access this story.
Start your FREE trial today and get instant access to this article plus access to all Threads Insider content.
Start Your Free Trial
Already an Insider? Log in