Sewing Plissé and Crinkled Cloth
Learn about deliberately puckered fabric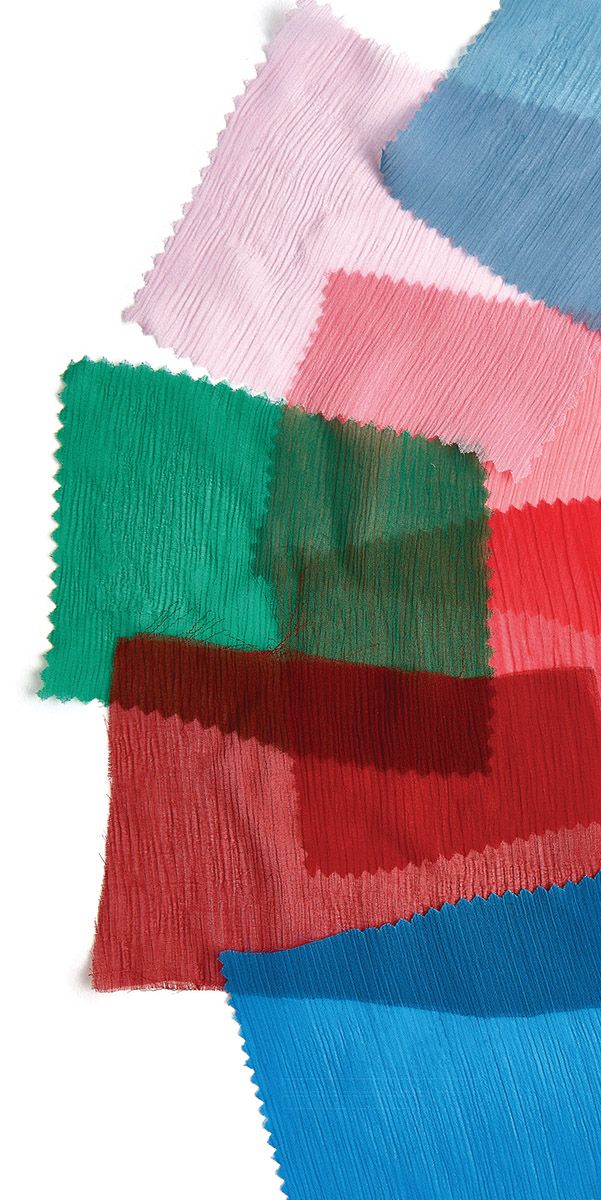 Lightweight, textured fabrics are wonderful choices for airy warm-weather apparel. They come in a range of fiber types, but they share important characteristics. They're soft, drapable, and generally easy-care fabrics with ripples, minute pleats, or crumpled folds. The texture is permanent, and it lends these fabrics body, even when the foundation textile is fine.
Plissé
Plissé, which means "pleated" or "wrinkled" in French, generally refers to a cotton fabric with a puckered texture. Other names for this material are "blister cloth" or "blister crepe." Plissé is typically created with a wet-finish application of a caustic soda solution. The chemicals cause the fabric in the areas of application to shrink, leaving the untreated areas puckered. Plissé fabrics are most often plain-weave cotton or polyester/cotton blends, but they also are made of rayon and acetate. 
Crinkle fabric
The name "crinkle" describes fabrics with permanent, ultrafine pleats along the lengthwise grain. These pleats are irregular in depth and shape; although they aren't perfectly straight, they are generally parallel. Other terms for this fabric include crepon, crinkle crepoline, and creponne.
Crinkle fabrics come in cotton, cotton blends, rayon, silk, and polyester. The texture may be created with a caustic solution, as for plissé, or through heat and pressure, which emboss the pleats in place. Another method of producing this effect is through the use of tightly twisted weft yarns. The overtwisted threads contract, pulling the weave into pleats. 
Textured fabrics translate well into unstructured, loose-fitting tops, dresses, full skirts, lingerie, and nightgowns. You'll love wearing them as the weather heats up, and you'll love their easy-care nature.
Care and handling

Treat these fabrics gently to preserve…
Start your 14-day FREE trial to access this story.
Start your FREE trial today and get instant access to this article plus access to all Threads Insider content.
Start Your Free Trial
Already an Insider? Log in