Mohair Fabric for the Height of Luxury
Find out the latest on sewing with this luxurious, multifaceted fabric, and meet the Mohair Challenge winners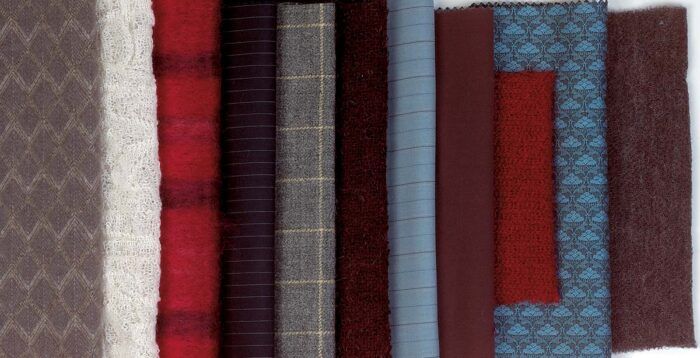 Forget cashmere; forget alpaca. Mohair is the height of luxury. Step into a lined mohair coat, and you'll feel like you're enveloped in a cloud. While almost weightless to wear, mohair is incredibly warm and resists wrinkling, making it terrific for traveling. Mohair is a relative of wool, made from the soft, silky hair of the Angora goat. Hard to sew? Not a bit. With the information provided here, your first mohair project will almost certainly be trouble-free, rewarding you with a garment that you'll have for a lifetime. 
Not all mohairs are fluffy, cloud-like confections, as you can see from the variety of swatches shown at left, even if this is the most well-known fabrication for this versatile fiber. Mohair has been spun and blended into fabrics ranging from rug-like fake furs to gauzy lace knits as well as gleaming and severe suitings with nary a stray hair. Nonetheless, the tips here will apply primarily to those lofty and tweed-like, all-or mostly-mohair fabrics, simply because their rich, deep nap requires the most specialized handling. Smoother mohair blends usually contain less mohair than the other fibers in the mix, and, as a rule,  these fabrics should be handled as if they were made entirely of the predominant fiber, or treated like woolens of a similar texture or hand.
A first pattern for mohair
What should you tackle for your first mohair project? Not necessarily a coat; an oversized vest could work, such as those offered among Diane Ericson's ReVisions patterns (49 Nandina Ave., Aptos, CA 95003; www.revisions-ericson.com), Lois Ericson's Design & Sew line (PO Box 5222, Salem, OR 97304; www.designandsew.com), or from The Sewing Workshop (800-466-1599; www.sewingworkshop.com). Or try a short swing coat, a boxy anorak, or a hooded cape. Still, my favorite mohair project is a…
Start your 14-day FREE trial to access this story.
Start your FREE trial today and get instant access to this article plus access to all Threads Insider content.
Start Your Free Trial
Already an Insider? Log in