Add a Pocket Along a Side-Seam Invisible Zipper
Add a side pocket along an invisible zipper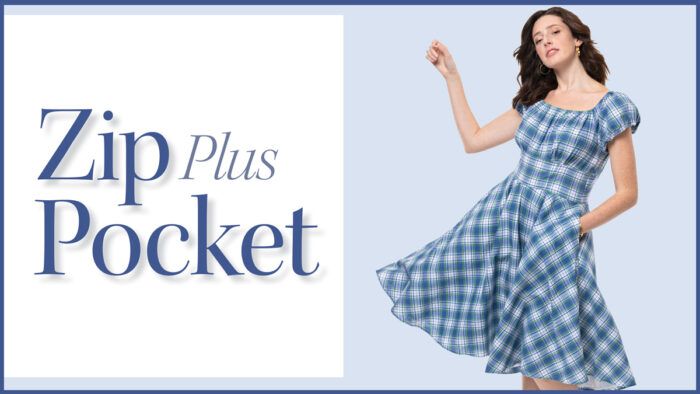 Everybody loves a dress or skirt with pockets. If the pattern you choose doesn't have pockets, you can add some that don't interrupt the lines of the garment, such as in-seam pockets.  
These type of pockets are an easy and useful addition to most dress or skirt designs. However, the process is less straightforward if the garment is designed to close with a side-seam invisible zipper. Moving the zipper to the garment's center back calls for pattern changes that you may not wish to do. I prefer to keep a zipper closure on the side seam, where it is mostly concealed during wear and keeps the garment's back plain and uninterrupted. If you are creating a vintage look, the side-seam invisible zipper is convenient and doesn't call attention to itself as an anachronism. 
Choose a pocket type
Adding a pocket to a side-seam zipper closure isn't difficult; it just requires modification when attaching the pocket bag. You can use this method for in-seam pockets that extend toward center front at the top and are anchored to a garment's waistline, or for the simpler style sewn only into the side seam. Use any pocket bag pattern to add an in-seam pocket to your dress or skirt. You will need to determine the best placement for the pocket on the seam. 
Download this Free Pattern for Making Nearly Invisible In-Seam Pockets
Revise the sewing order
I'll share my method for pocket and zipper installation on a dress design with a waistline seam and left-side zipper closure. Begin by assembling the bodice front and back, and join the shoulder seams. Don't set the sleeves yet. Prepare the skirt front and back sections as described in the pattern instructions, but don't sew the side seams. You'll install…
Start your 14-day FREE trial to access this story.
Start your FREE trial today and get instant access to this article plus access to all Threads Insider content.
Start Your Free Trial
Already an Insider? Log in