Pattern Review: BurdaStyle 1210720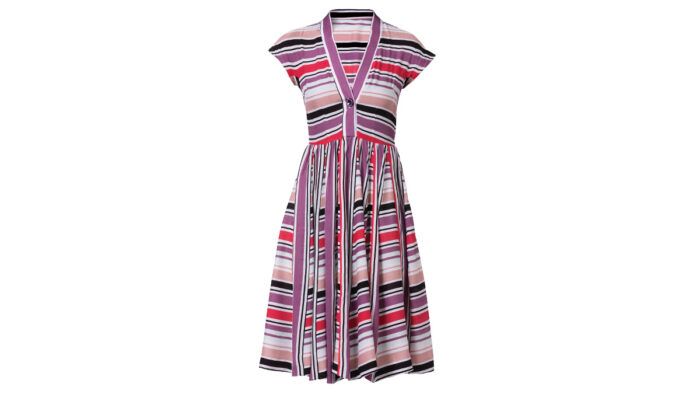 BurdaStyle 1210720
Put striped fabrics to creative use in this 1950s swing dress. It features a banded V-neckline, single-button closure, cut-on cap sleeves with an underarm gusset, fitted bodice with bust and waist darts, and invisible left-side zipper closure. The full skirt has 14 godets and 14 panels that alternate between the straight grain and the cross-grain. This is a well-drafted pattern. It doesn't include seam or hem allowances or finished measurements, so measure the pieces to determine the desired size. The skirt needs to be symmetrically attached to the bodice, so use the neckband, waist darts, and side seams as guidelines. The underarm gussets begin in the side seams below the bust darts and terminate at the sleeve hems. The sewing is of moderate difficulty, with the sleeve gusset installation the most challenging element. Finishing the seam allowances on the 28-panel skirt is the time-consuming part of the project.
Our seamstress notes:
If you use fabric with cross-grain or asymmetrical stripes, you will need more yardage than what the pattern recommends.
Omit the word "right" in the first sentence of the instructions under "Neckline band."
This design is intended to take advantage of a striped fabric. Alternatively, select a solid-colored fabric for the neckline band and rectangular skirt panels and, for the remainder, pick a coordinating polka dot or floral print. There is a lot of fabric in the skirt, so choose lightweight dress fabrics such as cotton sateen, rayon, or polyester/cotton blends. The fabric's pattern is important to the design, so further embellishment is not necessary. The sewing preparation may seem daunting due to matching all the points. Our tester recommends stacking the godet and gusset pieces and using an awl to mark their match points.
(Sized European 34–44 [US 8–18] for busts 31-1/2–39-1/2 in. and hips 34–41-3/4 in.)
—Tested by Faith McLean, Cape Elizabeth, Maine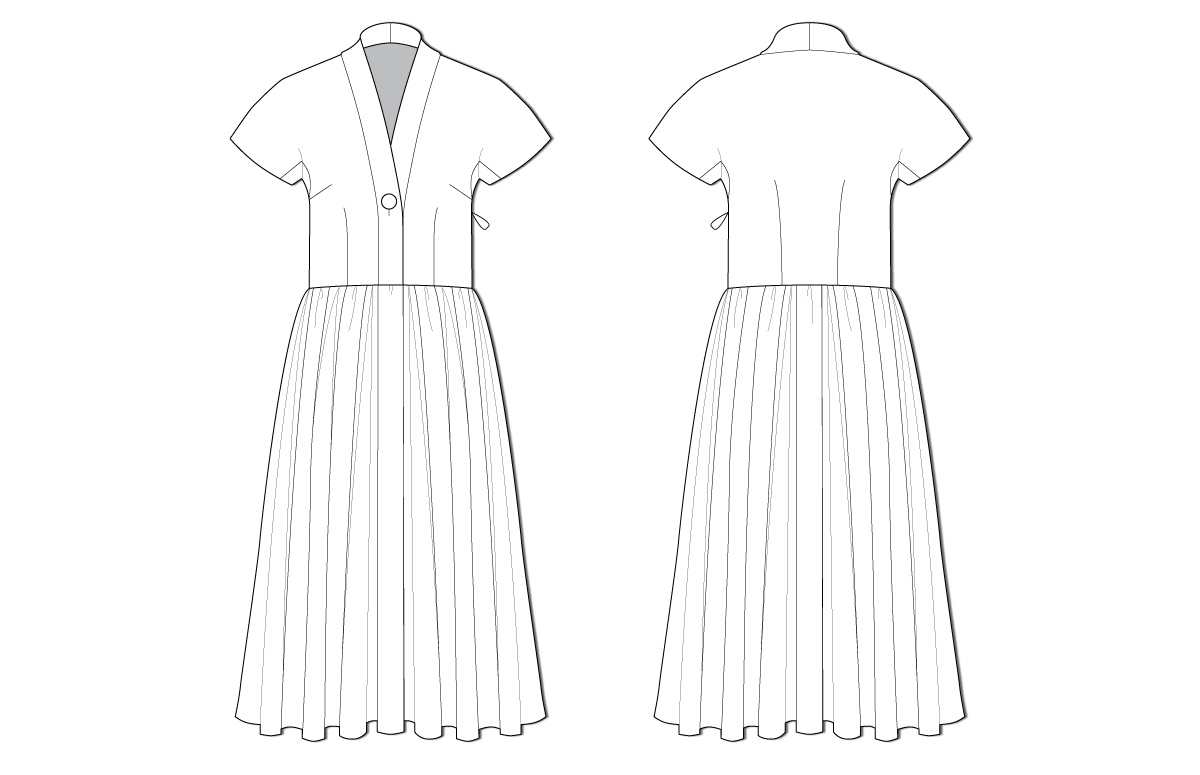 Style tip: If you like the multigored style, you can replace the bodice with a waistband and make a fun skirt.
This review was originally published in Threads #218, Summer 2022. Have you made this pattern? If so, be sure to share pictures in our Readers Closet gallery.
Illustrations by Cassandra Bernier.