A Window on Wool History
Textile artisans in medieval stained glass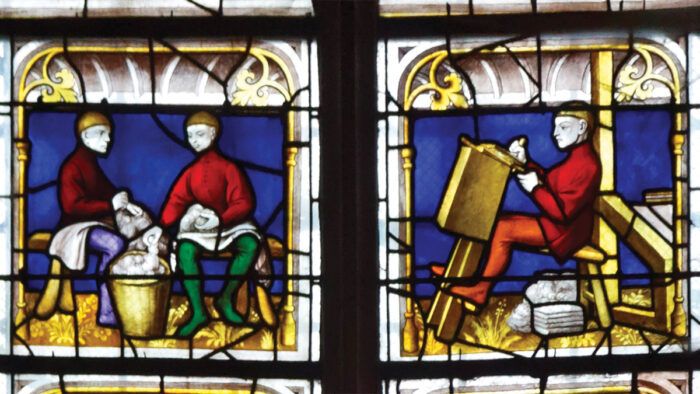 Between 1460 and 1470, the drapers' guild in the Burgundian town of Semur-en-Auxois donated this stained glass window to decorate a bay in the Gothic church of Notre Dame. Drapers were textile makers and merchants. Dedicated to St. Blaise (shown at the top), patron saint of drapers, the window depicts stages in wool textile production. It celebrates the hands-on work required to make cloth, a key part of the town's economy in the Middle Ages.
The simplified designs make it easy to read the figures' actions, and the palette is limited, though brilliant. Each scene is presented in a separate panel; typically artisan donor representations are relegated to the lower portion or borders of an artwork.
The scenes are arranged in vertical columns, but they are meant to be read left to right, top to bottom. Most of the wool-production steps shown are familiar. You may notice a key step, spinning the fiber into yarn, was omitted from the sequence. During this period, spinning was done by women, who were usually barred from guild membership.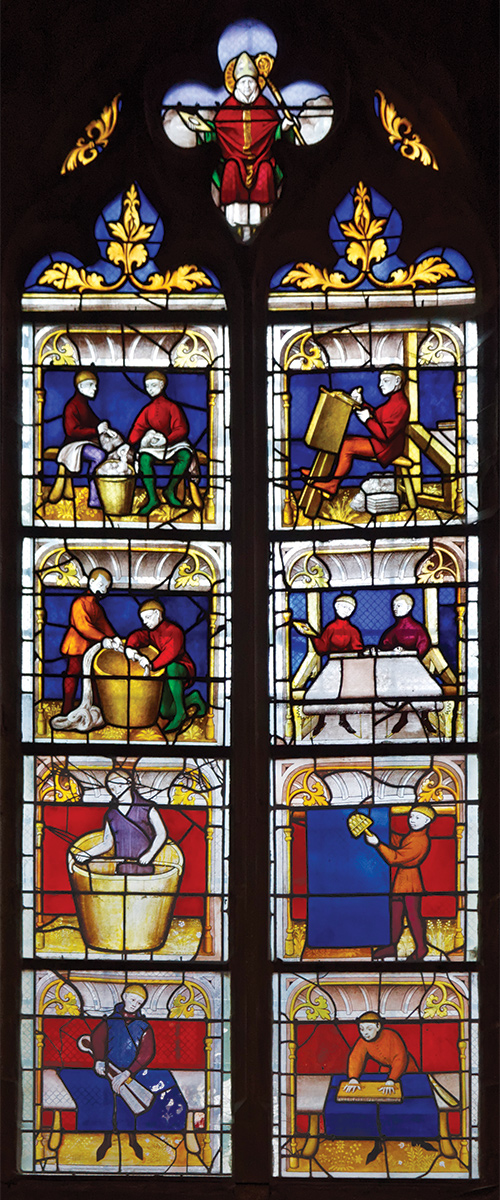 1. Picking:
The fleece is picked apart before carding.
2. Carding:
The fleece is combed into batts, shown stacked on the floor.
3. Drafting the batt:
The batts are formed into roving by pulling the fibers into a ropelike configuration. This image is somewhat confusing and has alternatively been identified as washing the wool, or forming skeins of yarn. The ropelike object's scale doesn't correspond realistically to any fiber form, so the interpretation is open to question.
4. Weaving:
The textile is woven on a horizontal loom. The presence of two men suggests this depicts a double-width loom, compressed to fit the panel.
5. Fulling:
The woven fabric is stomped upon in water to tighten the weave.
6. Teaseling:
A worker brushes up the nap with a tool made of bristly teasel seed pods.
7. Shearing:
The nap is trimmed evenly.
8. Brushing:
As a final step, brushing removes the fibers that were sheared, and raises the nap again.