Extraordinary Organza
This crisp textile can play a supporting or starring role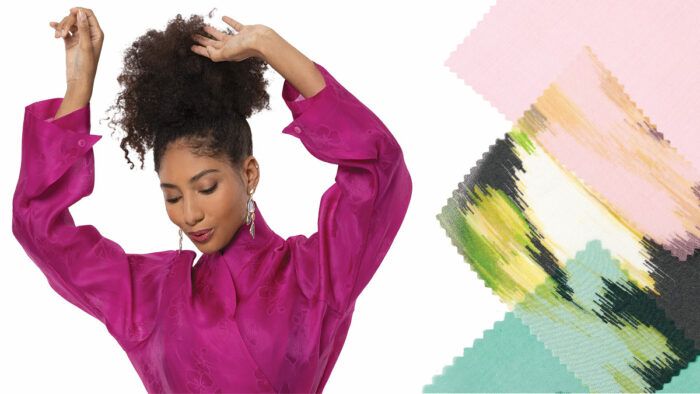 Organza is a versatile player in the theater of garment construction. A thin, stiff, and somewhat transparent fabric, it is typically a balanced plain-weave fabric, meaning the warp and weft threads are the same weight and cross each other at regular intervals. Though the plain-weave version is most common, organza is also made in stunning prints, delicate jacquards, and with a plethora of embellishing finishes for oomph. While it is available in polyester and rayon, silk organza is preferred by many sewers because it is less likely to pucker at the seams and it resists heat damage. 
Lightweight silk organza makes the best interfacing and underlining for any silk fabric that needs added body, since organza is crisp without being bulky. It gives support and resists wrinkles. Heavyweight silk organza is an excellent fashion fabric choice for a scarf, blouse, special-occasion dress, or a full skirt. Since this fabric does not drape, choose a style with a silhouette that doesn't call for a fluid material.
Silk organza makes a great press cloth. It can withstand high heat, you can see through it, and you can throw it in the washing machine and the dryer when it needs cleaning. 
Prepare and cut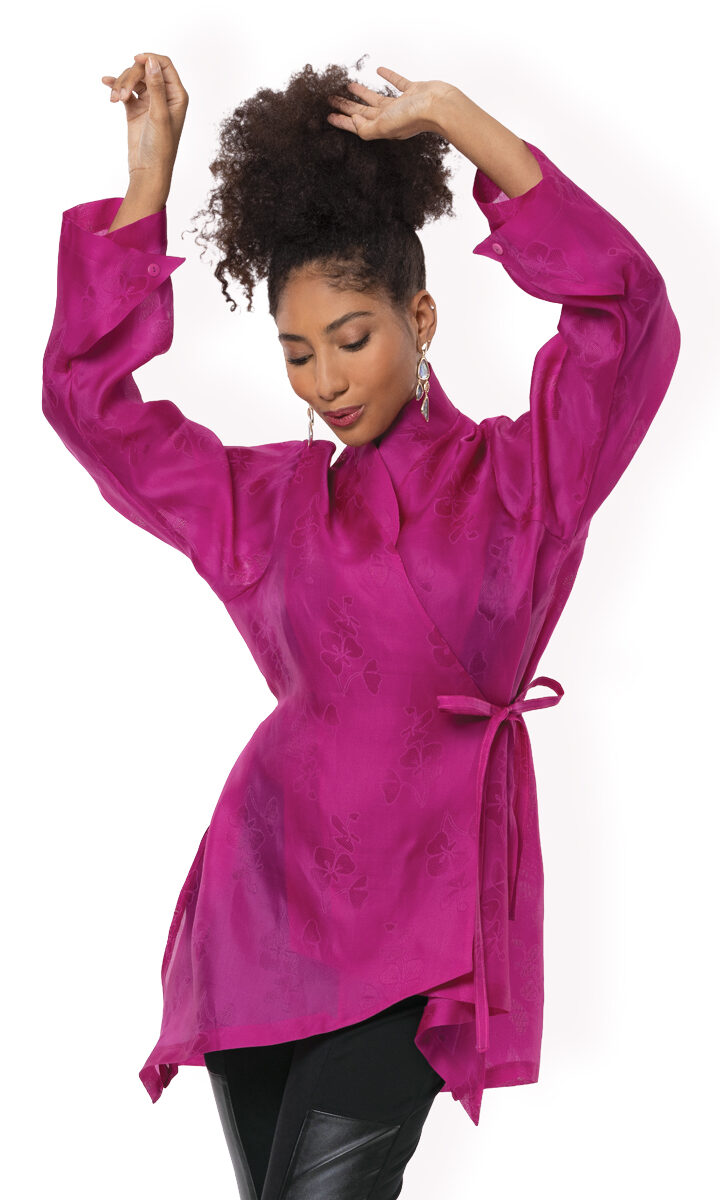 Silk organza is strong, though it appears delicate. While it does not require special preparation, there are handling considerations that help to create a well-made garment.
Consider the use before prewashing:
Since machine washing and machine drying soften organza slightly, prewash it only if you want to change the hand. Organza does not shrink, so you can cut and sew it as is and dry-clean the finished garment. 
Layout:
With plain organza, it is appropriate to use a double-thickness, without-nap layout on either fabric side. To be consistent, choose a wrong side and mark it on the cut pieces. For an organza with a directional print or jacquard motif, as shown in the jacket on the facing page, follow a with-nap layout. If the pattern has front facings, consider substituting a second set of fronts to eliminate show-through at the facing edge.
Cutting:
A sharp rotary cutter is preferred. If using fabric shears, pin the pattern thoroughly to prevent shifting when the fabric lifts slightly onto the blade.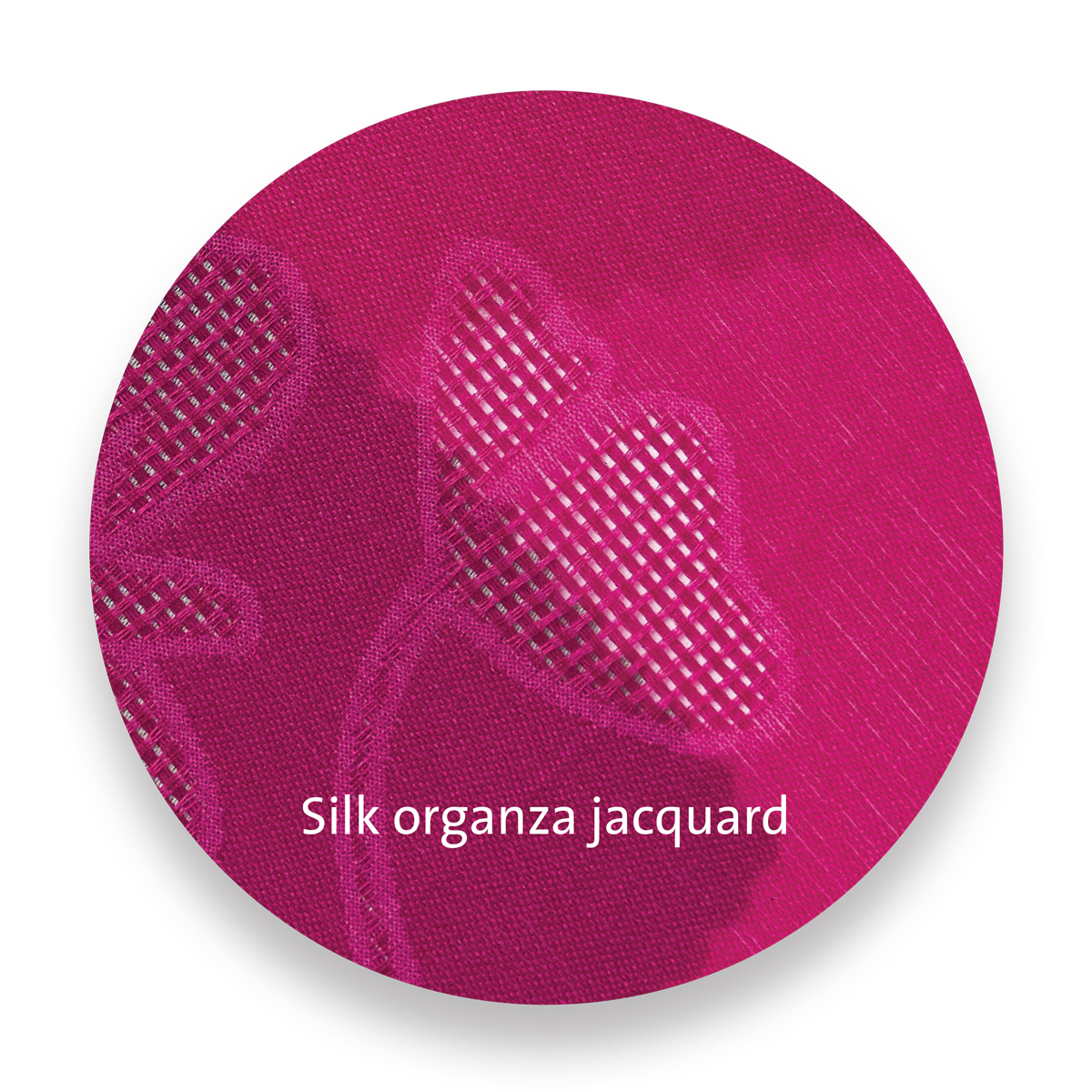 Interfacing:
Use self-fabric, as traditional interfacings show through.
Pressing:
Apply a dry iron, set to the silk temperature setting. Make sure the iron's soleplate is clean
of any residue, and avoid water spots.
Choose notions
Achieve better results with organza by using tools that work smoothly with a lightweight yet resilient textile. 
Marking:
Use a Clover Chaco Liner or Pilot FriXion erasable ink pen.
Thread:
Fine machine embroidery thread made of cotton or silk is appropriate. Clear monofilament thread works well for attaching trim and ribbons without visible stitching. Use the monofilament thread with a machine embroidery needle and regular thread in the bobbin.

Needles:
Use 60/8 or 65/9 sewing machine needles with sharp or ballpoint tips.
Stitch length and presser foot:
Set the sewing machine to a 2.0 mm straight stitch. A satin-stitch foot and standard plate are fine if you follow the technique recommendations below to keep seams smooth. Switch the needle to the far left position for support on three sides. If seams pucker, try a straight-stitch presser foot and single-hole throat plate, and return the needle to a centered placement to match.
Sew with confidence
Finish seams and edges precisely to look their best in sheer organza.
Prevent puckering:
Sew with the fabric held tautly to avoid puckered seams. Hold the top and bottom threads when you begin a seam to prevent any thread "nests" that would show through the fabric.
Don't backstitch on organza either: The doubled-up threads are too visible.
Seam finish:
Create narrow, traditional French seams. Do not serge the first seam pass. 
Topstitching:
Consider shiny rayon thread close to the garment or fabric edge. Use a topstitching foot for accuracy.
Closures:
For buttonholes, use fine machine embroidery thread to reduce bulk, in a 70/10 ballpoint needle. 
Hem:
Press a 1/4-inch-deep double-fold hem, then machine- or hand-stitch it to secure.
---
Sandra Betzina is the author of All New Fabric Savvy (The Taunton Press, 2017), from which this article is adapted.
Stylist: Jessica Saal. Hair and makeup: AgataHelena.com. Styling credits: earrings—Kendra Scott (NordstromRack.com), pants—Bar III (Macys.com).