Pattern Roundup: Sewing Barbiecore Fashions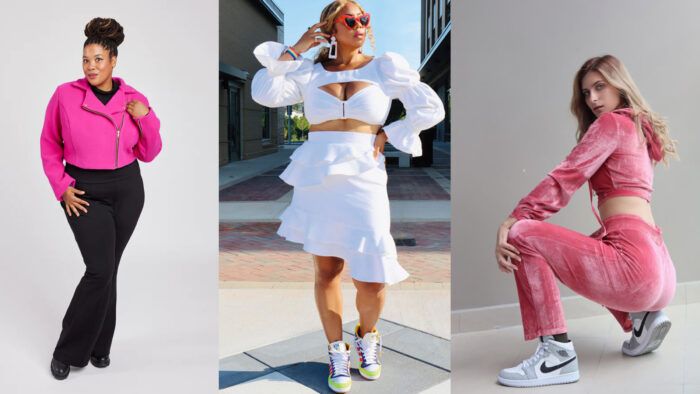 Think pink. Think over the top. Think frothy fantastic fashions. Barbiecore is back with a vengeance this summer as the Greta Gerwig film is set to release July 21, 2023.
Ruth Handler, who created the doll in 1959, intended for Barbie to give girls the opportunity to dream about who they might become. By sewing your own Barbiecore outfits, you can embrace the opportunity to show the world your dream outfit.
---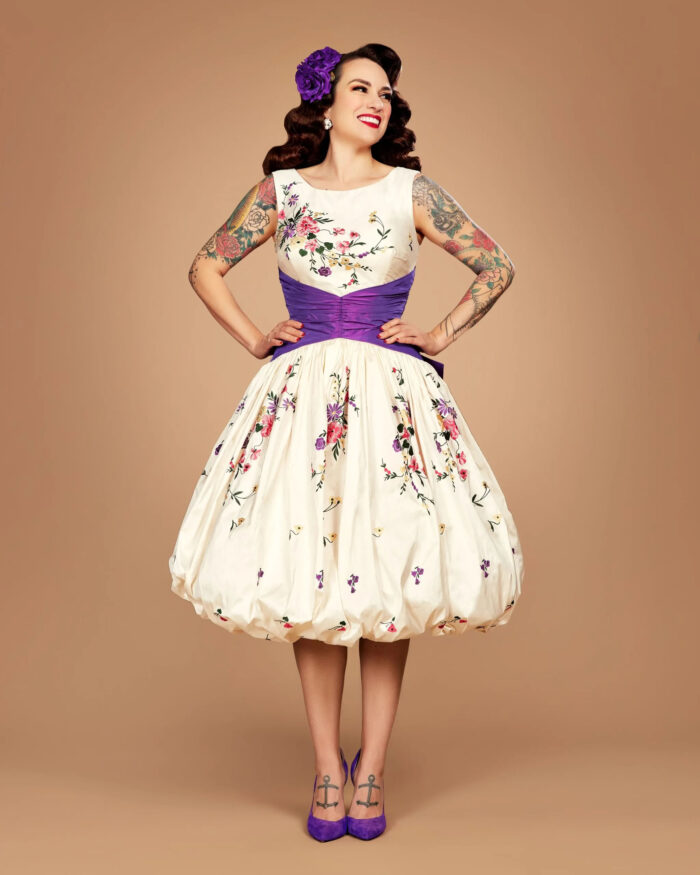 Check out this perfect starter for creating a vintage Barbie-inspired outfit. This fully lined dress has a contrast cummerbund and optional back bow. In addition to the bubble skirt, options include a full gathered skirt or a slim pencil skirt. Sleeve options include sleeveless or wrist-length bishop sleeves with a long slit opening. The pattern is available in 2 size ranges: 2 to 18 and 20 to 34, with separate A to H bust cup sizes.
---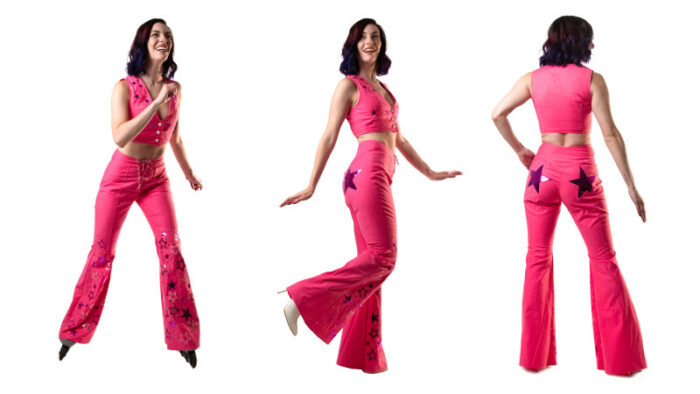 Straight from the movie, Mood Designer Fabrics brings us (free) patterns and complete instructions for sewing a full Barbiecore cosplay outfit. A cropped vest and lace-up bell-bottom pants embellished with metallic stars will get you set for any Barbie-inspired event. Find this design in women's sizes 2 to 30 (bust 32 1/2 inches to 58 1/2 inches, waist 24 1/2 inches to 49 1/2 inches, hip 34 1/2 inches to 63 inches).
---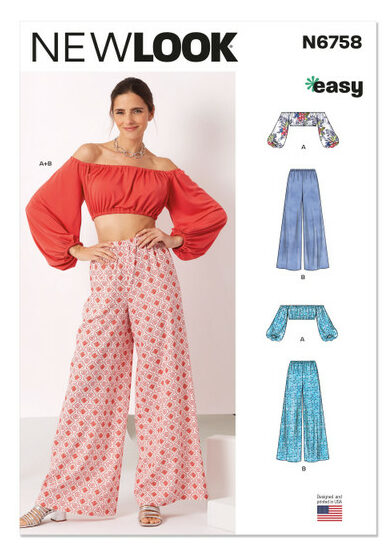 Make it in coordinating hot pink fabrics for a Malibu Barbie look. This easy-to-sew cropped top has an elasticized neckline and lower edge, with long gathered sleeves. The coordinating loose-fitting pull-on pants have elasticized waist and side seam pockets. The pattern is sold in women's sizes XS to XL (bust 30 1/2 inches to 48 inches, waist 23 inches to 41 1/2 inches, hip 32 1/2 inches to 50 inches).
---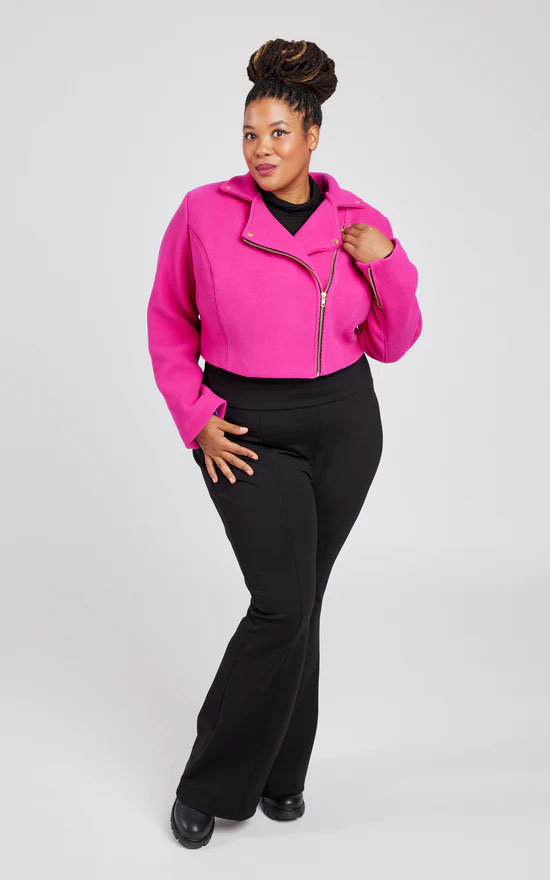 Cashmerette's moto jacket pattern is a perfect style for cool nights on your Barbie scooter. With details like an asymmetrical front zip, wide notched lapel, zipper pockets, lined interior, and gusseted zipper sleeve openings, this is a classic biker jacket you'll wear for years. This pattern is available in sizes 0 through 32 (full bust C/D cup 33 inches to 60 inches, E/F cup 34 inches to 61 inches, G/H cup 35 inches to 62 inches, waist 25 inches to 52 inches, hip 35 inches to 62 inches).
---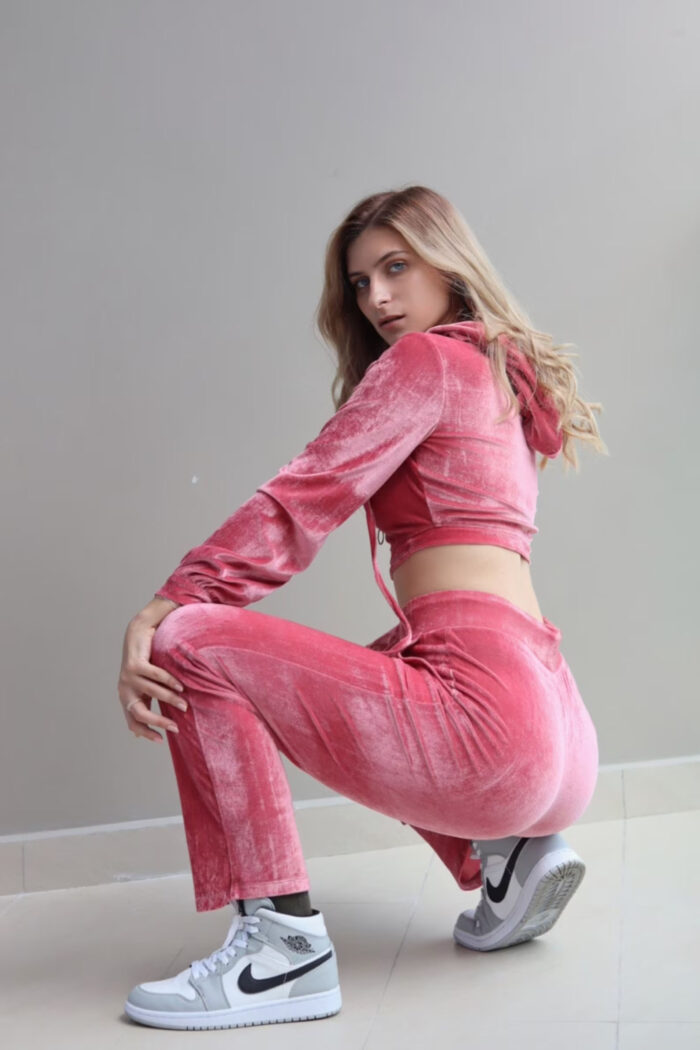 I admit it, I cheated and bought a ready-to-wear hot pink glittery tracksuit for the drive-in showing of Barbie. Whether you are going for a '90s look, Y2K, or Malibu Barbie style, making your own tracksuit is a great way to fully customize your look. This pattern is available in sizes XXS to XXL (bust 30.7 inches to 40.2 inches, waist 23.6 inches to 33 inches).
---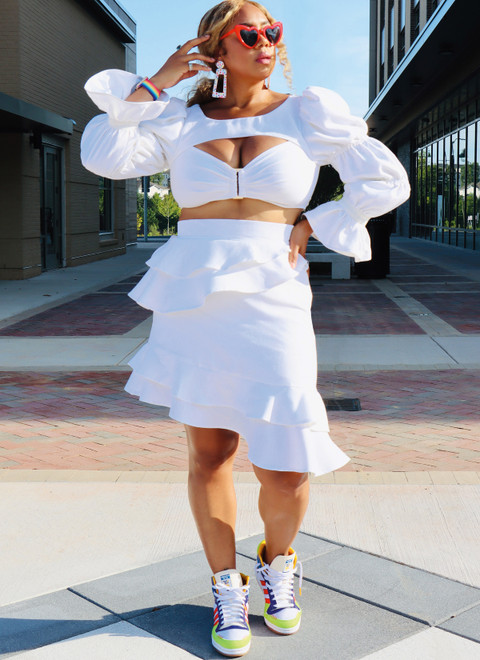 This jaw-dropping crop top and skirt set from Nefertiti Griggs (a.k.a. @thecornyrainbow) would make a gorgeous premiere night look. Long-sleeve cropped tops feature a cutout below the neckline with a 2-inch buckle at the center front, and full sleeves with the option of multiple rows of elastic shirring. Skirts come in two lengths with asymmetric flounces at front and back and an invisible side zipper. This design is available in women's sizes 8 to 26 (bust 31 1/2 inches to 48 inches, waist 24 inches to 41 1/2 inches, hip 33 1/2 inches to 50 inches).
---
Kenergy Spotlight
As long as he matches Barbie, Ken only needs two garments, three if you want to make him a tank top (I said what I said). After all, his job is . . . beach. Enter the Ken Swimsuit from Vogue and Thread Theory's SewSew Def Gosling shirt.
| | |
| --- | --- |
| | |
| This is a perfect project for the advanced beginner/intermediate sewist. Any of these views work for Ken—it just depends what decade you're focused on. According to Vogue Patterns, View A has fly-front zipper closing, flap pocket and elastic back and side seam pockets. View B has contrasting bias binding and elastic waist. View C has lining, elastic at the leg openings and elastic waist with drawstring. It is available in men's sizes S to XXXL (chest 34 inches to 56 inches, waist 28 inches to 52 inches, hip/seat 34 inches to 57 inches). | We couldn't top this top, with Gosling right in the name. (Ryan Gosling stars as Ken in the movie.) This advanced beginner pattern for a button-up shirt has front and back yokes, sleeve tabs, curved hem and an optional chest pocket. Learn how to add zip to Ken's shirt with this tutorial from Peter Lappin. This pattern runs true to size without extra ease and comes in sizes XS to 2XL (chest 34 inches to 44 inches, waist 28 inches to 38 inches, hip 35 inches to 45 inches). |
---
If you've made any of these, we'd love to see your work. Please consider submitting a Gallery post or or tag us on Instagram with #memadethreads.