Worn, by Sofi Thanhauser: Book Review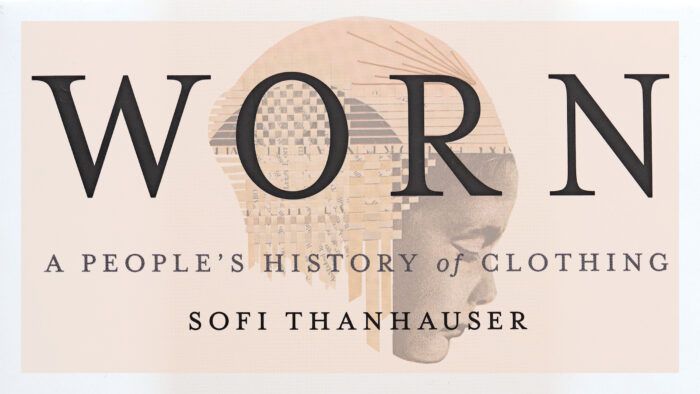 The amount of information, research, and insight contained in Worn: A People's History of Clothing (Vintage, 2023) by Sofi Thanhauser is staggering, at times overwhelming, but always important. Many people today never consider where or how the garments they wear come into existence. They don't ask what lengthy roads the textiles they buy have travelled. This may be true even if they are concerned with things like sustainability and earth-friendly practices. That disconnect is something I, as a professional tailor and patternmaker, have always marveled at.
Globalization and the price of clothing
Early in her book, Thanhauser writes that today it is more expensive to make your own clothes than to buy them. From a historical standpoint, this is a relatively new phenomenon. Those who do not know how to sew sometimes find it difficult to comprehend this. Of course, knowing and accepting this fact is one thing; understanding how this truth came to be is another altogether. Thanhauser's book takes us on a long, comprehensive, and often disturbing journey to show how globalization and the devaluation of labor have affected—and continue to affect—textile and clothing manufacturing around the world.
This panoramic social history looks at the cultivation and creation of linen, cotton, wool, silk, and viscose. None of these fibers would exist without countless human laborers, many of whom earn paltry salaries in less-than-ideal conditions. And we're not talking about 20, 30, or more years ago. We're talking about today. Thanhauser's view is a long one and it's worth spending the time to take it in. As she writes, "There is scarcely a part of the human experience, historic or current, that the story of clothes does not touch."
Human contribution and cost in textile creation
Thoroughly and intrepidly, Thanhauser visits factories and farms all over the world, including those in China, Honduras, India, the English Lake District, and Lubbock, Texas. She interviews breeders, weavers, spinners, and factory sewers and owners, leaving no part of the process of creating garments unexplored. As she tells these stories of textile creation, she offers insight into how clothing has shaped our modern world and how we've arrived at our current fast-fashion crisis.
All these stories are observed through the lens of human experience. Humans create our garments. In fact, the textile industry is one that has yet to move past the need for humans. The process of sewing, as of today, cannot be done by machine alone. It still requires a human operator manipulating cloth to form a pair of jeans or a simple T-shirt.
Timeless traditions and unexpected innovations
Some of the most fascinating stories in the book come at the end. Take, for example, Thanhauser's account of byssus, or sea silk. There is only one woman left in the world who knows how to produce byssus. The knowledge has been passed done through her clan and never, ever sold. Today, byssus is one of the rarest things on Earth and, consequently, essentially priceless.
Then there's the man who founded Microspin, a company that produces machines that enable farmers to spin their cotton into thread. This technology saves shipping fibers back and forth for spinning, and minimizes the demand for overproduction. He calls mass production an anachronism, treating it, Thanhauser writes, as if it has always been here. The innovation in the Microspin process is that it helps individual farmers opt out of the need to seek "economies of scale," with all their attendant ills. And when you compare the spinning of thread to that of a spider spinning its web, creating something out of nothing, I suppose it has. It is, and can be, "an everyday, ordinary miracle."
The miracle of making
I would argue that much of sewing and tailoring consists of small, everyday, ordinary miracles. Forming complex, three-dimensional garments from two-dimensional pieces of fabric is akin to some kind of magic, after all. There is nothing inherently easy or mundane in that.
Thanhauser writes about her experience learning tailoring techniques at the Fashion Institute of Technology, in New York. She notes that "The first couple of times you incorrectly stitch in a pocket lining, it makes you feel honest and hardworking and ready to try again. The third time, you wonder if you really have what it takes to be tailor. The fourth time renders you philosophical."
Thanhauser's book is a must-read for anyone who wants to understand, on a fundamental human level, where their clothing comes from. If you sew as a business, it would make the perfect gift for the next person who asks you why it is so expensive.
---
Vanessa Nirode is a writer, patternmaker, and tailor based in New York City. See more of her articles here.