Book Review: Embroidery Atelier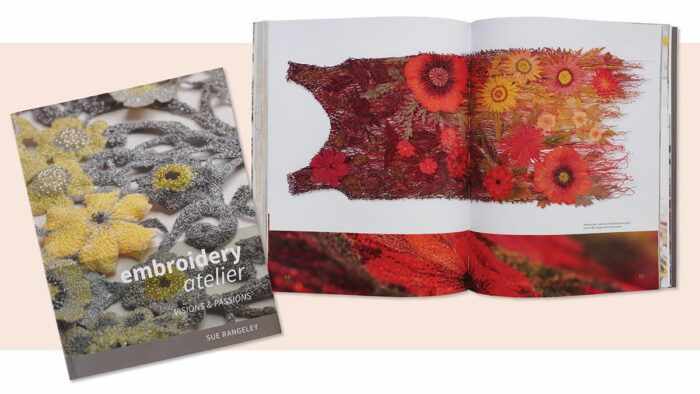 It wouldn't be hard to imagine that embroidery artist Sue Rangeley inhabits a magical world that she sees, interprets, and re-creates.
"Stitch has the power to stir emotions, inspire dreams and conjure a little magic," she says in her latest book, Embroidery Atelier: Visions and Passions (SueRangeley.co.uk, 2022). It is a companion volume to her previous book, Embroidered Originals (d4daisy Books Ltd., 2010), and it takes an even more personal approach to revealing her creative process. We're privy to Rangeley's inner sanctum, a combined living space of heart and hand, with its mood boards, sketches, bits of fabric, and old photographs.
The creations in the book—which range from collars to wall hangings to bodices to overdresses and more—are grouped into four categories:
Free Spirit: inspired by the London of the '60s and '70s, when flower power was a pervading design concept;
Past Passions: the influence of vintage textiles, historical homes, antique china, genealogy and the like;
Nature Notes: an exploration of meadows and woodlands, flowers and foliage;
Pleasure Paths: a look at two famous English gardens.
Happily, in addition to detailing her creative process, Rangeley generously explains the range of textile art techniques she's developed. Each of her creations lists the techniques involved; it's easy to reference them in the final section of the book, "Studio Techniques." It's a lexicon of the nuts and bolts of her process. Among them are succinct thoughts on appliqué, beadwork, machine lace, fabric manipulation, and print and paint.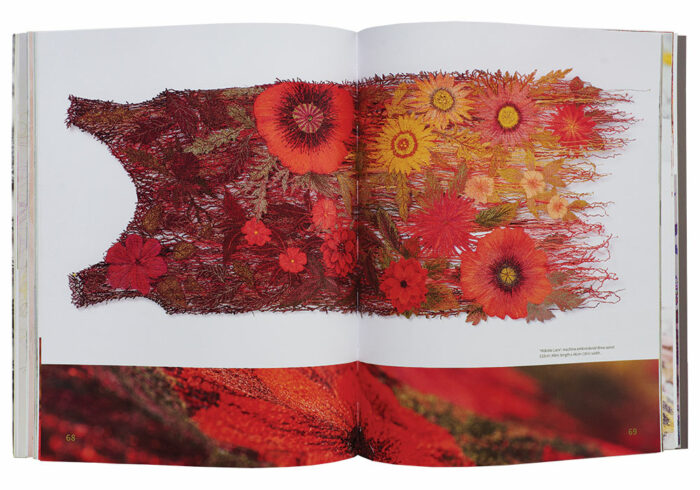 Rangeley's approach may seem a bit hazy at first, but you'll discover from the text and images how she pulls inspiration and creativity together into finished works.
For instance, from a visit to the gardens at Hidcote in the United Kingdom:
"Design research starts in the Red Border with the scarlet flash of an oriental poppy . . . The image sets my imagination moving towards an idea for embroidered lace splashed with red flora, selecting an array of blooms to translate into appliqué lace . . . a theme is launched."
Her thoughts on color and pattern inspirations follow, along with explanations of practicing techniques in the studio. And then, there it is, a stunning machine-embroidered, red-hued dress panel (shown above).
There's a magical overlay to Rangeley's work, in this special universe where creativity and technique coexist. It may appear to be a fantasy, but it's been created with her brain, her sketches, her sewing machine, and thread.
You'll be amazed, you'll be inspired, and should the spirit move you, you'll be able to create your own beauty.
Embroidery Atelier has encouraged me to look more broadly for inspiration and to see the artistic possibilities in what's all around us.
—Susan Khalje is a Threads contributing editor, SusanKhalje.com.
Photos: Mike Yamin