A Year of "Re": Restore Old Denim Favorites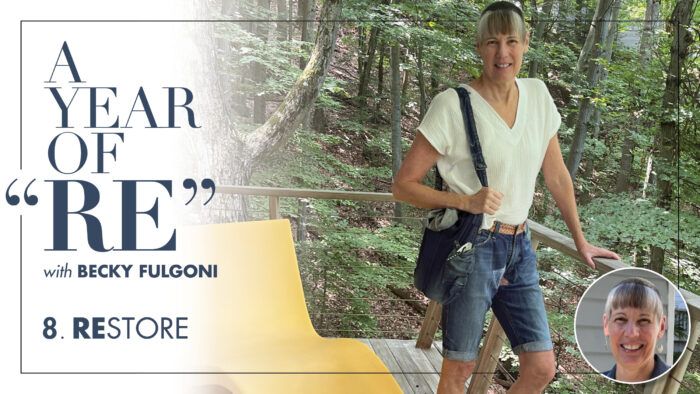 The Year of "Re" had been progressing swimmingly. Each month when I would draw my "Re" card, a project materialized (pun intended). Sometimes, I even came up with more than one and had to choose between them. I had wondered if and when it might happen that I'd pick a card and nothing would pop into my head. Well, that time arrived. When I chose the word "restore,"  my brain was a blank, echo-y expanse of nothingness.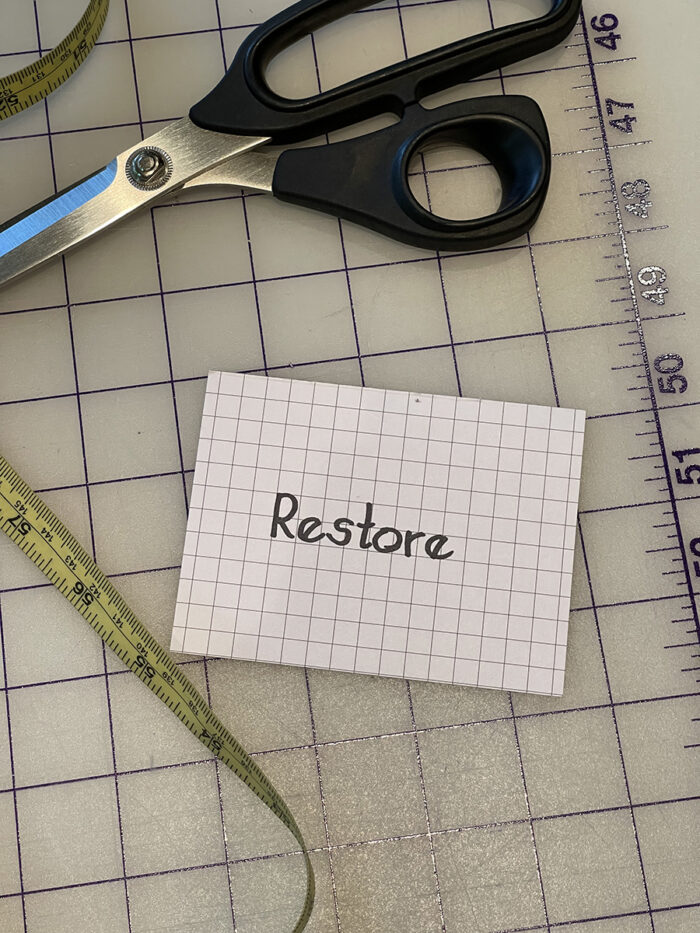 My only thought was that "restore" suggested that the project should be about bringing something well worn and loved back to useful life.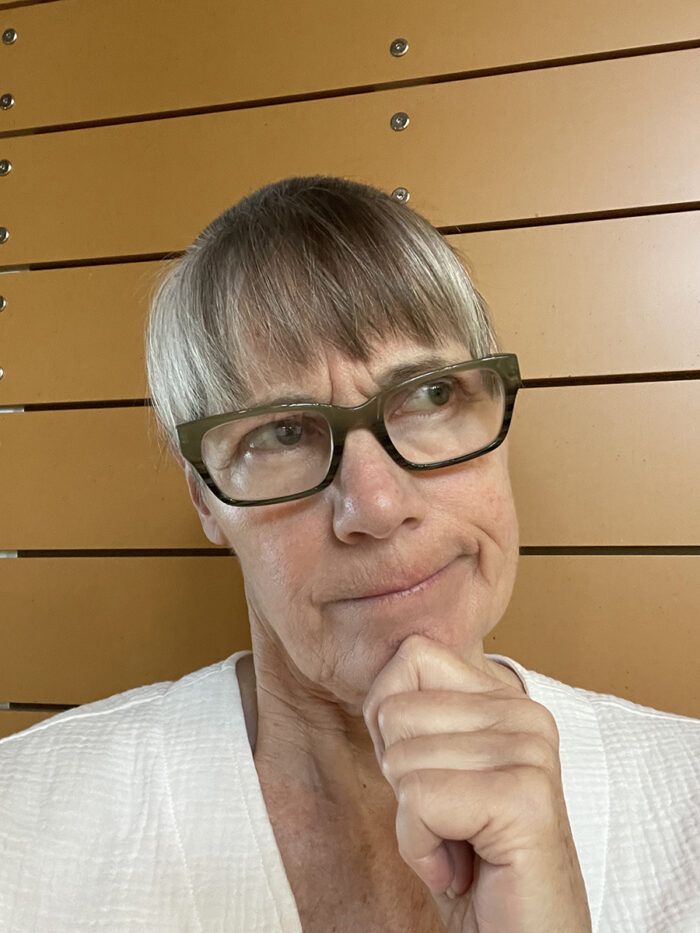 I scoured my closet, and my husband's closet. I dug deeper into the box of forgottenness. Then I piled through the thrift store donation basket. Still nothing presented itself. We have moved twice in the past two years and anything that wasn't essential got re-homed or donated, so the collection of old and busted articles of clothing was minimal.
So I decided to reach back in time for this month's "re" project. There are two that I think are about restoration, and both have to do with denim. In a bit of a breech in protocol, here are two projects I did several years ago.
Restore a Denim Jacket
My son's girlfriend at the time had a well-loved denim jacket. In fact, it had come to her by way of a thrift store and had been well-loved by someone else before she started loving it. She asked if I could "fix" it.
I felt honored and terrified. What if I really messed it up? When I got the jacket, I realized that it was a mess already and I could only improve the situation.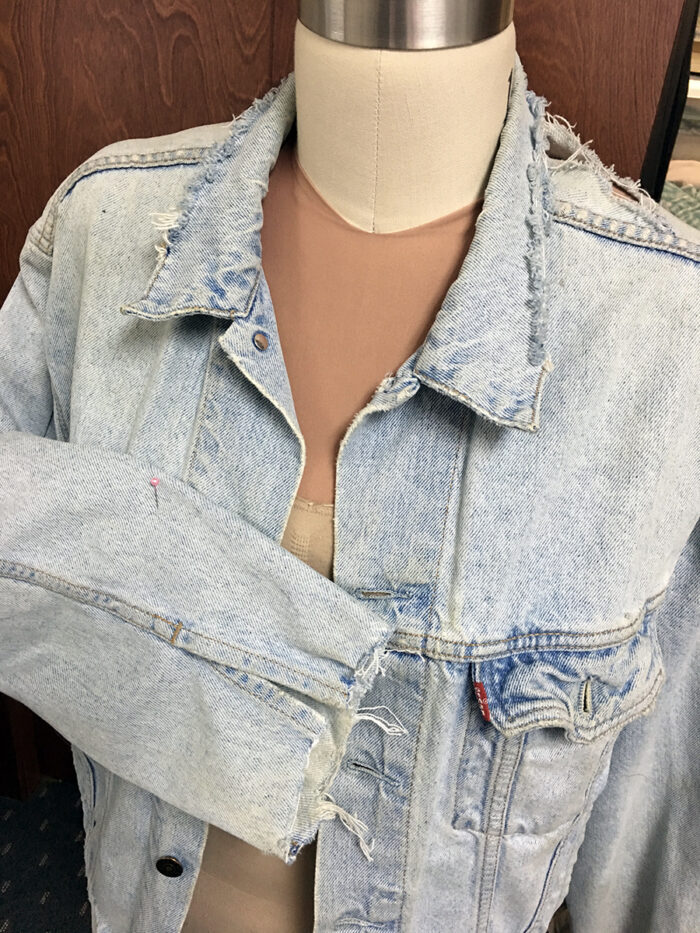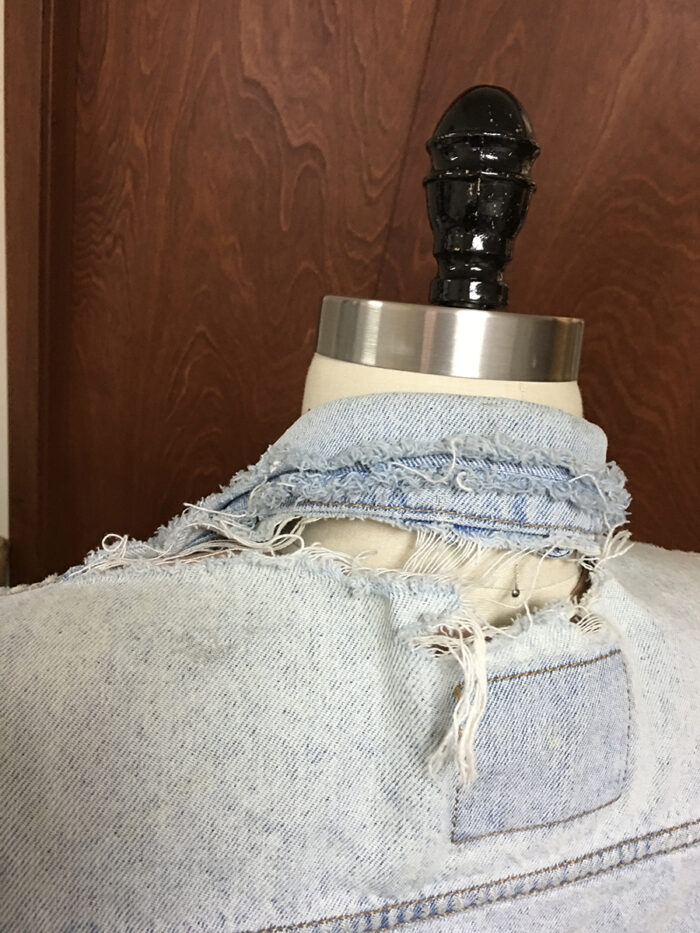 Binding and stitching
It was well beyond simple patching. To keep as much of the original jacket as possible, I bound frayed edges or whipstitched with embroidery thread to strengthen them.
Relining
I lined the yolk and reattached the collar.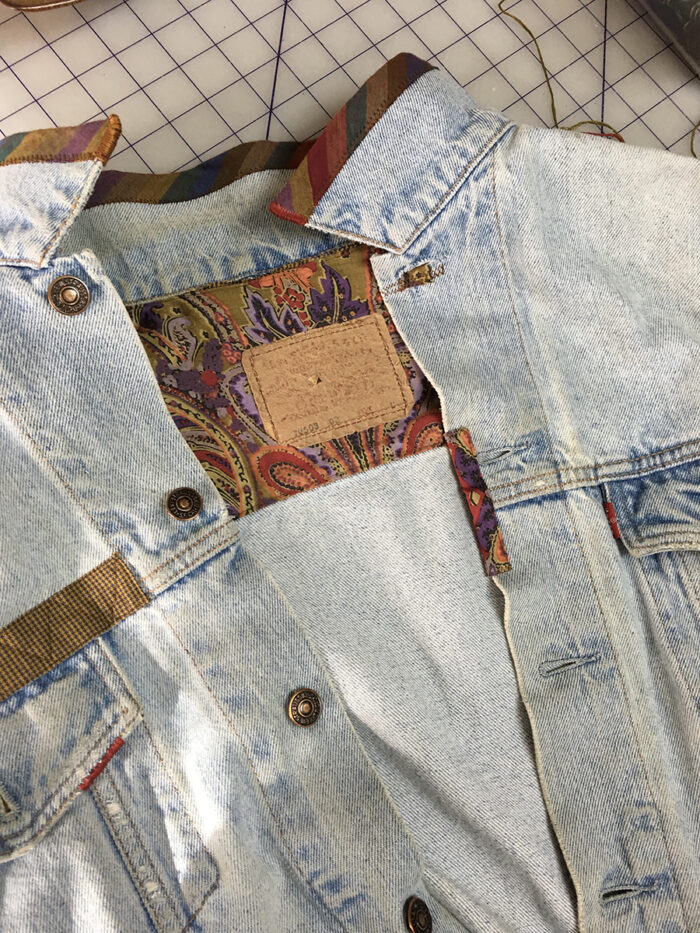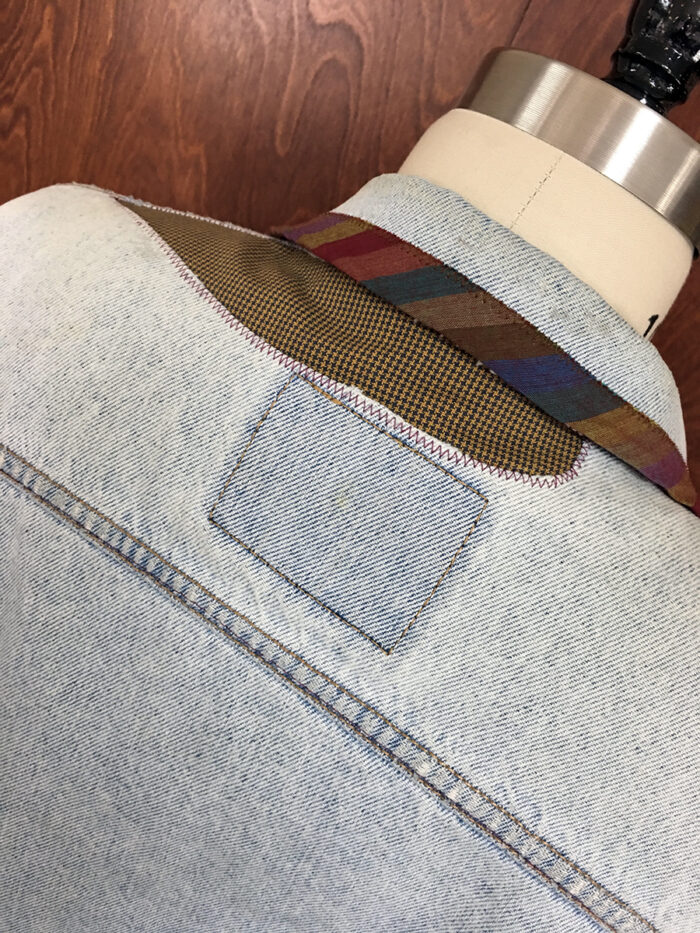 Replacing parts
I cut new cuffs and patched a few minor holes.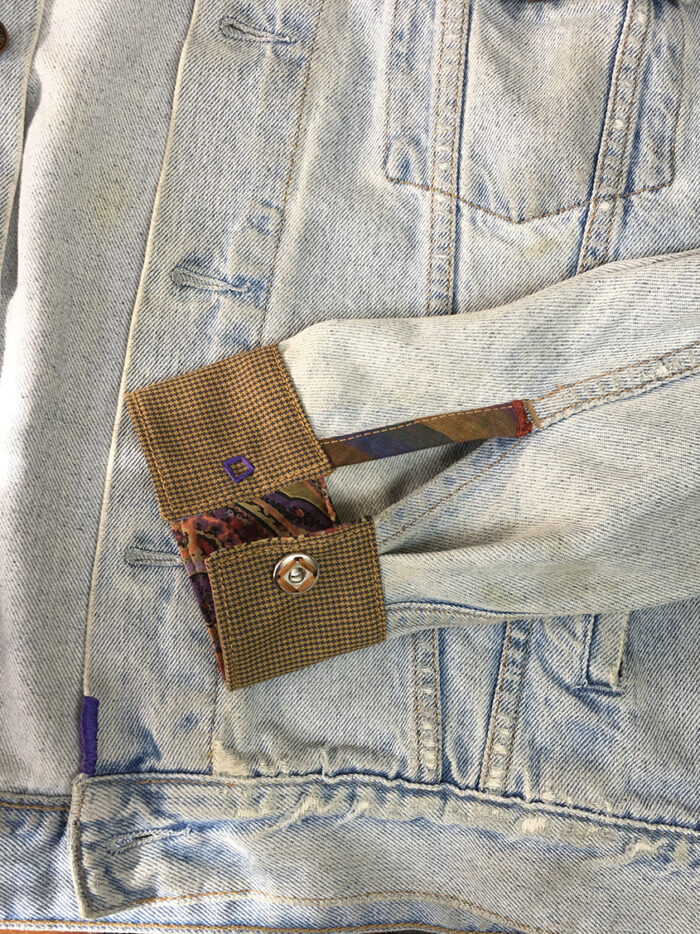 In the end, I was pleased with the newly restored jacket, and so was the owner. It has had a few more years of love.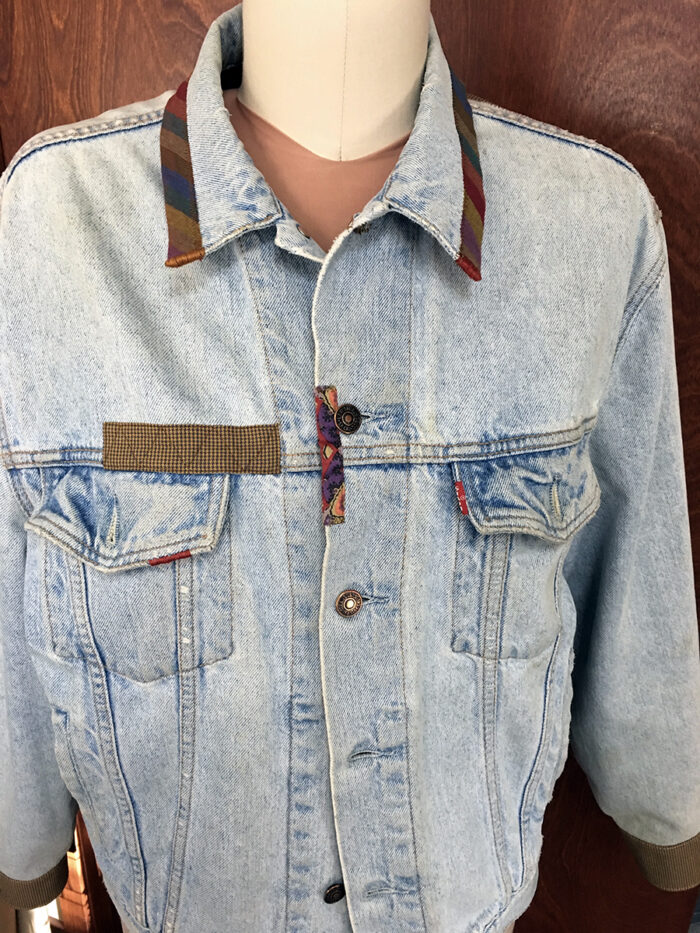 Restore Jeans
The second denim restoration involves a cherished pair of jeans. The only problem was, I thought they were old and busted jeans.
Repurposed as a wine bag
I had been invited to a dinner party and asked to bring wine for the event. I decided I would make a wine bag. My son was off at college, so I figured anything left in my basement was fair game. I found a really worn-out pair of jeans and proceeded to cut off the legs below the knees, detach the waistband, and remove one of the back pockets. I then closed one end of each leg, sewed them together, turned the waistband into a strap and attached the pocket to hold a corkscrew. Voila! Wine bag—and a cute one at that.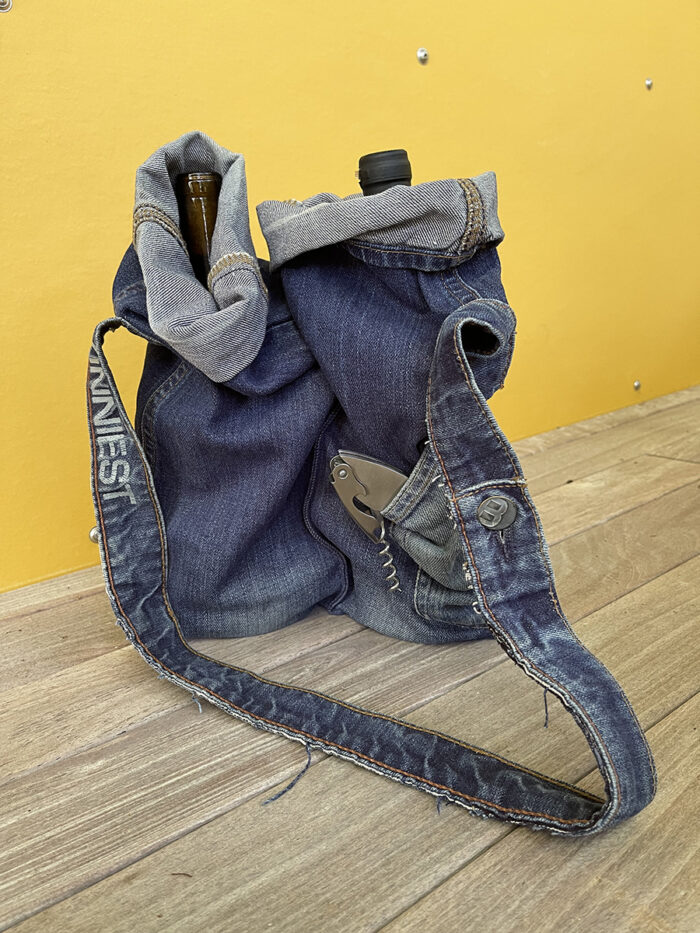 Restored as shorts
As I was cleaning up the remaining bits of the pants, I wondered if they would actually fit me. Other than being a big in the waist, they were pretty good. It just so happened that they were missing a waistband. (Hmmm . . . I wonder how that happened?) So instead of throwing them out, I made a new waistband, my size of course, put on a new back pocket, fixed the worn-out crotch and front pocket. I even reattached the leather waistband tag. Voila! Me-sized denim cutoffs.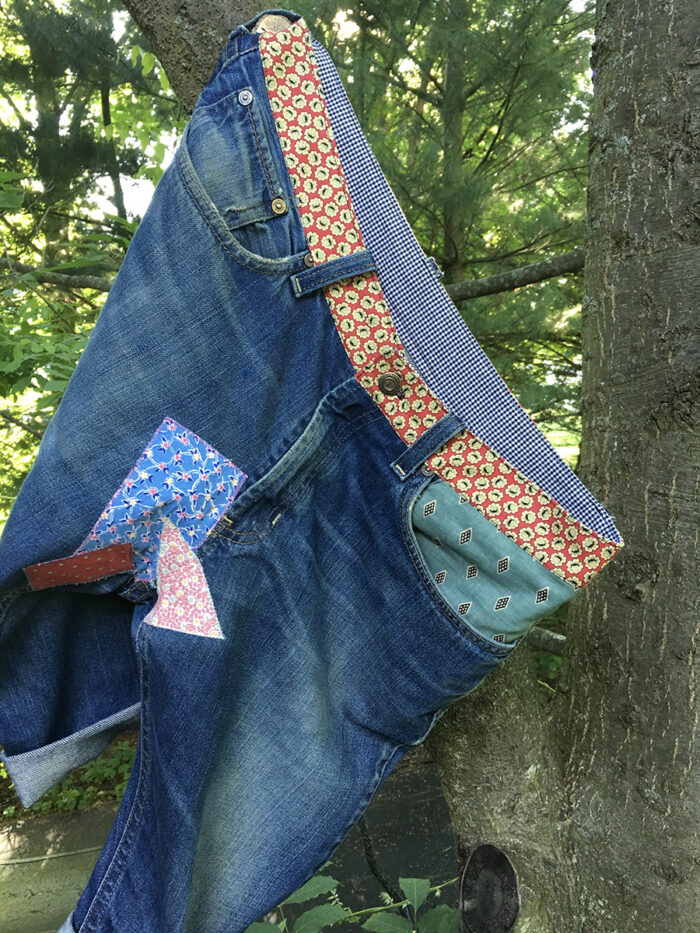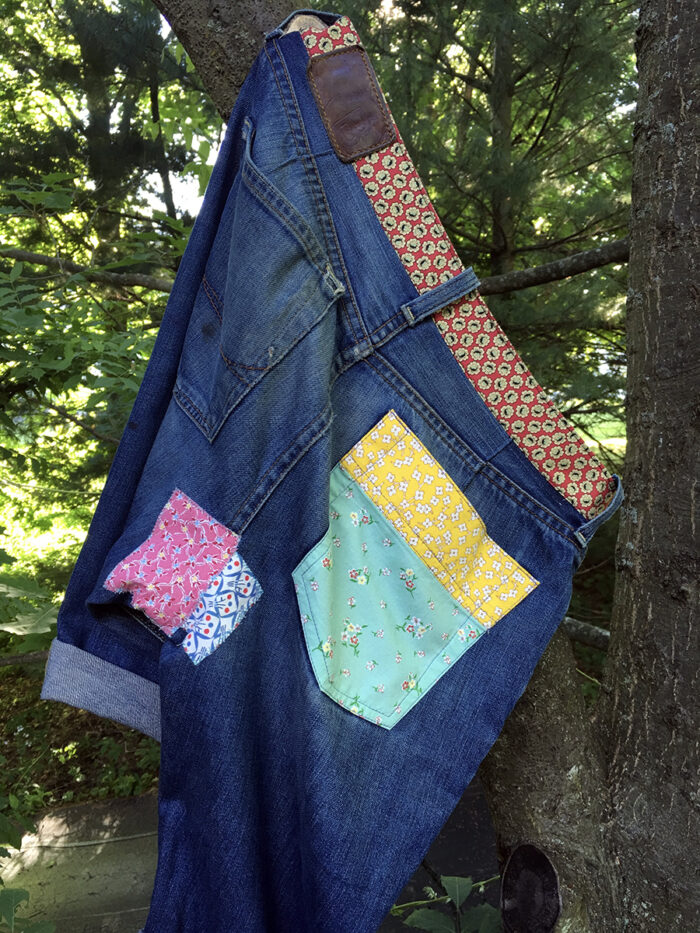 It wasn't until my son came home from college a few weeks later that I understood that these particular jeans had been left for me to patch. They were his FAVORITES.  Oops. I got the patching part, but ended up turning them into my favorites. He has since forgiven me, but has not asked me to mend anymore pants.
In our world of fast fashion, getting every last ounce of wear from our clothes just makes sense. Bonus: Denim really does get better with more patches.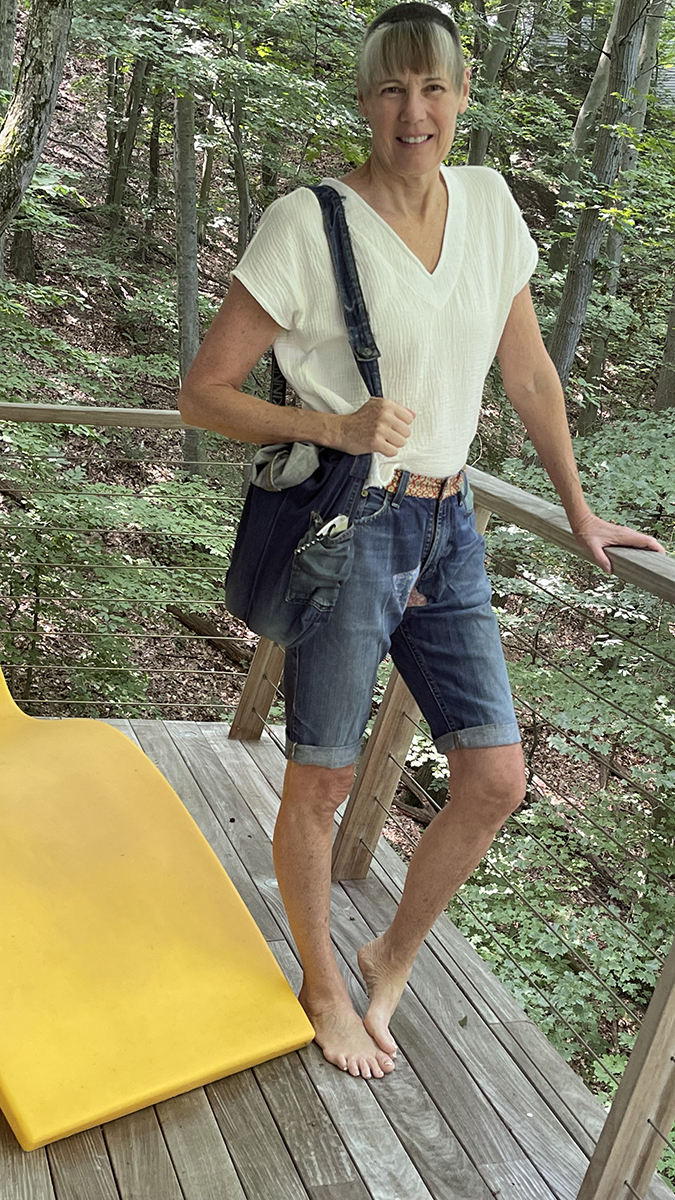 ---
See all of Becky Fulgoni's installments in her creative Year of "Re" series here.