A Year of "Re": A Tote Re-created"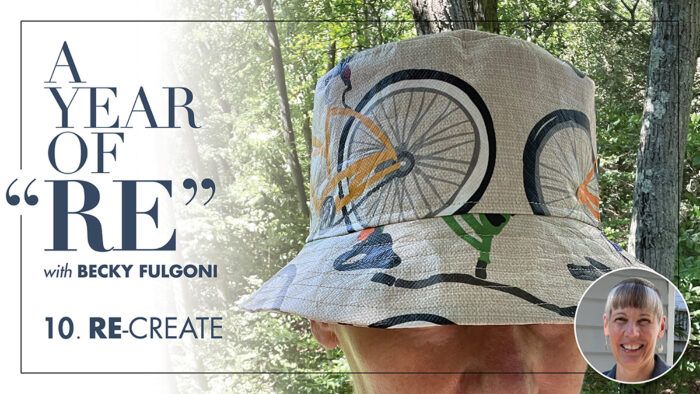 A funny thing has been happening during my Year of Re series. Since one requirement of my challenge is to start with something that exists, all kinds of things have started to look like "fabric." It's kind of like the cartoon fox who sees a chicken running around and it turns into a roasted chicken in his hungry imagination.
I've always loved creating with vintage linens and home decorator fabrics, but it's not much of a stretch to see a tablecloth as yardage. In fact, I have been known to chop a dress out of a tablecloth and fashion T-shirts out of tea towels. But recently I've been eyeing all kinds of strange, fabric-y things as possible "re" projects. Nothing is safe.
Re-created From Vinyl
My starting word this time was "re-create."  It felt totally appropriate to take a department store vinyl tote and turn it into something entirely new because how many department store totes do you really need anyway? In my case, the answer apparently is a lot.
We have moved a lot during the past several years, and I found that these vinyl totes were handy for stuffing with all kinds of things. They are relatively sturdy, cheap, have handles, and can be lifted by me when fully loaded. So I have accumulated an assortment of them. As I unpacked, they landed in a bin awaiting the next move. Just just like that…poof…they turned into "fabric."
I chose one that seemed relatively unscathed and started imagining the different things that might be created.
At first glance, I could imagine a raincoat. The tote's vinyl finish reminded me of rainwear fabric. But I was confident that I would need a lot more totes, even more than I had collected, in order to…
Start your 14-day FREE trial to access this story.
Start your FREE trial today and get instant access to this article plus access to all Threads Insider content.
Start Your Free Trial
Already an Insider? Log in