Pattern Review: Designer Stitch Greta 1022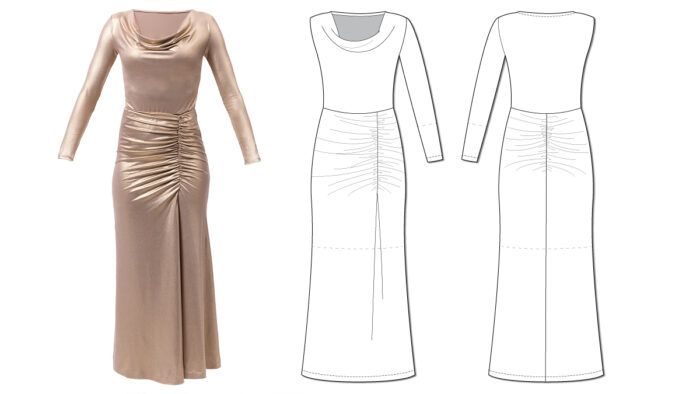 Special Occasion Dress
Skill Level:
This design is easy to cut, assemble, and sew. Note that tracing this pattern can take effort, as some pieces are larger than standard-size pattern paper. Once the shirring is completed, the dress goes together like a T-shirt.
Size Range and Fitting:
Sized 1 to 13 for busts 32 inches to 56 inches, waists 23-1/2 inches to 47-1/2 inches, and hips 34 inches to 58 inches. The design is based on a 5-foot, 6-inch tall person with a B-cup bust. Separate pattern pieces are provided for B/C, D, and DD busts.
Fabrics:
This dress is designed for lightweight knits with a required stretch of 50 percent crosswise and 20 percent lengthwise. Any slinky knit with mini sequins, or a nice knit with shimmer, is perfect. Although a print could work (as long as the motif does not obscure the shirred detail), this might be the project to make in a solid color.
Style and Sewing Details:
This garment is comfortable, yet a great look for special occasions. Length options are floor- or knee-length. The cowl-style neckline drapes attractively. On the interior waistline, there is a 1-inch-wide elastic waist stay. The skirt molds to the body due to the shirring on the left side and along the center back. The skirt back can be made without shirring and cut on the fold, not illustrated. The sleeve choices are sleeveless, three-quarter, or full length.
The seam allowances are 1/4 inch wide. Though the seams match perfectly, choose your marking method carefully as there is insufficient width for clipping.
Be vigilant about transferring notches from the pattern to the fabric. The notches have two purposes: to mark the sleeve orientation and to delineate the shirred area on the skirt front and back. The markings for the shirring are essential and easy to miss on the pattern because they occur in a space with crowded printing.
Apply narrow, 3.0-mm-wide, cotton tape to stabilize shirring.
The instructions include steps to make a self-fabric belt.
The sleeveless armhole and back neckline are finished with a self-fabric binding. Our tester suggests using a thinner coordinating fabric, such as bias-cut silk or a lightweight knit instead. At a later stage, the neck edge is caught in the shoulder seam, and it's a good idea to minimize the bulk.
A test garment in a fabric with appropriate stretch is highly recommended, as the shirring details on the front and back might not be the look the wearer is seeking.
This review was originally published in Threads #224, Winter 2023. Have you made this pattern? If so, be sure to share pictures in our Readers Closet gallery.
Photos: Jack Deutsch. Illustrations: Kelly Keenan.