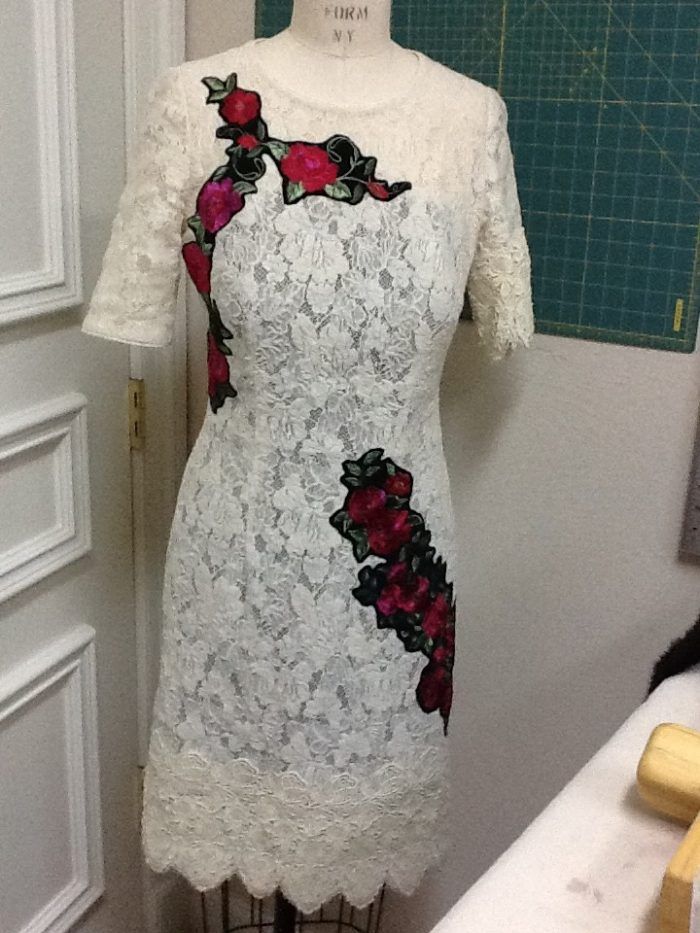 I chose an ivory cotton lace from Mood Fabrics for this design. The lace was backed with cotton tulle, also from Mood. The style is a simple straight sheath dress. I used the cotton tulle as an underlining, leaving generous seam allowances. After sewing the seams, the lace was trimmed to about 1/2 inch and the tulle trimed about 5/8 inch beyond that. The tulle was then turned under twice and wrapped around the raw edge of the lace. It was hand sewn creating a neat finish for the seams (see photo 5).
For the embroidered floral design, I used an embroidery pack from Anita Gooddesign. The design needed to be embroidered in multiple hoopings and was stitched out on black lightweight wool crepe. After the embroidery was completed, I cut around the design and zigzagged it onto the dress. I left the back and shoulder seams open until the embroidery was completed.
Finding lace trim in the exact color, size and design to finish the skirt and sleeve hem was impossible. I decided to make my own using two free-standing lace motifs from John Deere's Vintage Lace collection. I was able to order 50 weight cotton thread in a matching color and stitched the lace motifs on water soluble stabilizer. The stabilizer was washed out and the resulting lace trim was hand applied to the skirt hem and left sleeve hem.
Edging for the neck and right sleeve hem was created from the ladder edge (non-scalloped) edge of the lace fabric. The edge was wrapped around mouse-tail (thinner than rat-tail) satin cording and inserted as piping along the neck edge and sleeve hem.
Finally a black crepe de chine lining was tacked into place. I experimented with ivory and white linings, but felt the black tied in the background color of the embroidery.