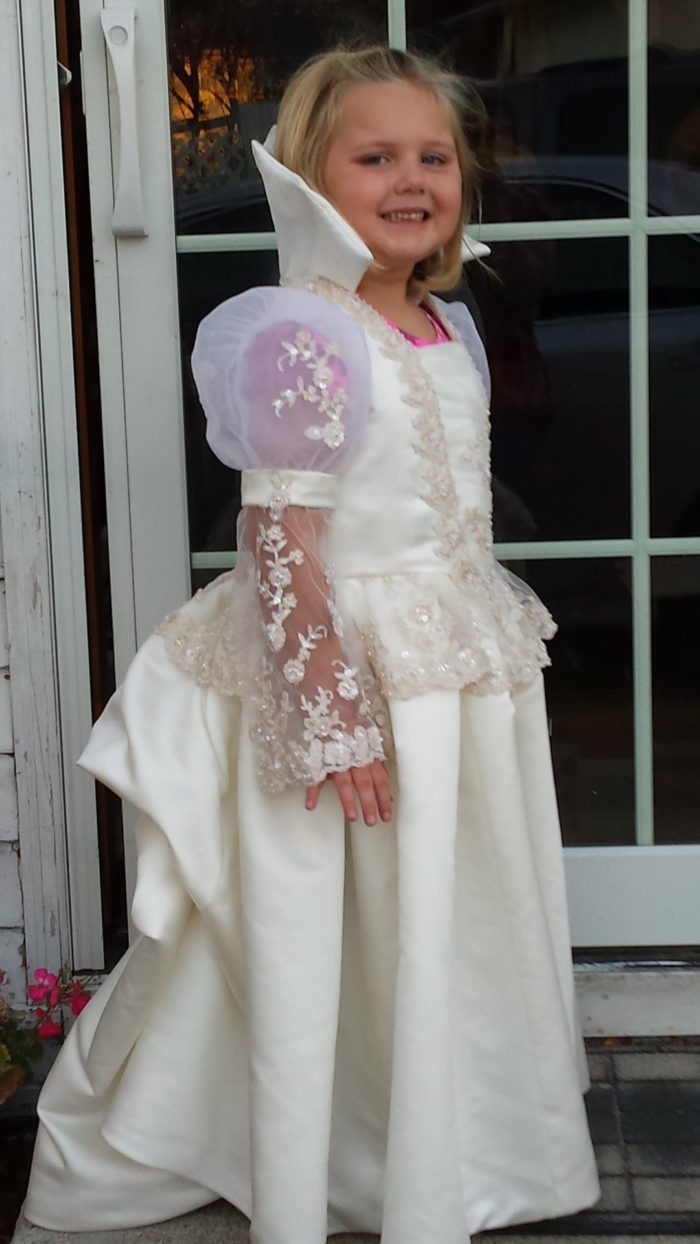 Designed and Stitched by Rosemarie Baylor October 2014
My niece has wanted a "wedding gown" from me for a while.  Halloween was the perfect opportunity for this.  My inspiration was from pattern M6897 Just Pretend Kids for portions of this dress.
The fabric I used was up-cycled from an ivory satin strapless wedding gown and beaded lace duster coat that was given to me. 
I used the ivory satin for the main portion of the bodice. I embellished the center front by shirring the lace fabric and then hand stitching the scalloped edge lace trim to the border of the center front and following thru the back of the neck.
I made the satin collar to be detachable using velcro sewn to the collar and neck lining to give the dress more versatility. 
The collar fabric was lined with two layers of batting and machine stitched to each upper point giving it dimension. Boning was added to make the collar stand up.
The beaded lace was used for the upper portion of the sleeve accented with the ivory satin cuff in the middle.  I modified the lower portion of the sleeve pattern to a slight bell sleeve using the lace with the trim edge at the wrist.
For the skirt peplum I used the lace fabric with the trim edge at the lower edge.
The main skirt pattern I  modified so it would have a full train that was bustled for trick or treat night, but could be left down to full length for times my niece is "walking down the isle".
This dress was fully lined and closed in the back with a zipper.