Fitting & Pattern Alteration: A Multi-Method Approach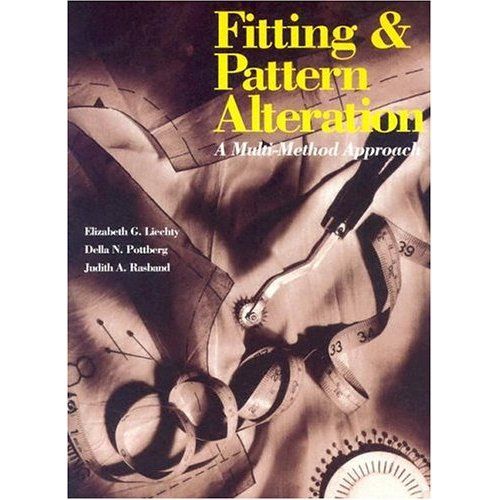 I bought Fitting & Pattern Alteration several years ago on a whim. Fortunately, the book, which is written by Elizabeth Leichty, Della Pottberg, and Judith Rasband, has turned out to be an impulse purchase that has paid me back dividends. This is one of the most comprehensive fitting diagnostic and solutions references available. Two of the authors are instructors at Brigham Young University in Utah, and the book takes a scholarly and thorough approach to the topic. It covers a whole range of fitting issues, showing three different methods to address them.
The book is divided into two parts. The first, on the theory of fit, focuses on the concepts of silhouette, line, body symmetry or asymmetry, measuring, and how to recognize distortions. Chapters include:
Using the Elements & Principles of Design
Selecting and Using Equipment
Evaluating the Figure
Selecting Patterns
Learning from the Contents of a Pattern
Recognizing Correct Fit
Learning to Fit a Garment
Methods of Fitting
Methods of Pattern Alteration
Personalized Patterns & Slopers
The authors explain how to achieve fit using three comparison fitting methods: pinned pattern, measurement, and trial garment or muslin. They explain different methods for altering patterns: slash, seam, and pivot. I like this approach because no one method works for all pattern adjustments. You will probably find that one of these three methods works for you in most situations.
The second part of the book is an illustrated guide to altering patterns. It uses extensive line drawings to illustrate drag lines on different parts of the body and pattern alterations to address those drag lines. Here's where, for me, the real value of the book lies. It is divided by body section. Chapters include:
Hip Area
Legs
Neck
Shoulders
Rib Cage
Arms
The authors take you step by step from identifying the causes of drag lines to making the pattern alterations to address them. They discuss the order of alterations so that you work on the major fit areas before other areas. It is a logical, thoughtful approach.

Fitting & Pattern Alteration is an excellent reference for any sewing library. It will make a great addition to yours, and it will help you understand and achieve good fit.