Project Runway All Stars: Season 5, Episode 13 – "Finale: New York State of Mind"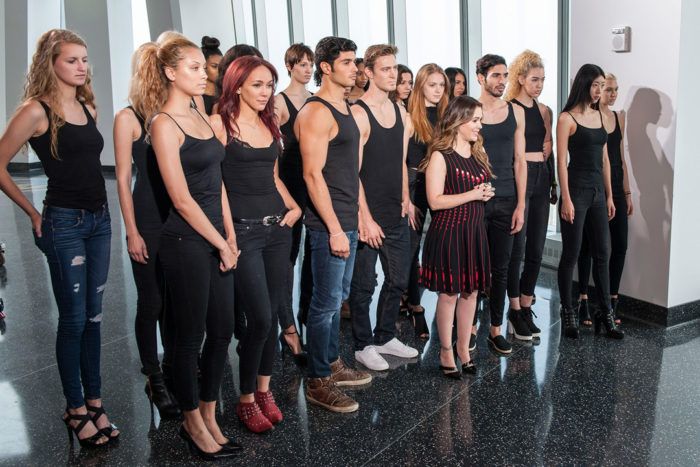 Project Runway All Star finales never have the sense of drama and excitement that the regular Project Runway seasons offer: There's less buildup, with no Tim Gunn home visits to the designers, and more importantly, no big Fashion Week runway shows. However, there's more panic, and for viewers who sew, the panic felt very real, as this season's contestants were required to create an eight-piece collection in four days. Even if I worked for eight hours a day, using existing commercial patterns, I couldn't make eight looks in that time span. These stalwarts were sketching, patternmaking, and fabric shopping, too (with $3,000 to spend at Mood Designer Fabrics).
Luckily, they each received 18 hours of highly skilled help, in the form of designers who had been previously voted off the show. Dom worked with Alex; Ken worked with Layana; and Kini worked with Asha. This lifeline was not only a relief to the designers, but also a smart subnarrative, as it allowed us to see, once again, how talented all the competitors have been this season, and to appreciate the respect they have for each other.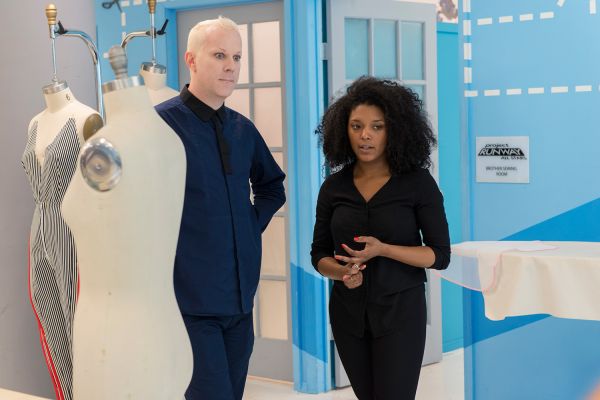 The theme this week was "your experience of New York." The designers were invited to the 102nd floor of One World Trade Center, to enjoy a truly spectacular view of the city, and to cast their models. As the 24 models advanced in a phalanx across the floor, theatrically silhouetted against the panorama of the Big Apple, the designers suddenly realized they were responsible for eight looks each. You could tell Dom, Ken, and Kini were dismayed, to say the least. But these three are troupers, highly motivated to give their all. What was delightful was how much grace they displayed under a lot of pressure. I found myself rooting for each of them, as each seemed deserving of the win.
An extra challenge for the finale was that each designer was assigned a male model and had to create one menswear look. This twist was a bit of a throwaway, I thought, and only Kini made something that looked like real menswear.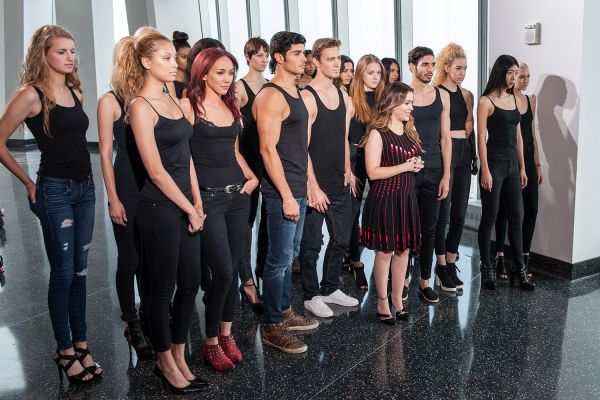 On runway day, the designers were greeted by host Alyssa Milano; regular judges Isaac Mizrahi and Georgina Chapman; and guest judges Debra Messing, a well-known television actress with a penchant for fashion, and Anne Fulenwider, Marie Claire's editor-in-chief. The audience was filled with former Project Runway contestants. I wonder whether they're tougher critics than the usual fashion industry insiders, or perhaps more understanding, having been through the rigors of a season of 24-hour design cycles.
Let's take a look at the results.
The winner:
Congratulations to Dom, with her "chaos and energy"-inspired collection. Dom, who has mixed and matched prints brilliantly all season, opted to create her own print textiles this week, by painting yards and yards of fabric. One pattern had a giant-scaled impressionist design; the other was a huge red, blue, and yellow plaid on white. Combined with black, white, and black-and-white stripes, these "prints" were bold, modern, and original. Dom's looks were generally downtown-casual, with unusual, relaxed silhouettes. The judges commented on how cohesive the collection was, and on the artistry and intellectual rigor Dom showed in all the pieces. Her bubbly personality and enthusiastic confidence in the face of so many different challenges have made her a pleasure to watch in every episode.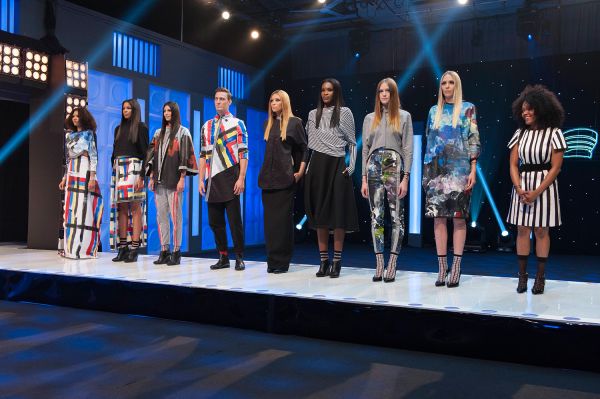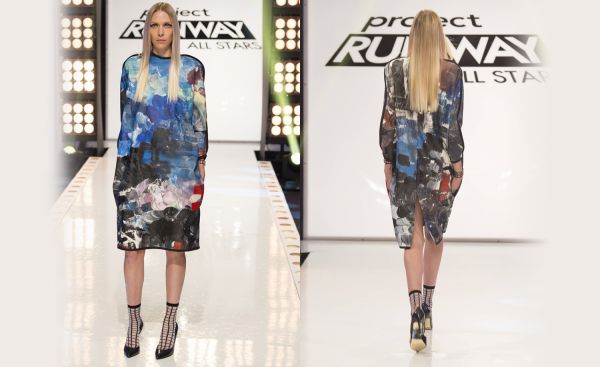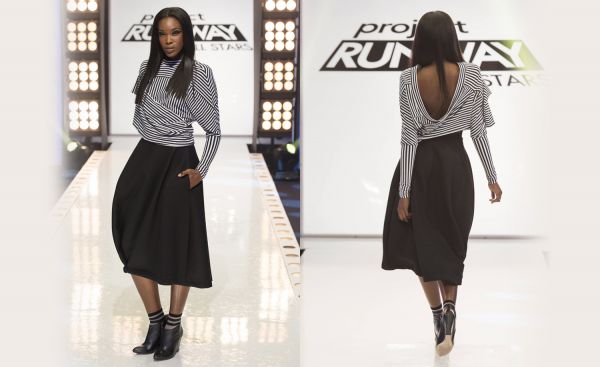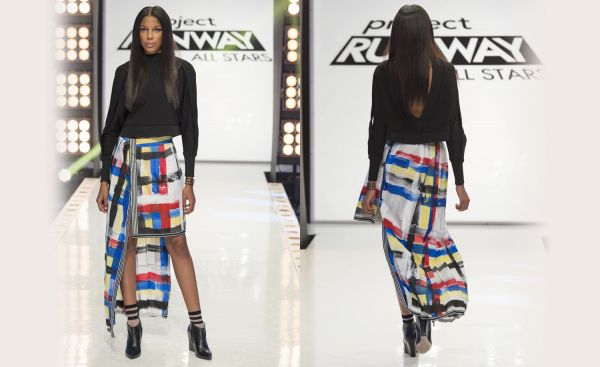 The first runner-up:
Kini, who combined uptown class (expensive brocades) with downtown funkiness (bright colors and nutty silhouettes). The judges felt the joy inherent in the designs, and loved Kini's meticulous construction and refreshing, '80s-tinged use of color and detail. They praised his menswear look, a sparkly black jeans jacket and pegged brocade trousers. Overall, they said he showed clear vision and the ability to be over-the-top in an assured way. Throughout the season, the judges have hinted that they think Kini has what they like to call "taste issues," but they seem to have gotten fully onboard with this collection, and I am happy they did. Kini is an original, and it's time they appreciated that. I suspect that his Hawaiian island background has contributed to his level of comfort with lots of color and pattern, as well as to some of his silhouettes (e.g., his blue cape-backed party dress reflects the shape of an angel-back mu'umu'u), and in this respect he really stands out from the other designers.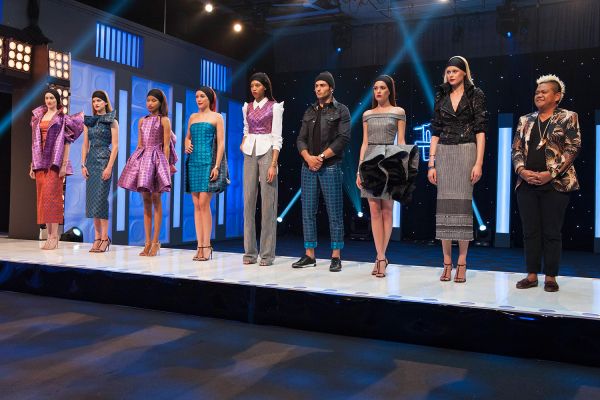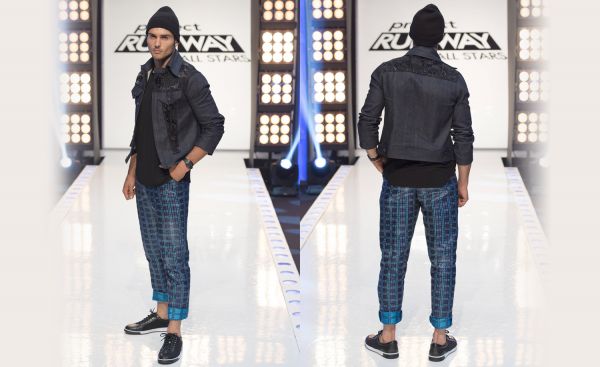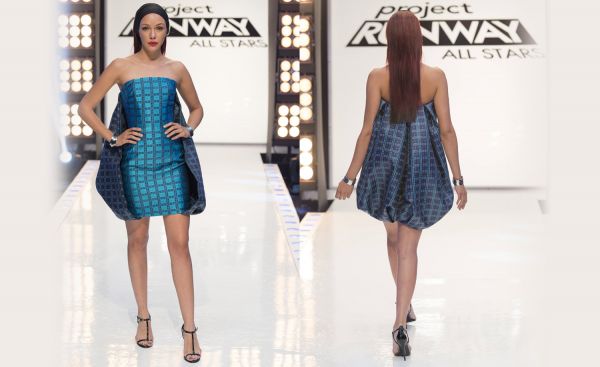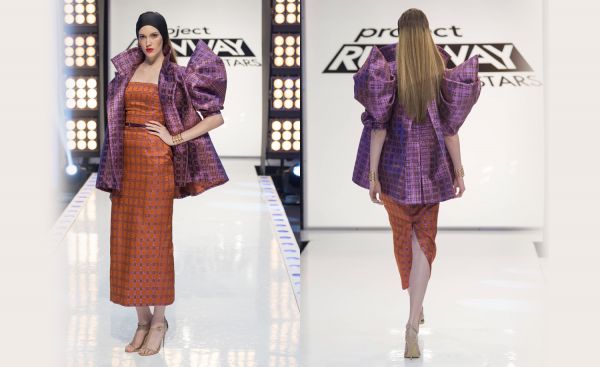 The second runner-up:
Ken, whose collection was considered the most commercial, cohesive, and chic. Ken used black, white, and eye-searing yellow in a series of elegant, tailored looks. There was little surface detail, and the main points of interest throughout were some interestingly cut collars. The judges said, however, that there were too many plain pieces, and no real "wow" factor. The collection was certainly successful in its own terms, as Ken's brand of elegance and sharp style is timeless. I have a feeling these pieces would sell out quickly if he were to manufacture them, even though they didn't hold up against Dom's artistic work or Kini's playful glamour.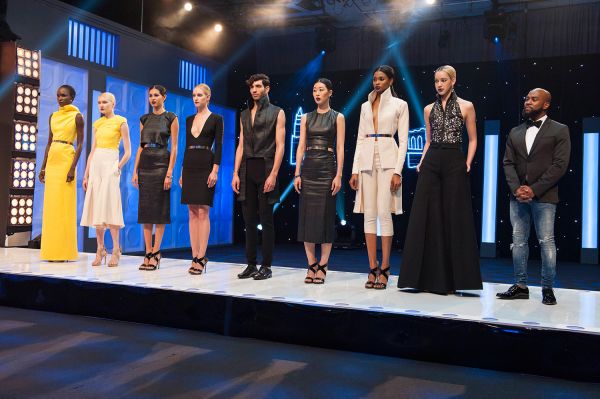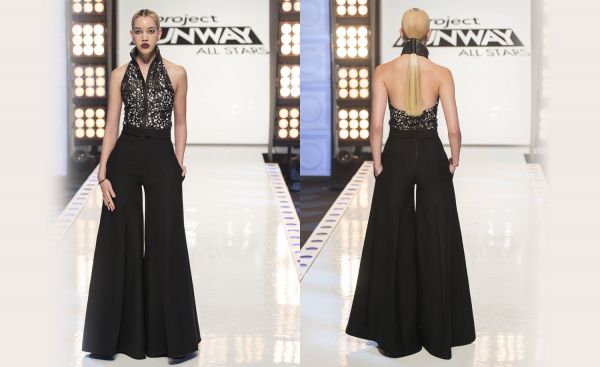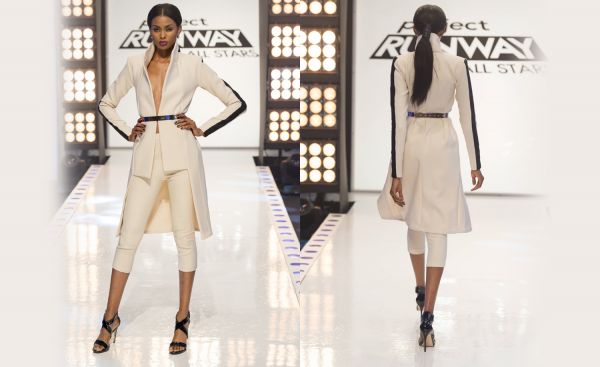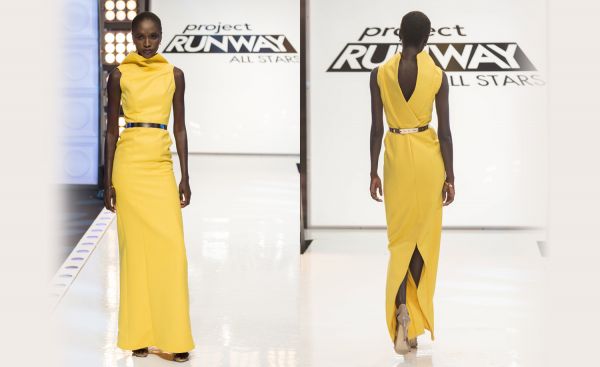 I agreed with the judges that Dom deserved to win, but I was disappointed for Kini. He consistently showed work of incredibly high quality and creativity. I would love to see him partner with a big retailer and market some fun, affordable designs (H&M x KZ, perhaps). Ken may not have won the contest, but he did get a lot of exposure for his desirable and sellable designs, and he showed a surprising degree of personal growth, evidenced by how graciously he accepted his defeat.
Which collection did you like best? Did you agree with the judges? Share your thoughts below. And tell us honestly: How many garments can you sew in four days?!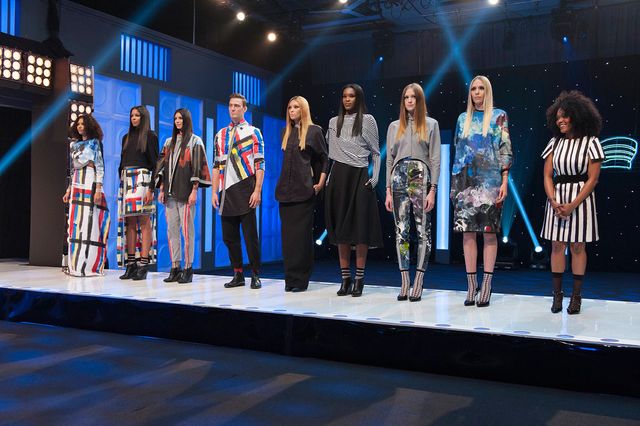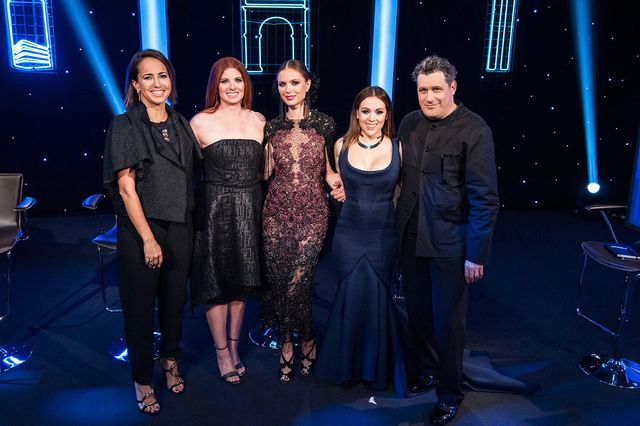 Judges Anne Fulenwider, Debra Messing, Georgina Chapman, Alyssa Milano, and Isaac Mizrahi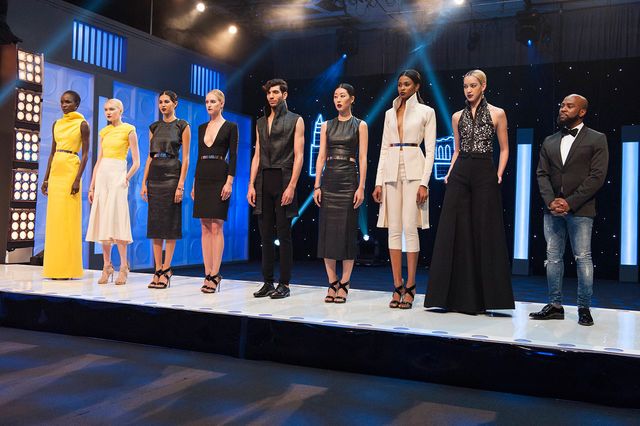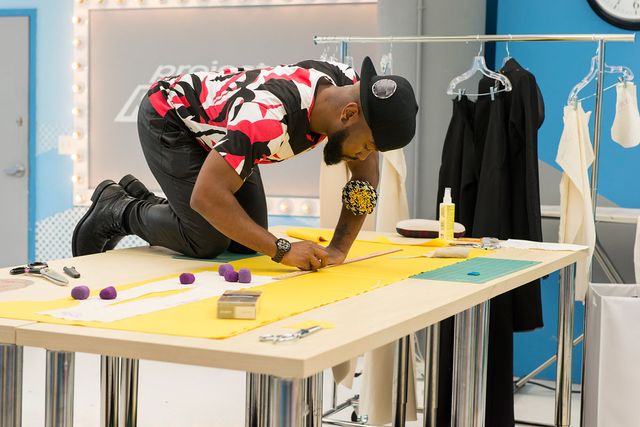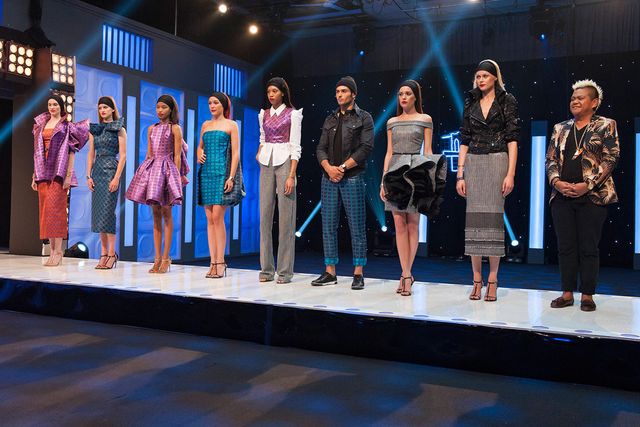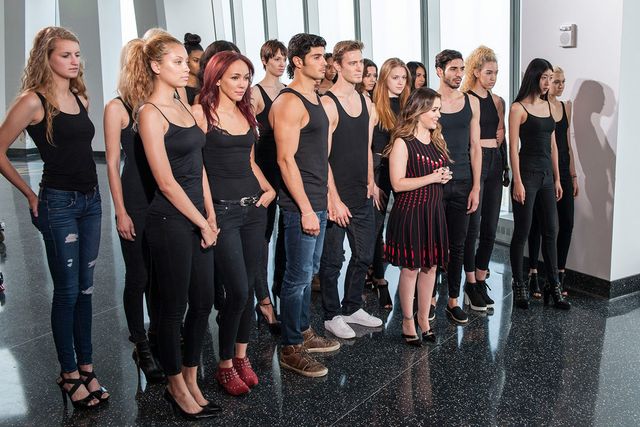 Alyssa Milano with models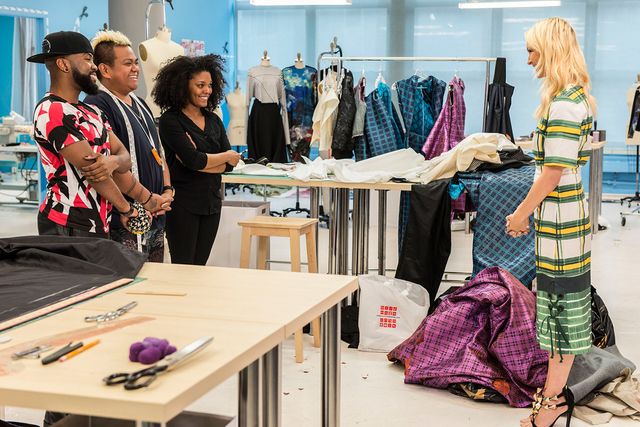 The designers with mentor Zanna Roberts Rassi