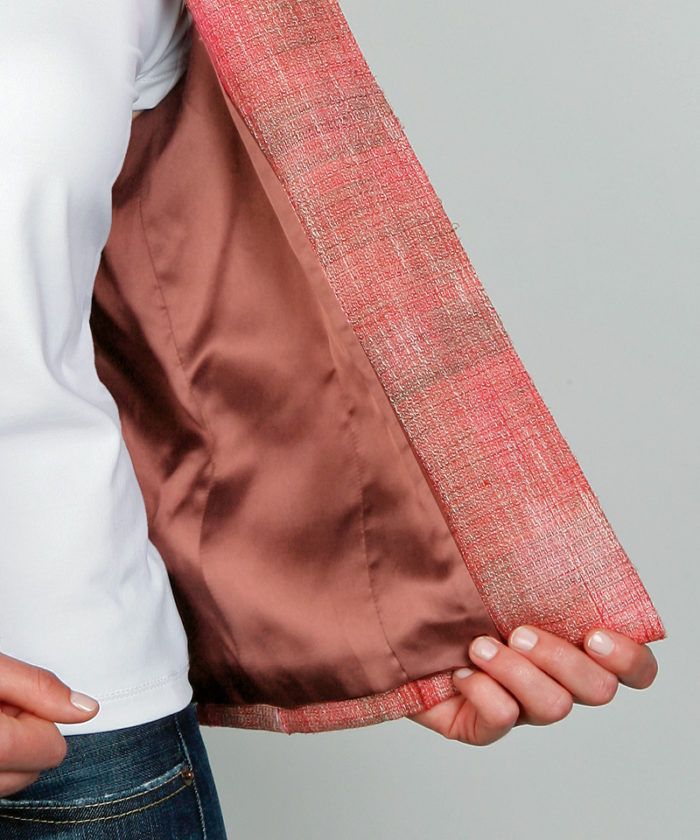 by Sandi Bolton
an excerpt from SewStylish

To determine the best lining weight for your garment, first consider how much structure and warmth you want. Then layer the lining and fashion fabrics, and drape them over your hand to test compatibility.
Lightweight
China silk is the lightest of the lightweight linings and is perfect for delicate blouses, jackets, dresses, and soft skirts and pants. Silk charmeuse is another lightweight choice that provides a little more structure.
Medium weight
Midweight linings, including most polyester linings, silk taffeta, silk jacquard, and silk broadcloth, are the most versatile for jackets, skirts, and pants. Bemberg rayons are available in many weights but commonly fall under this category.
Coat-weight
Silk satin, polyester satin, acetate twills, and acetate satins have a dense weave, which makes them heavy, durable, and warm- perfect for outerwear. AtlantaThread.com also offers a water-repellent acetate overcoat lining for trenches and rainwear.
Heavyweight
Quilted lining is durable but bulky. It is the warmest offering for coats because it traps air in the batting. Most are acetate or polyester and require dry cleaning. Flannel-backed lining (also called fleece-backed lining) is the stiffest option but has a silky side to slip over clothes. It provides about the same warmth as a quilted lining, but without bulk. It's also acetate and requires dry cleaning.
More about SewStylish
This article has been excerpted from SewStylish, the first special publication from Threads. You'll learn sewing secrets, improve your sewing confidence, and create the latest styles.
Sandi Bolton is a custom clothier in Le Mars, Iowa.
Photo: Scott Phillips