New Sewing Machines by Janome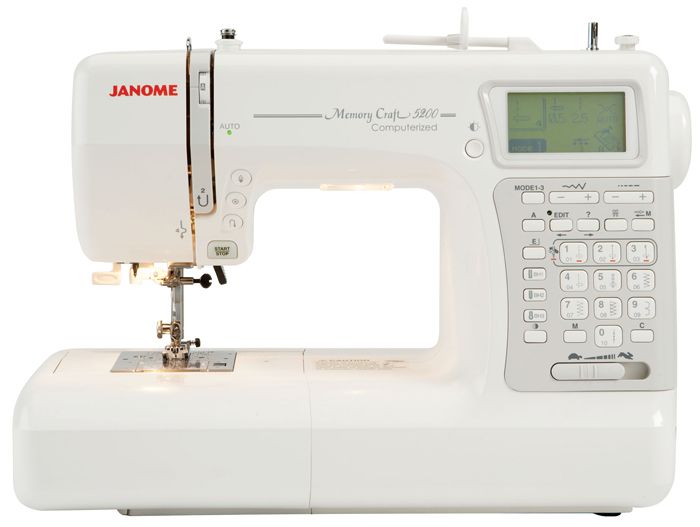 compiled by the editors of Threads
An Online Extra to Threads #140, p. 28
For more information on the Janome machines listed here, visit www.janome.com. For information on new releases by other manufacturers, see The Latest in Sewing Machines.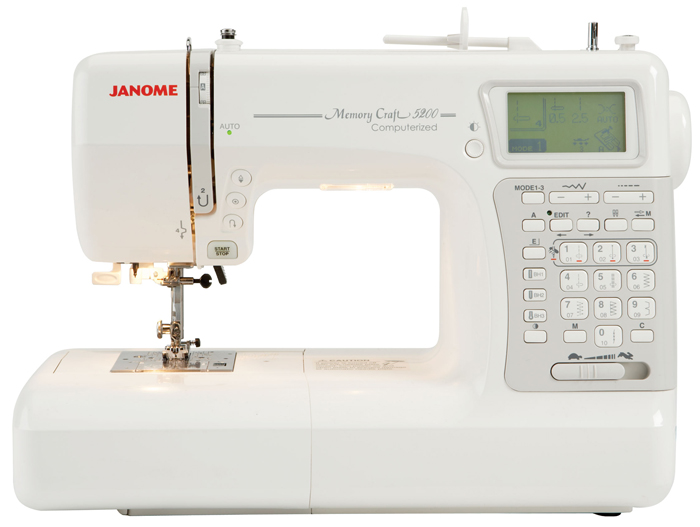 Janome—Memory Craft 5200
The Memory Craft 5200 is a feature-rich machine with special options made specifically for quilters. Janome's innovative engineering has created the straight stitch needle plate, which automatically reduces the size of the needle hole for quilt piecing. 201 decorative and utility stitches, 10 automatic buttonholes, three fonts, and stitch edit and save function provide ample opportunity for customization. Convenient features like a one-hand needle threader, memorized needle up/down, locking stitch, and automatic tension round out this great machine.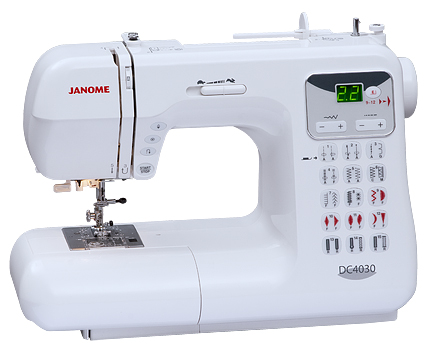 Janome—DecorComputer DC4030
The DC4030 is a tough machine designed to do both delicate decorative work and functional heavy-duty sewing. Choosing and configuring stitches is easy with the large stitch selection buttons. The DC430 is a computerized machine that gives you Janome quality results at a great price. It has 30 actual stitches, 6 one-step buttonholes, a built-in One-Hand Needle Threader and Stitch Width and Length adjustments. Also, there is a Stitch Elongation feature– that means you can elongate some stitches without losing any density.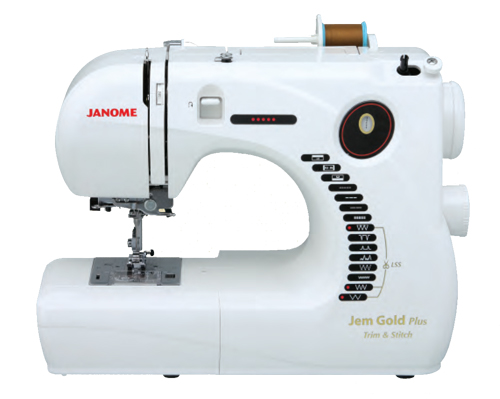 Janome—Jem Gold Plus
Like each model in the legendary Janome Jem line, the Jem Gold Plus is a portable yet feature rich machine, and offers 12 stitches, a four-step buttonhole, built-in needle threader, one-hand thread cutter and quick foot conversion. To make this great machine even better, the Jem Gold Plus introduces the Light Serging System (LSS) which lets you trim, sew, and finish seams in one easy step. No need for an additional serger to professionally finish your garments and home dec projects, the Jem Gold Plus makes it easy to complete your sewing projects on one versatile machine.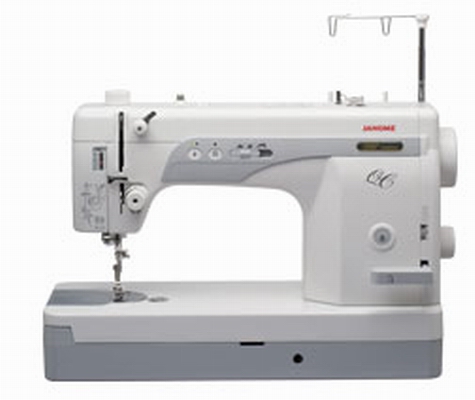 Janome—Quilter's Companion/Professional 1600P-QC
Fast speeds and smart design make the 1600P-QC the perfect machine for sewing and quilting! You'll find everything you need to complete projects quickly and easily: Speeds of 1,600 stitches per minute make this the fastest machine on the market; nearly 9″ x 6″ to the right of the needle gives an extra wide work area; the side-loading bobbin allows for easy access, even from a quilt frame; the automatic thread cutter cuts top and bobbin thread at the push of a button; and the ergonomic knee lift offers a full range of adjustment so you can find the size that fits you.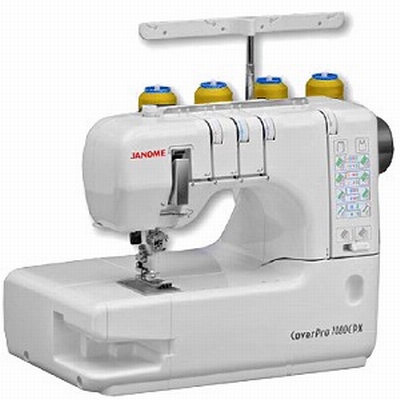 Janome—CoverPro 1000CPX
A coverstitch machine is essential for the sewist looking to achieve a professional finish. The CoverPro® 1000CPX's innovative design is based on the marriage of an industrial-style cover hem machine and a convenient home machine. The resulting union has produced a high-speed, long arm, heavy-duty cover hem machine that looks and operates like a sewing machine. With a wide trip cover hem stitch, exclusive free arm configuration, and Janome's Seam Tightening System™ (STS), the 1000CPX is the most advanced Cover Hem machine available.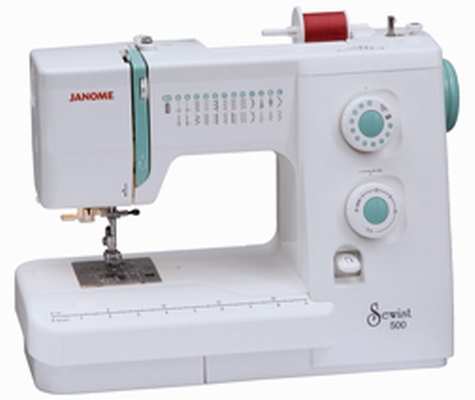 Janome—Sewist 500
The Sewist 500 makes it easy to sew – and the great price makes it easy to afford! This versatile machine offers 25 stretch and utility stitches, an automatic 1-step buttonhole, and convertible free arm. Practical features like accessory storage and a top loading bobbin with see-thru window will make creating with the Sewist 500 practically effortless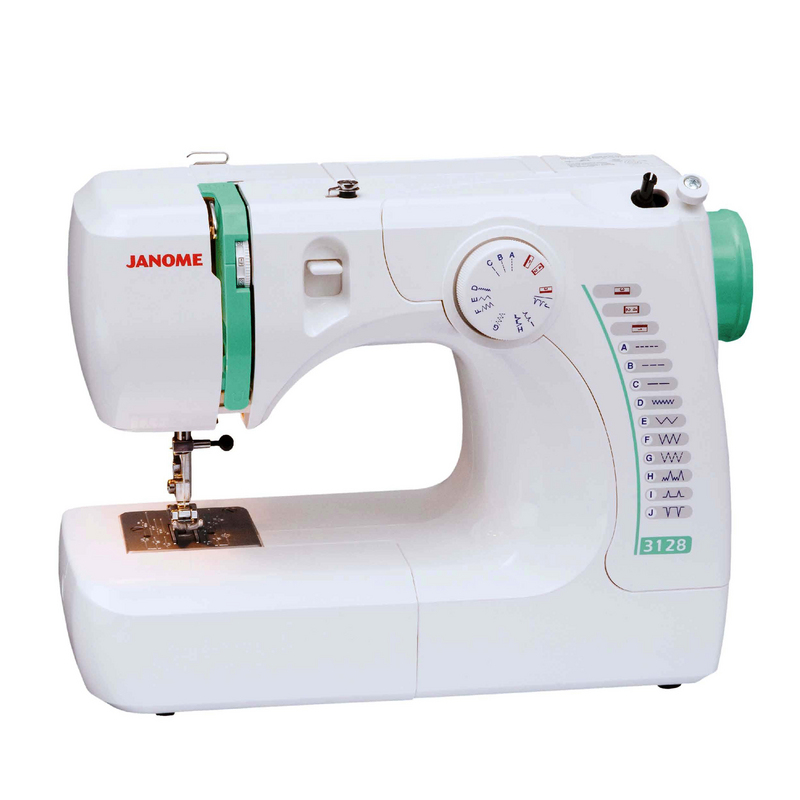 Janome—3128
The 3128 is the perfect machine for a beginner who is looking for ease of use and superior results at a great value. This lightweight machine takes the guesswork out of sewing, so anyone can get started without effort, creating projects smoothly and quickly. The stitch selection dial makes operation a snap–simply turn the dial, select the stitch and start sewing! The stitch menu provides an easy to read display enabling the sewist to easily reference it while working. Additionally, a simple touch of a leverl will allow you to sew in reverse to lock your stitches.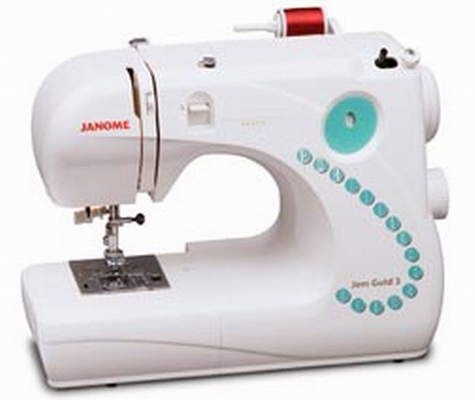 Janome—Jem Gold 3
Performance and portability. Two great features unite in the Janome Jem Gold 3 to create the perfect travel machine for the expert, or starter machine for the beginning or returning sewist. This little workhorse packs big machine features like 10 stitches, a four step buttonhole, built-in needle threader, one-hand thread cutter, and quick foot conversion. At just 12 pounds, this sleek and easy to carry quilting machine is just right for class! Includes a Free Quilting Kit ($60 retail value).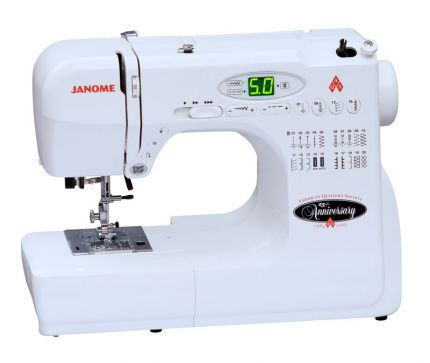 Janome—AQS 2009
Janome proudly commemorates the twenty-fifth anniversary of the American Quilter's Society with the AQS 2009 machine. The AQS 2009 packs the punch of a full-sized computerized machine with a smaller model's price, efficiency and portability. With advanced quilter-friendly features including the horizontal full rotary hook and de-clutch bobbin winder as well as a compact design, weighing 12 pounds, the AQS 2009 is the ideal travel machine. Sewists will love modifying the machine to their personal preference with 20 adjustable stitches. The speed control lever, electronic foot control, built-in needle threader/cutter and LED displays ensure ease-of-use for quilters of all levels.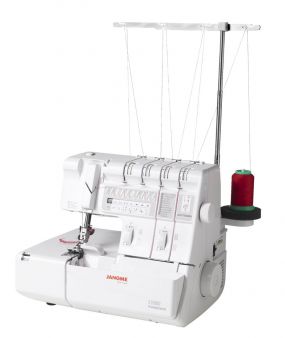 Janome—1100D serger
Get perfect, professional results every time with the 1100D Professional serger from Janome. The 1100D features automatic tension—simply select the stitch you need from the 10 preset stitches and the correct tension sets automatically. The 1100D features a unique Stitch Information Display Panel, which outlines the required settings for each stitch so you get dependable and flawless results. Other features include a Flip Needle System for easy needle placement and threading, Blanket Stitch, EZ Upper Knife Release, and quick conversion to rolled hem. The look of ready to wear is easy to achieve with this 4-thread serger from Janome.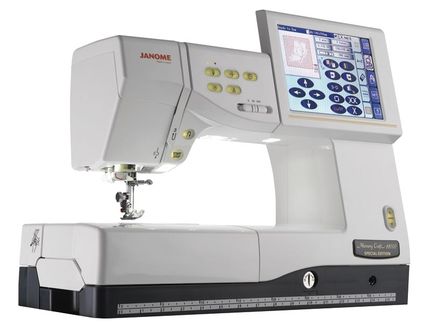 Janome—Memory Craft 11000 Special Edition
The Memory Craft 11000 Special Edition is Janome's 3-in-one sewing, quilting, and embroidery machine. It features the spectacular AcuFil™ Quilting System—a revolution in quilt finishing. AcuFil™ Quilting is a complete quilting system built into your embroidery machine, featuring Janome's exclusive Stippling in the Hoop function. The AcuFil™ Calculator lays out stippling to cover your entire quilt top, and the AcuFil™ Quilting Hoop and template assure perfect placement! You'll also find exceptional new embroidery and sewing features, with 358 built-in stitches, 170 built-in embroidery designs, and the AcuGuide™ Automatic Cloth Guide.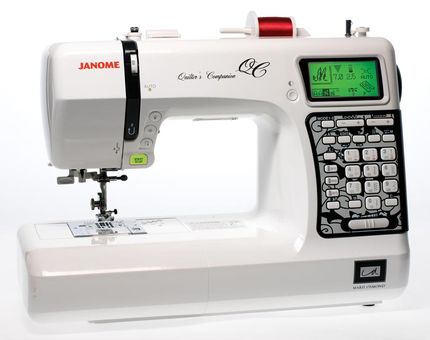 Janome—Marie Osmond Quilter's Companion
The stylishly designed Marie Osmond Quilter's Companion provides excellent versatility including an automatic straight stitch needle plate, an abundance of unsurpassed features and 201 handy stitch designs. Janome's innovative engineering delivered a needle plate that switches automatically—just select a straight stitch and the plate reduces the size of the needle hole; select a zig zag and the plate changes back. Five on-board memory banks allow you to edit and save your stitch combinations and the auto-tension system assures the perfect stitch consistency, no matter what the fabric.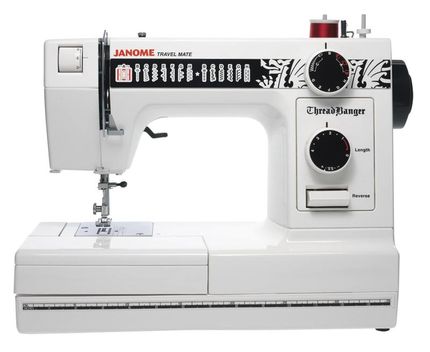 Janome—ThreadBanger TB-12
Janome designed the ThreadBanger series of machines in honor of their sponsorship of ThreadBanger, the online network for people who love to DIY, recreate, refashion and craft. The TB-12 is a sturdy workhorse with a portable design and cast aluminum body. The machine features 12 stitches including a four-step buttonhole, multiple stitch functions including length adjustment and reverse, and a one-hand thread cutter. It is the perfect machine for on-the-go DIY.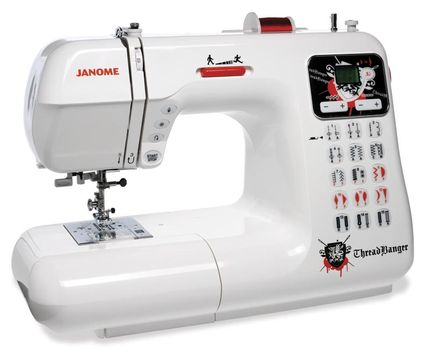 Janome—ThreadBanger TB-30
The ThreadBanger TB-30 is a full-featured performer for creating any kind of crafting, home dec or sewing project. It features computerized precision, with direct stitch selection buttons and programmable needle up/down. You'll find 30 actual stitches and six 1-step buttonholes, as well as stitch elongation and width adjustment function and slow/fast speed settings. It's the perfect machine for a sewist of any level.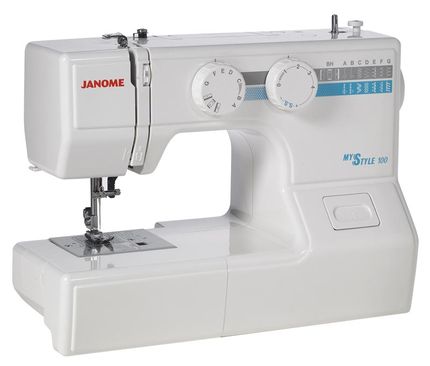 Janome—MyStyle 100
The MyStyle 100 is the perfect introductory machine for the beginning sewist. This lightweight and portable model contains the perfect amount of features for learning to sew. You'll find 12 stitches, including a 4 step buttonhole and an easy-to-use reverse button. An auto-declutch bobbin winder and snap on feet allow for quick and effortless project start-up. It even includes a free arm, drop feed function, and a built in thread cutter.
Photos courtesy of Janome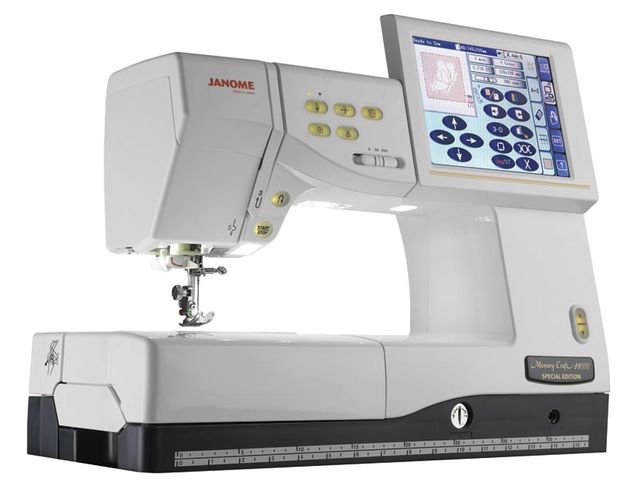 Janome Memory Craft 11000 Special Edition.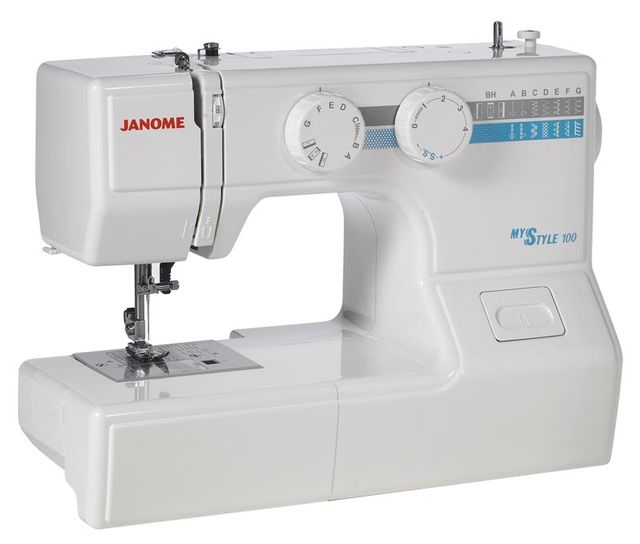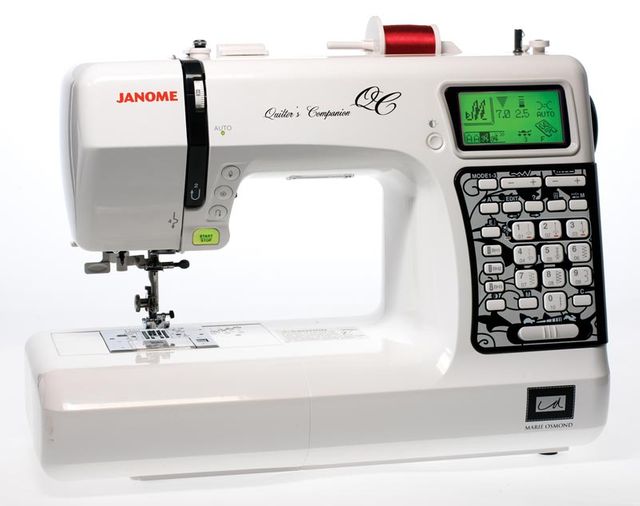 Janome Marie Osmond Quilter's Companion.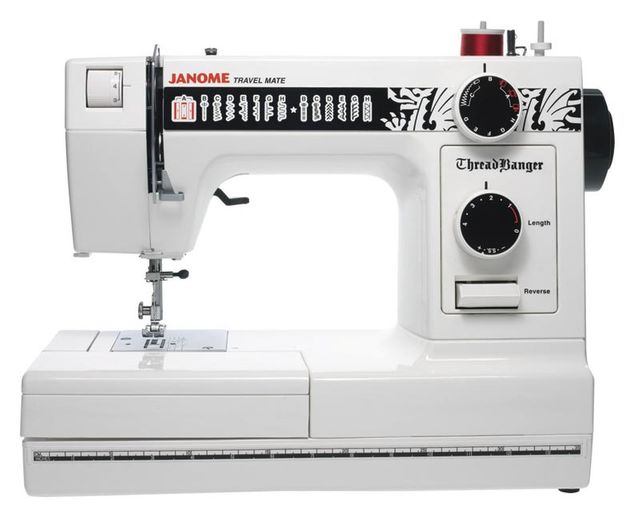 Janome ThreadBanger TB-12.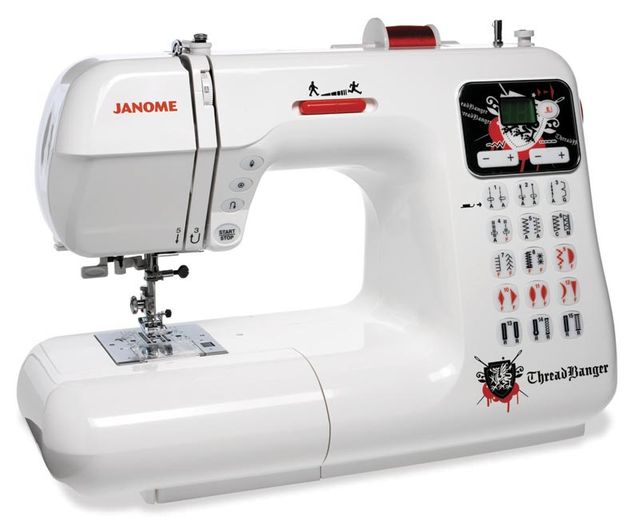 Janome ThreadBanger TB-30.