iPod App Tracks Your Fabric Stash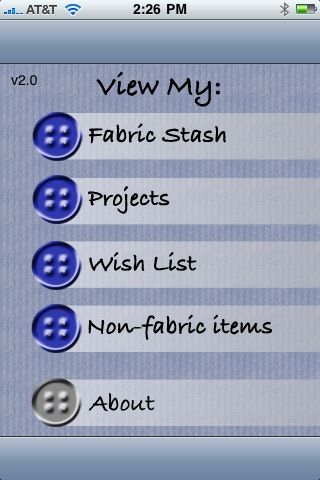 If you have an iPhone, iPad or iPod touch, you're already familiar with apps, useful or fun programs you can purchase inexpensively through iTunes.
Some of my favorite apps are StitchMinder by Quilt2Go, which I use to track knitting patterns; Units by The Mac Box, which converts all kinds of measurements (length, temperature, volume, currency, etc.) and Dictionary!, which is a lot handier than lugging around an actual dictionary.
I recently came across FabricStash by Blueshift, a $4.99 app that has the potential to be a great tool for sewers. As the advertising for the app says – "it's like having your entire fabric stash in the palm of your hand."
FabricStash allows you to create a record – with up to two photos per fabric – of the material you have on hand. You categorize your stash by features you select or enter yourself, such as color, fabric type, yardage, etc., or other characteristics. It's designed to be customizable.
It also tracks notions, so you see at a glance what buttons, thread, ribbons, etc. you have.
You can group fabrics and notions into a "project." If you are, for example, shopping for materials to make a quilt, you can see at a glance the fabrics you have already and in which colors.
Working on a garment, say a lined jacket? Look and see that you have the lining, but need tailor's canvas, buttons, and thread perhaps.
I'm anticipating a lot of uses for FabricStash. No more lists! Now more digging through my purse for the fabric samples I forgot to bring with me. And hopefully no more duplicate purchases, when I realize I did already buy the buttons, thread, or zipper I needed to finish a design. There is also a wish list section, where you can note what you need when new designs occur to you, and a FabricStashXL version for the iPad.
I enjoy gadgets and like to get the most out of my iPod, but for years I kept track of fabrics with swatches on 3 by 5 cards in recipe filing boxes. How do you track your stash – electronically or otherwise? Please share! I think – and I believe a lot of Threads readers will agree with me on this – that a good fabric-tracking system is a basis for getting more time to sew!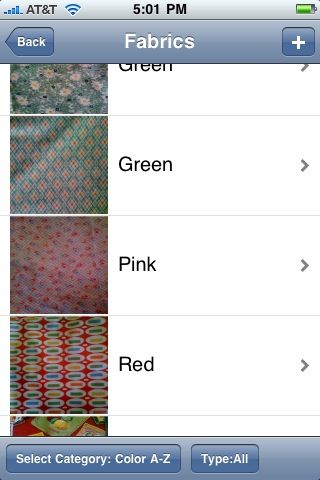 FabricStash allows you to group fabrics by characteristics of your choice, including color.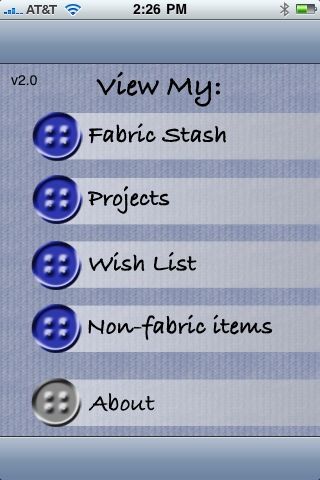 Projects, notions, and access to your fabric stash, are all available on your iPod touch, iPhone or a new iPad.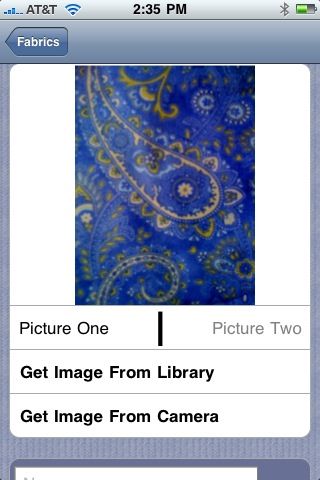 You can include up to two photos with each fabric entry in FabricStash.