5 Tips for Organizing Your Fabric Stash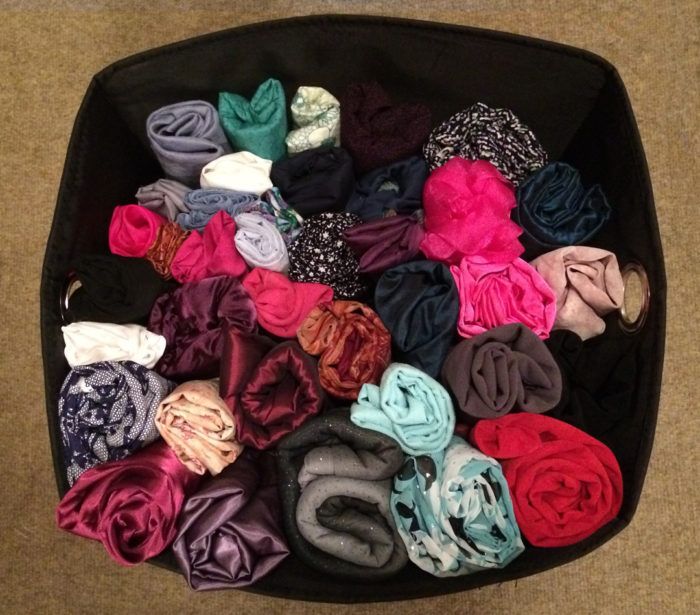 Get your fabric stash in order
It's nice to imagine your entire fabric stash folded flawlessly on shelves or uniformly stacked in color order. But when stash fabrics come in different shapes and sizes, this vision can seem far-fetched. Some fabrics hold their lovely folded shape when set aside, but there are those that seem to instantly expand, unroll, and topple over before your eyes. That's why you'll want to avoid limiting yourself to one organization method. Often, a variety of techniques are necessary to create the organization system of your dreams. I'll share some tips to help you get started.
1. Sort, sort, sort!
While it may be overwhelming to go through all your fabric piece by piece, it is the only way to know what you have and how best to manage it. As I was going through my hefty stash, for instance, I found multiple scraps of the same fabric in various places. This discovery helped me know exactly what I was dealing with before moving on to the next steps. Once you sort the fabric, you can determine which organizational methods works best for you.
Begin sorting by placing textiles in groups according to fabric type. (If the majority of your projects are color-based, however, you may choose this route, instead.) This means you can make a pile for cottons, knits, denims, wools, silks, satins, flannels, linings, etc., so that everything is accounted for. If you come across a piece of specialty fabric, simply assign it to a "miscellaneous" pile. Now also is a good time to create a scrap bin for fabric pieces that are too small for projects or that have minimal yardage. Alternatively, fabric pieces that are too small to use can be discarded. In addition, consider parting ways with any fabric that you never really liked or can't see yourself using. I realize this is a big step, but if the fabric is just taking up valuable space, it might be worth getting rid of.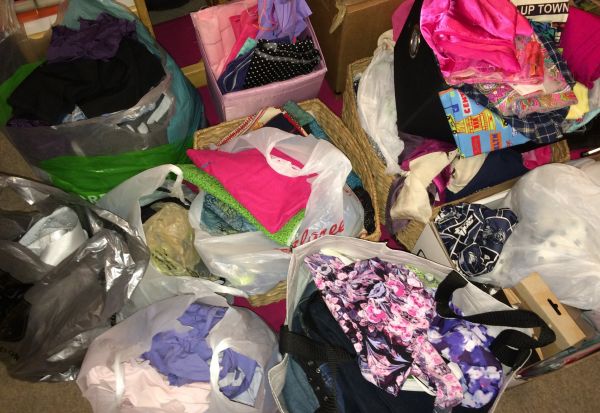 This is one portion of my fabric stash that clearly needed attention after multiple moves.
2. Fold bulky fabrics with lots of yardage and thin, easy-to-manage fabrics.
Once you've determined how much of each fabric you have, it should be easier to figure out how to manage the categories.
Bulky fabrics, for instance, take up a lot of space and cannot easily be hidden in baskets or bins. The best thing to do is to fold these textiles as uniformly as possible and stack them on shelves to accommodate their volume. If you have fabrics on bolts, however, feel free to keep them as is. Bolts can be stored easily in a closet, on shelves, or neatly lined up in a row.


These bulky knit and wool fabrics fit perfectly on this wide bookshelf.
Thin, easy-to-manage fabrics are a pleasure to fold, and the little rectangles stay intact once they're set aside. Better still, they don't take up much space. Once folded, stack these textiles on shelves or place them in an appropriately sized basket for maximum visibility.
 This 10-inch by 6-inch plastic basket can house a number of thin, folded fabrics.
3. Keep tiny scraps in open bowls or bins.
The easiest way to keep small scraps together and organized is to place them all in a large bowl or bin. This enables you to sift through one container to find exactly what you need. Be sure the container isn't overflowing and that there's plenty of room for more scraps.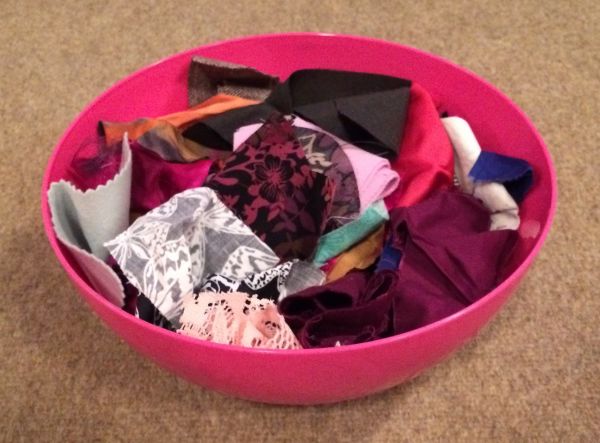 For small fabric stashes, a medium-sized bowl may be all you need.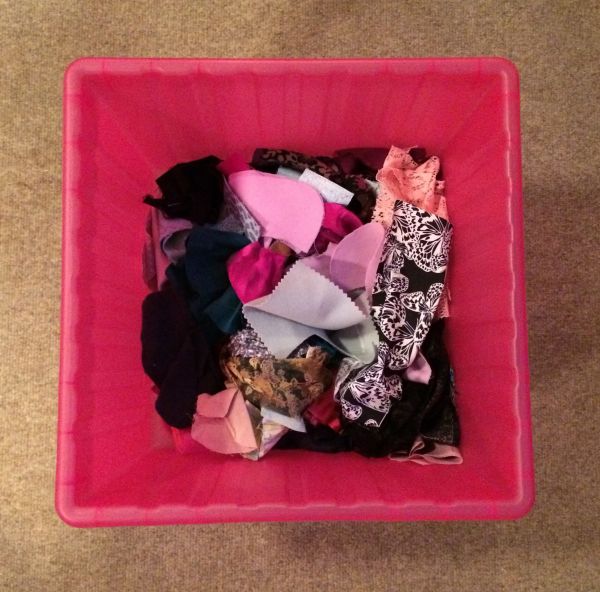 This wheelable storage crate from IKEA provides plenty of room for my ever-growing fabric scrap collection.
4. Make everything as visible as possible.
Organization is about knowing what you have and being able to find it when needed. That's why it's so important to keep everything in your newly organized fabric stash as visible as possible. You may be able to say bye-bye to those last-minute fabric shopping trips and use what you have, now that you can see it.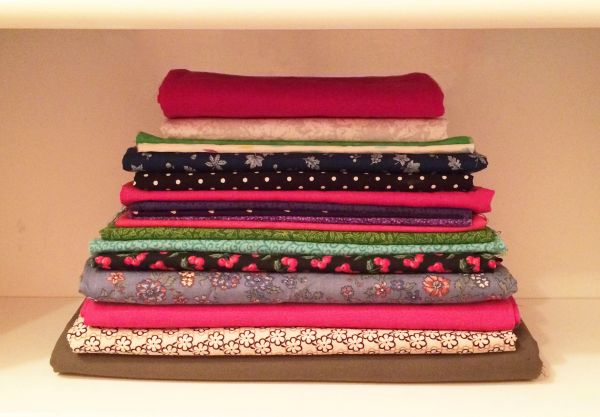 If only I had known I had this much pink cotton fabric, I probably wouldn't have needed to purchase more.
5. Roll oddly shaped or silky fabric pieces.
It's frustrating to make oddly shaped or silky fabric pieces look tidy and organized. I recommend rolling them into bundles that look neat and stay together.
In the following example, I took five pieces of the same fabric and bundled them into a single roll. Everything remains in one place and can easily be found.
a. To begin, lay the largest fabric piece on a flat surface. Smooth out any wrinkles. Note: A loose fabric strip was used to tie the roll together in the final step. If desired, cut a thin fabric strip from this or another fabric piece now. Otherwise, use an alternative method to bind the roll together.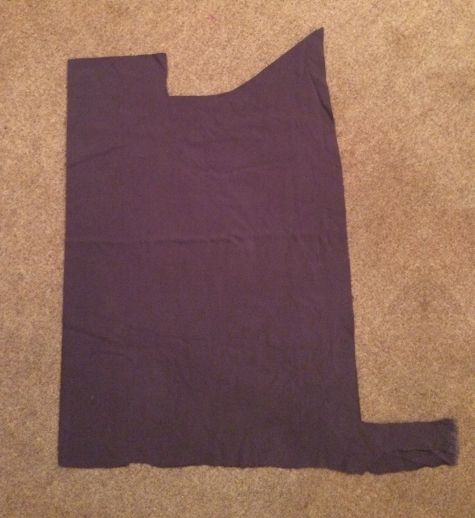 Feel free to fold in or cut off irregular scrap sections, such as the one at the bottom right corner of this piece.
b. If applicable, place additional scraps on top of the largest piece. It's OK if they hang over the edges.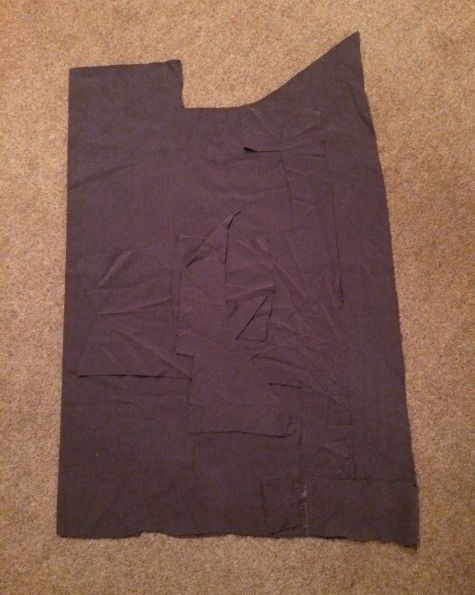 Try to spread out the pieces so no one area contains too much bulk.
c. Fold down­­ the entire top section as far as desired to create a straight edge.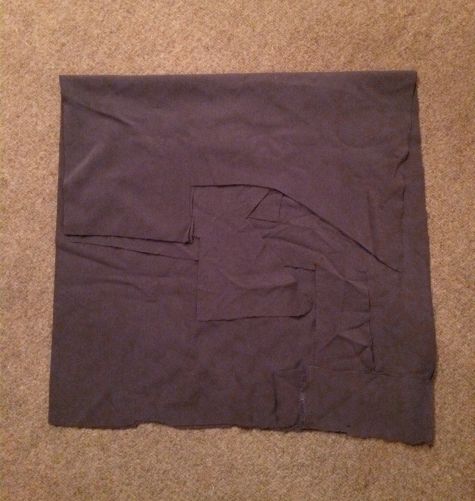 The farther down the fold is, the shorter the roll becomes.
d. Fold up the bottom section until it almost meets the top edge.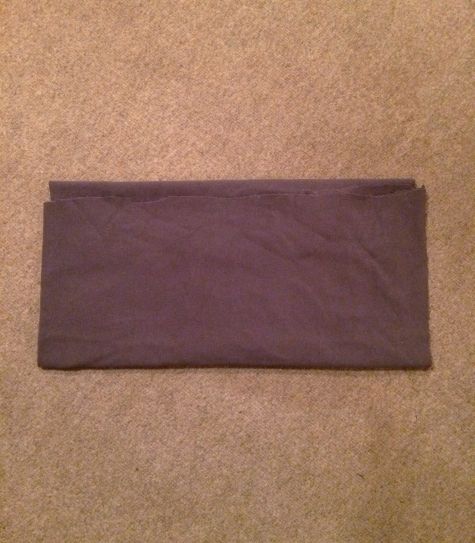 This step may vary based on the fabric's size and can be adjusted as necessary.
e. Start rolling the fabric from one side.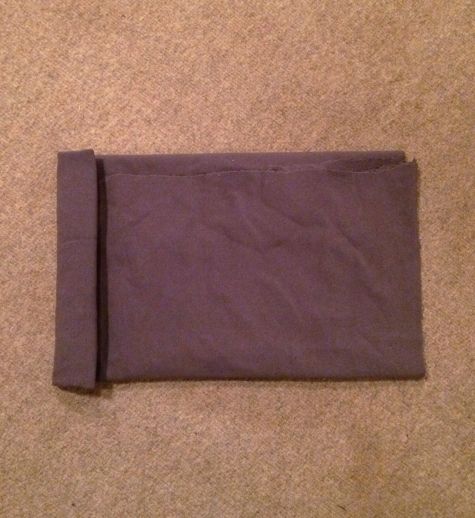 Create a tight fabric roll to make the bundle as neat as possible.
f. Once you get close to the opposite side, roll that edge in a couple times.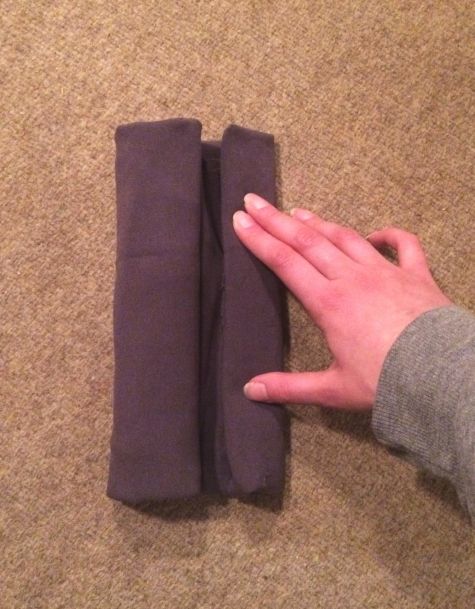 Since the opposite side might have some jagged edges, it helps to roll it in a few times to create a polished finish.
g. Join the two rolls.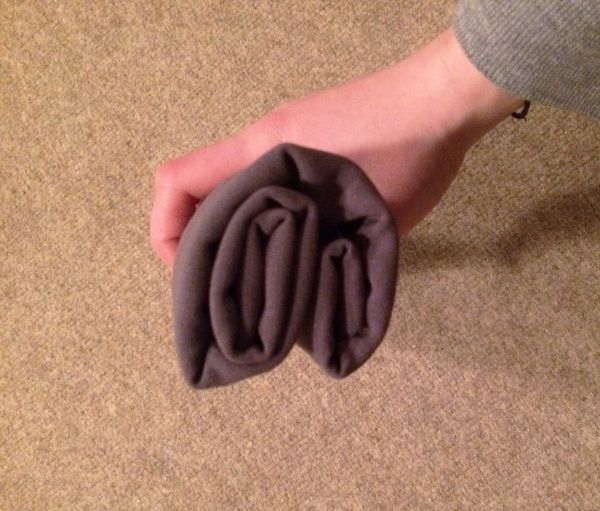 This results in a compact roll of scraps that can be opened or put away easily.
h. Finally, tie the roll together with a fabric strip.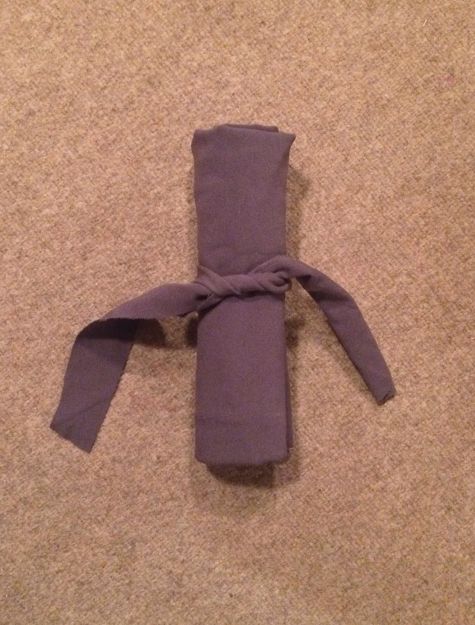 Now the roll won't come apart unless you need to untie it.
Once you have several rolls, place them in a basket or on a shelf so they are easy to see. You can also choose to section off the basket and group the bundles by fabric type.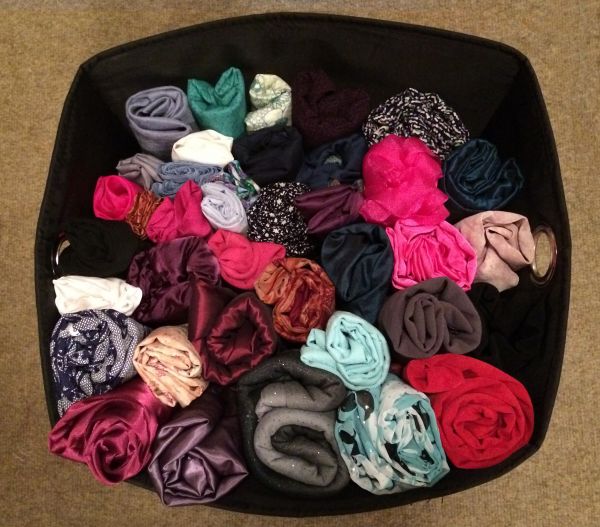 Fabric rolls are a great option for managing materials that slip, slide, or have an irregular shape.
What other fabric organization tips do you have? Are there any storage units or containers you would recommend to other sewers? Please share your comments below!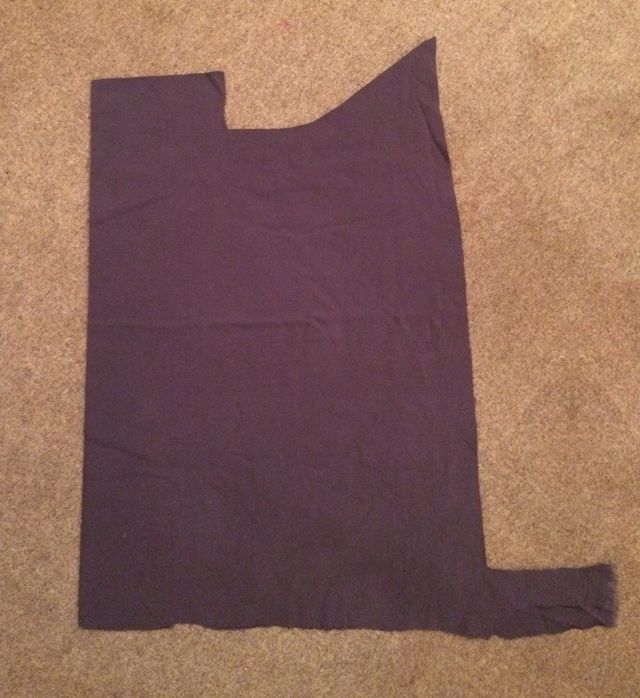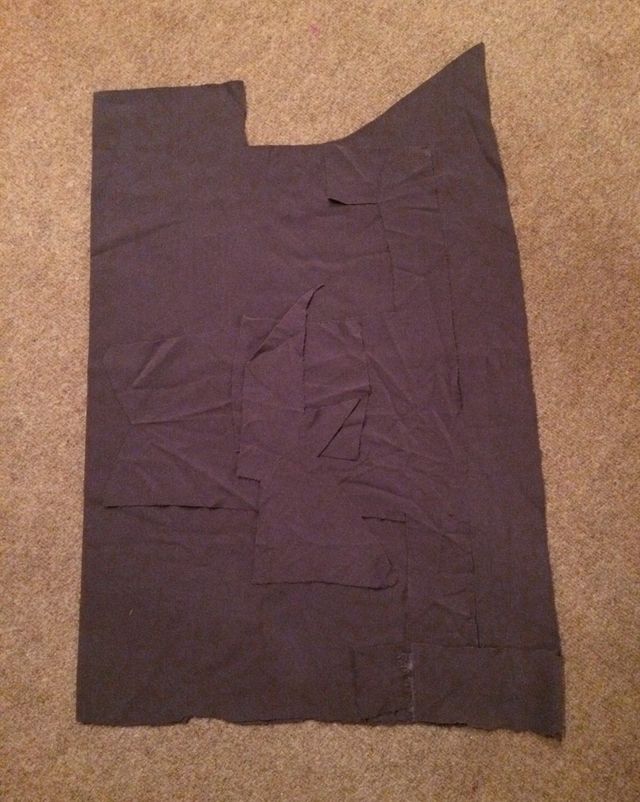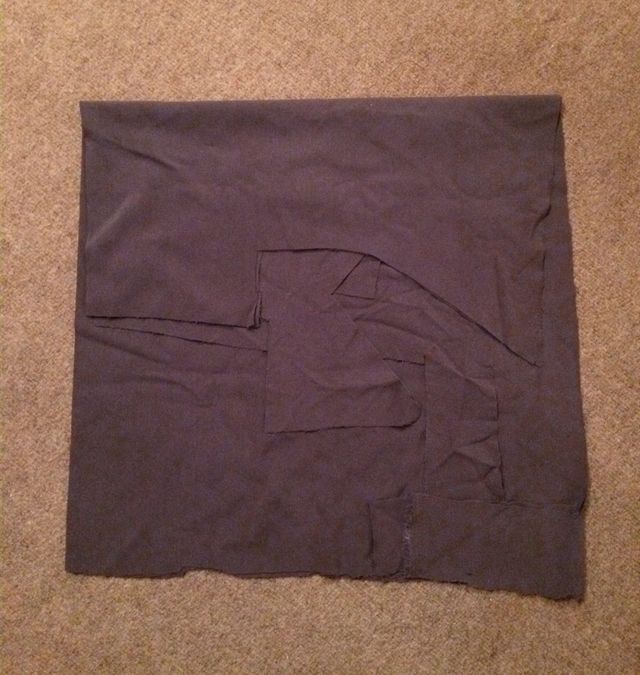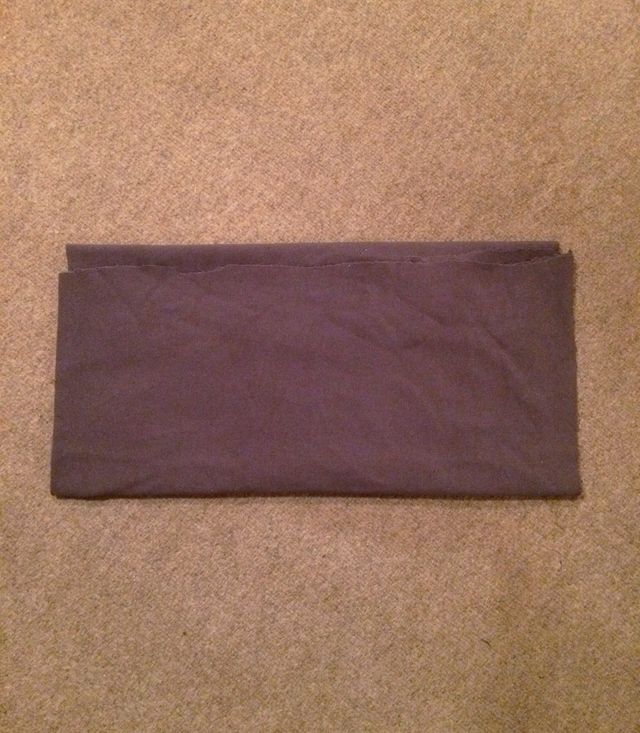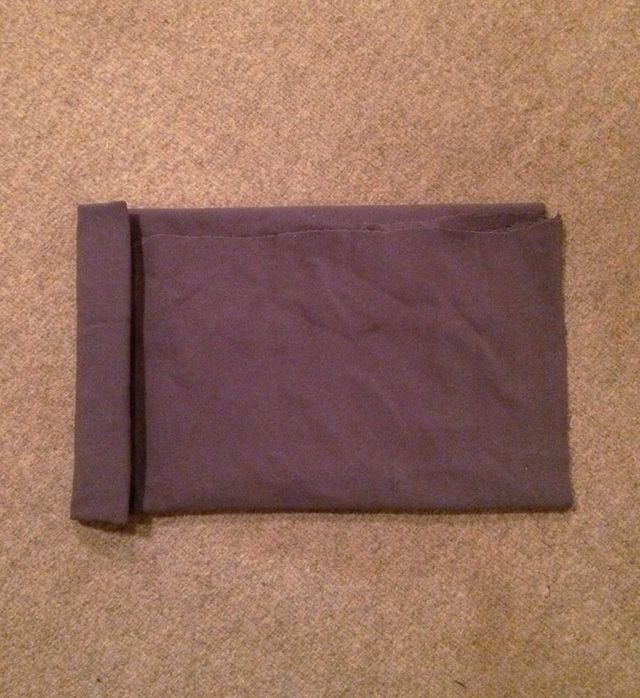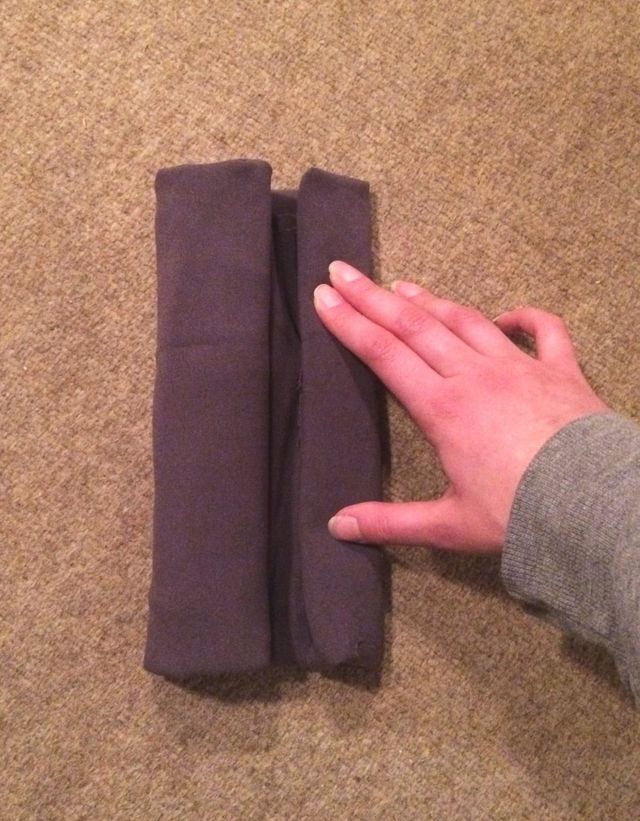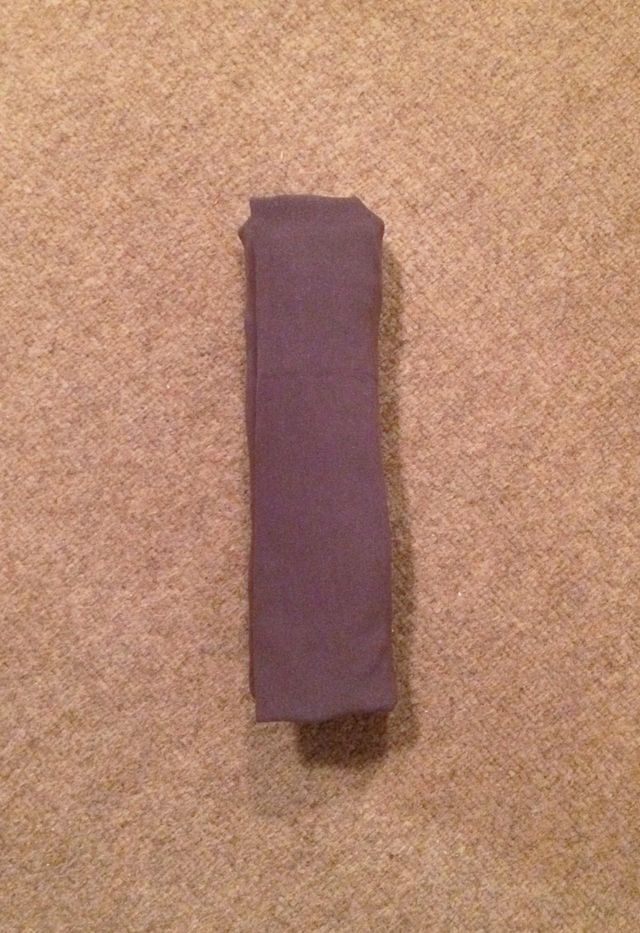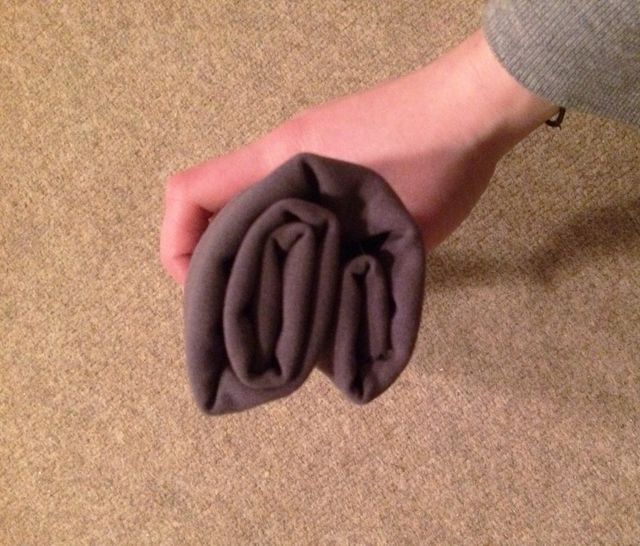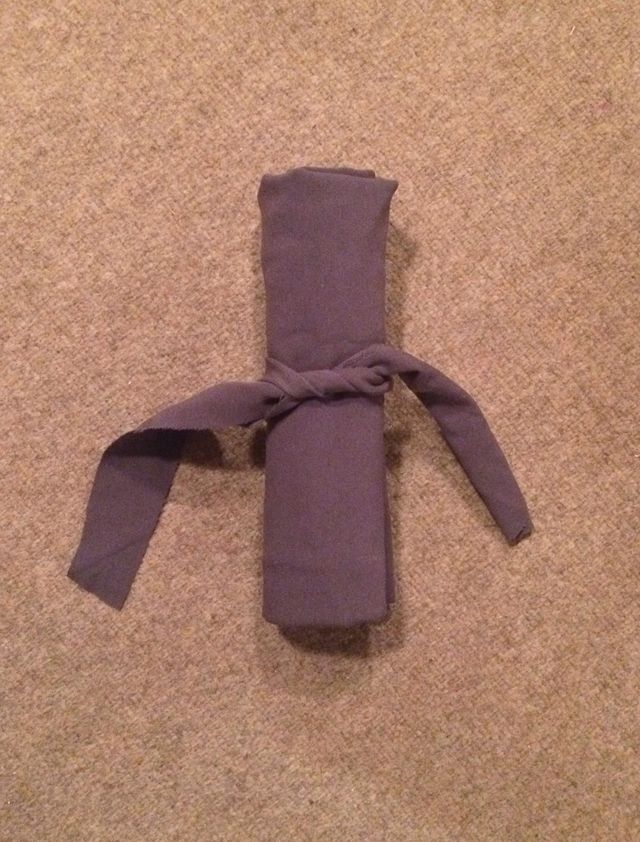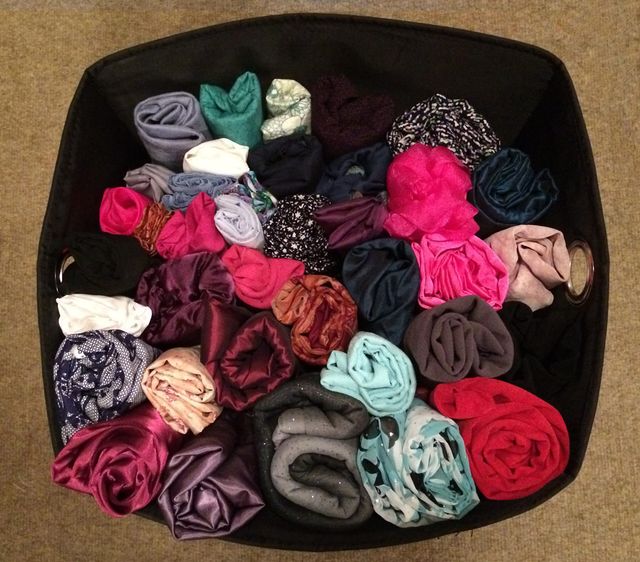 Fabric rolls are the perfect way to manage unusually shaped or silky fabric pieces.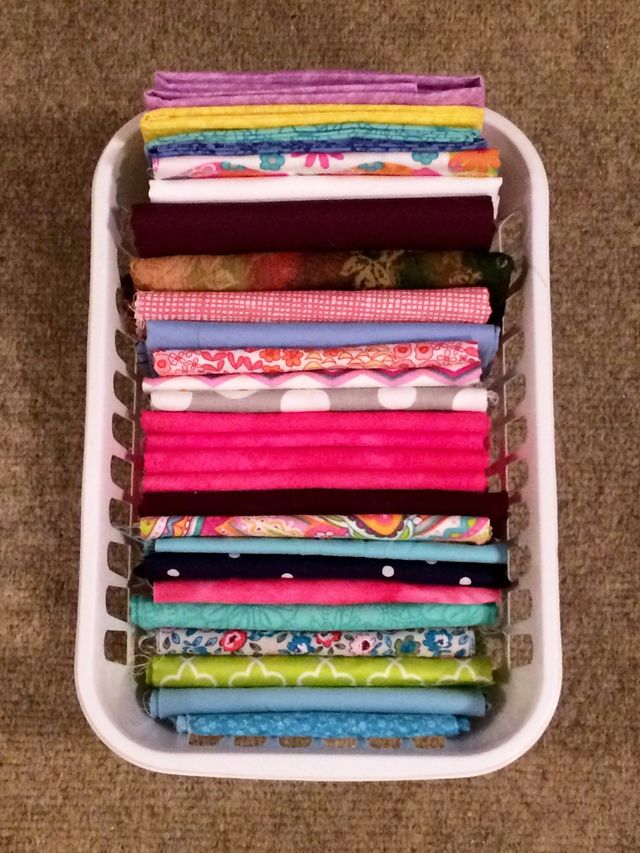 Thin fabrics are easily folded and layered in baskets or on shelves.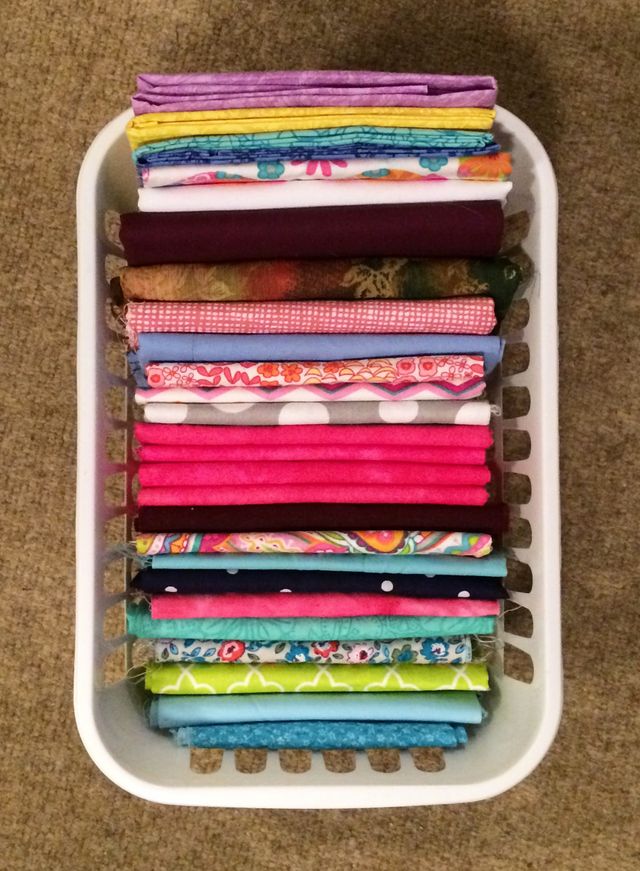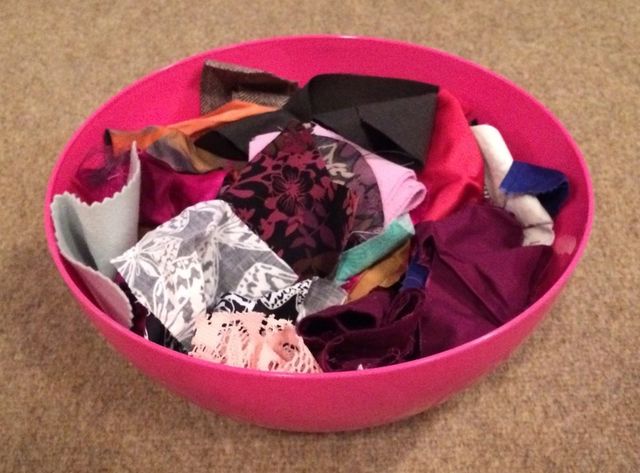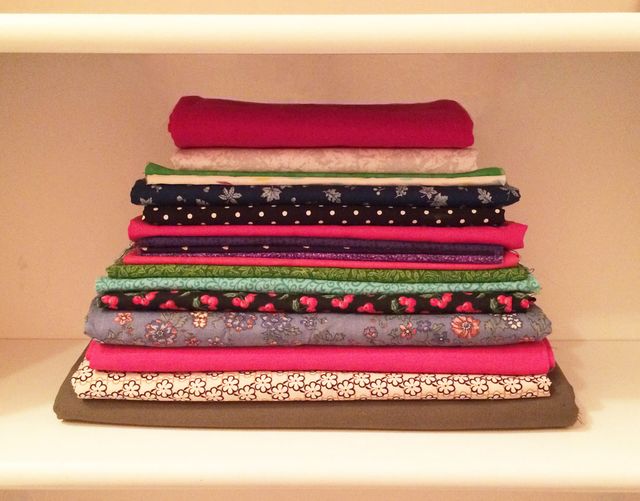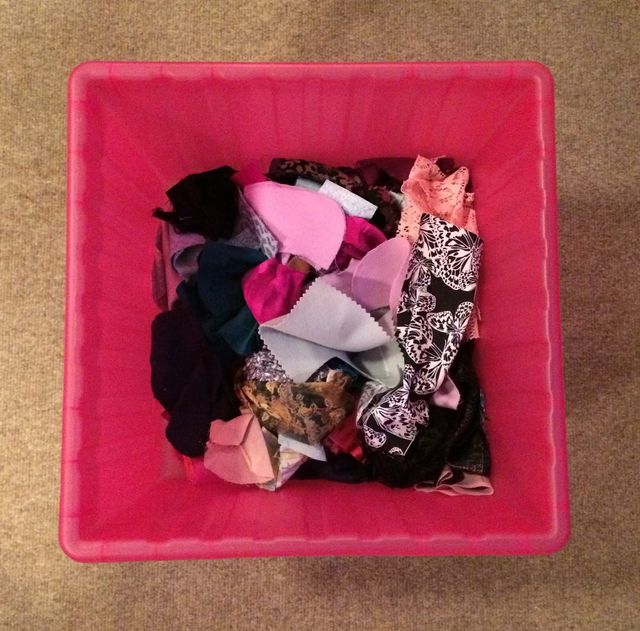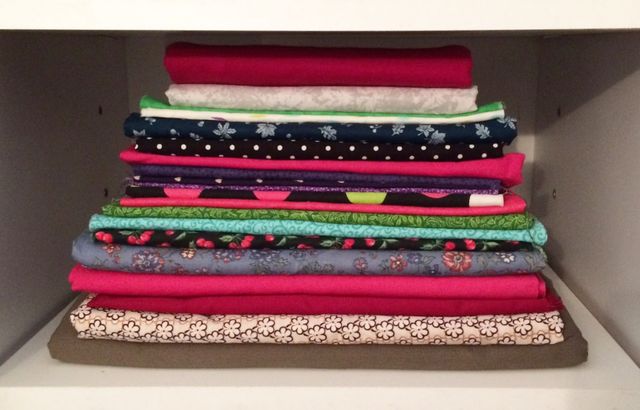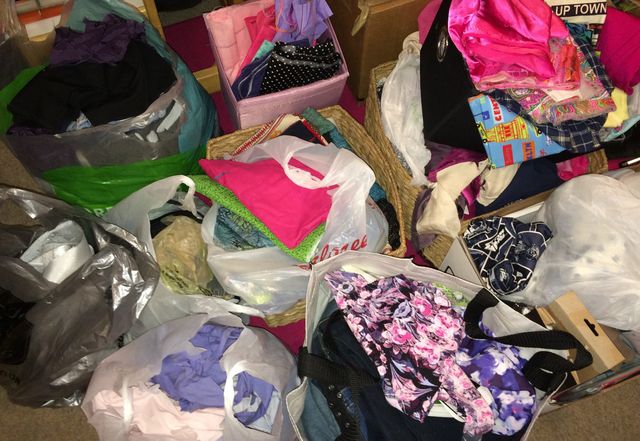 After moving into a new apartment, it was finally time to get my fabric organized.