The Wackier Words of Sewing and Fashion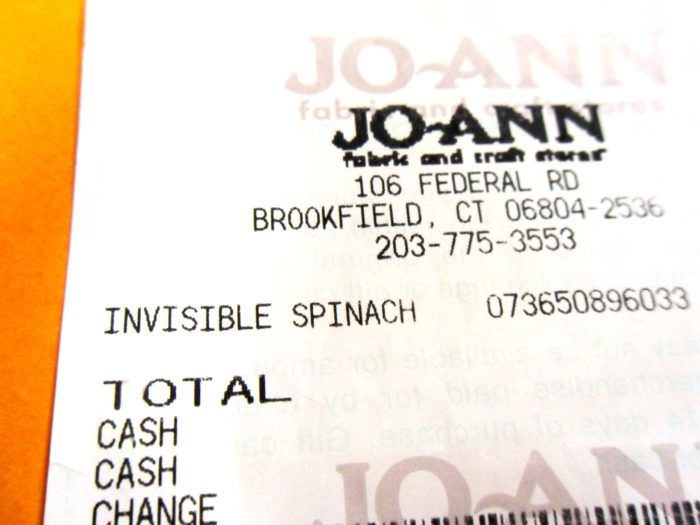 It took me a minute to figure out why I'd purchased "invisible spinach" at Joann's. Then I had to laugh.
That's just Joann's receipt shorthand for one invisible zipper, color spinach.
Every time I take a look through Fairchild's Dictionary of Fashion, I'm struck by all the weird sewing and fashion terms. They, too, make me laugh or wonder how on earth did THAT get named … THAT?
I've included below just a few words or phrases I'm curious about. Some I've found answers for, but others still puzzle me. If you know more, share! And please comment with any funny, odd, or strange sewing or fashion terms you'd like to get to the bottom of. I'm sure the Threads community can come up with the correct answers!
Albatross: Fairchild's describes this as a type of lightweight wool. I'm sure "The Rime of the Ancient Mariner" can't be the source (that albatross wasn't light!). NarrowFabricsManufacturers.com has this explanation: "So named because the texture resembles the breast of an albatross."
Bugle beads: Personally, I never thought they were shaped all that much like bugles, so it made me curious. Dictionary.com described the usage as of "obscure origin" but likely from the late 16th century and possibly linked – through Middle English and Old French – to the Late Latin "bugula" of "bugulus" for cow. Why? Apparently because cow horns were used as instruments and the word persisted through to the modern bugle horn. Whew, long journey for a simple word. The entry also included an adjective form – "bugled" means "to be ornamented with bugles."
Tailor's ham: Easy! The shape, of course, is like a big ol' ham. I just wonder if it ever had another name, before some tailor said, "Could you hand me that … pressing thing… that's shaped like a … ham?" This poor notion never had a chance. The name stuck. Wikipedia did have the interesting bit of trivia: there was a New Jersey company that sold pork rolls called "Taylor's Prepared Ham."
Ticking: I'm stumped! I know what it is, but have no idea why it's called that. If you know, please fill me in!
Worsted: According to the Reader's Digest "New Complete Guide to Sewing," it's a "Type of wool yarn and fabric in which the fibers are carded and combed to remove short fibers. Worsted have a smooth surface…" But why is it called "worsted"? According to Wikipedia, the name comes from the English village of Worstead, famous for yarn and fabric manufacturing since the 12th century.
Are there any sewing terms you've wondered how they got their name? I have to stop, but I'm intrigued by cat stitch, Belcher handkerchief, kitten heel, bodkin… the list goes on. Perhaps I can do a post in the future, with more terms and explanations from Threads readers.