Novi Report Part 2: Fashion Challenge at the American Sewing Expo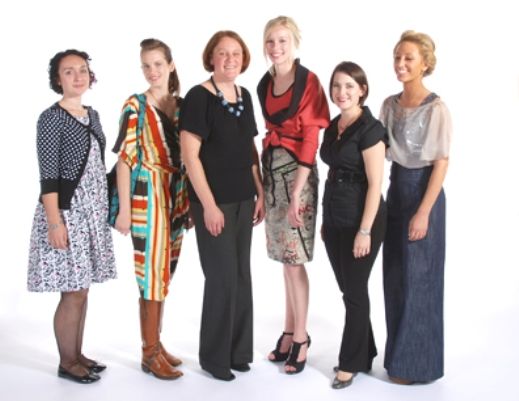 In my last post, I wrote a about what a wonderful time Associate Editor Nicole Smith and I had attending the American Sewing Expo in Novi. I ran out of room to finish with some of the most exciting information about the whole experience at Novi – the Passion for Fashion competition, in which Nicole modeled a garment by one of the three finalists.
If you're not familiar with Passion for Fashion, it's a highlight of the annual expo since 2007. The concept is similar to that of "Project Runway": competing designers are paired with a model/muse, presented with a challenge – and they're off, with a limited time to conceive and sew their designs.
Janet Pray, ASE owner and founder, asked Nicole to model when it looked as if there wouldn't be enough models to match up with the 12 competing designers. So Nicole got to participate in the whole process – from being selected by a designer (Erin Miller of Toledo, Ohio), hearing about the challenge, and walking the runway in the final fashion show, where the designs were judged by Threads Contributing Editor Kenneth D. King; Joi Mahon, the 2009 Passion for Fashion winner, owner of Dress Forms Design Studio and a spokeswoman/educator for Baby Lock; and Annie Diaz, the fashion designer for Haberman Fabrics, the store in Royal Oaks, Michigan.
The theme this year was certainly appropriate for a site so close to Detroit – 12 iconic cars. Each designer was able to select one of the unique vehicles (represented by toy versions they could display at their sewing stations in the middle of the vendor floor), then design a fashion-forward garment for the woman who would drive it.
Each designer had 30 minutes to sketch and $100 to spend on fabric and notions from vendors at the show. Their sewing time was limited – just Friday evening and most of the day on Saturday – the runway show itself was 6 p.m. Saturday. They had to sew their designs right in the middle of the vendor floor! I can't imagine concentrating under all the scrutiny, but from a spectator's standpoint, it was great to see them at work.
Erin, Nicole's designer, selected the teal 1996 Mercury Cyclone convertible – not a practical family car, that's for sure! It was a car for adventure and that's the kind of outfit she designed for Nicole. Erin created a striking geometric-print knit jumpsuit including shades of teal, yellow and brown. She made a coordinating bag, too, in the "celebrities" print from Haberman Fabrics. The black and teal home-decor print featured the silhouetted faces of famous figures such as John Lennon and Marilyn Monroe.
The cars included a NYC taxi, a Woody, a classic Mustang, even the Batmobile. I was amazed at the job all of the designers did with the challenge, time and budget allotted them. And I had to agree wholeheartedly with the judges' picks for the top three designs. Raminta Vilkiene of Livonia, Michigan came in first with a wrap jacket and graffiti-print pencil skirt, an excellent ensemble to go with a Mustang convertible. Erin came in second, with a knit jumpsuit in a big, bold retro print. It had a cross-over front, harem legs, and a draped back neck – and she made a bag to match. The boots and sunglasses in the runway photos belong to Nicole.
Jennifer Simmons of Fayetteville, Arkansas, with a sequined tank under a loose chiffon top with horizontal tucks across the front and an open draped back (framing the racer back sequined tank), plus high-waisted, full-legged pants.
All of the contestants won prize packages. For Raminta, that included the ASE New York Fashion Sewing Tour in April 2011. And Erin won a Baby Lock Imagine DX serger from Tacony – just what she needed, she told us!.
If the Passion for Fashion competition sounds like a fun challenge, it's not too early to think about entering in next year's competition. To enter you must be at least 18, and have the sewing skills to sew and fit a garment for a model. It wouldn't hurt to know how to alter a pattern, but pattern-drafting expertise isn't required. Check the ASE web site for updates on the 2011 entry postmark date and fees. Maybe we'll see you and your design on the runway next year!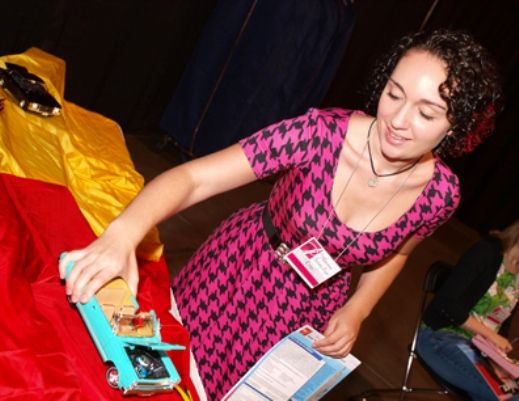 Erin Miller picks her car - a '66 Mercury Cyclone. The Passion for Fashion challenge was to make an outfit that went with the vehicle.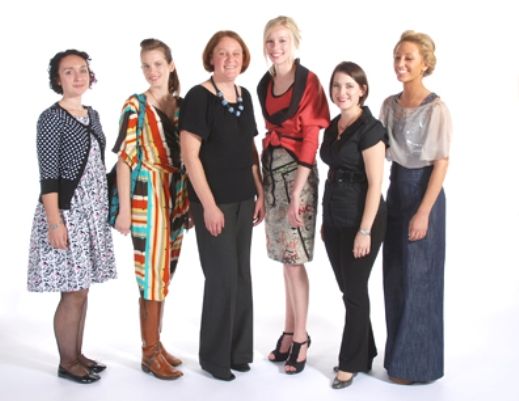 The three winning designers and their models are shown in this ASE photo: Left to right, second-place-winning designer Erin Miller and model Nicole Smith (Threads associate editor and SewStylish special issues editor); first-place winner Raminta Vilkeine and model Hayley Jensen; and third-place winner Jennifer Simmons and Andrea Hughes.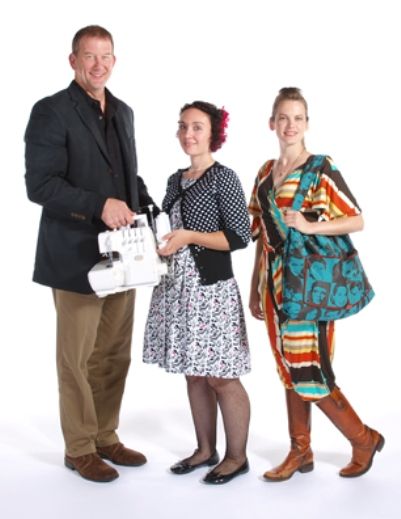 Here's Steve Jeffery, Tacony's senior vice president, sewing divisions, presenting Erin Miller with her new Baby Lock Serger. Threads Associate Editor Nicole Smith is wearing the jumpsuit and carrying the bag Erin made - an outfit meant to be perfect for setting off in a Mercury Cyclone convertible.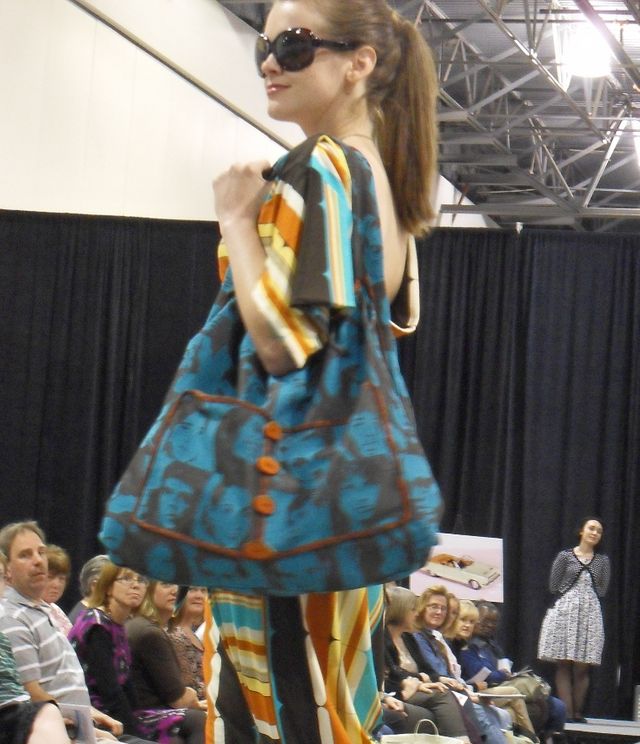 Here's a closer look at the bag Erin designed for Nicole, out of the "celebrities" fabric. I think I see Che Guevara, Malcom X, Jim Morrison, Jimi Hendrix...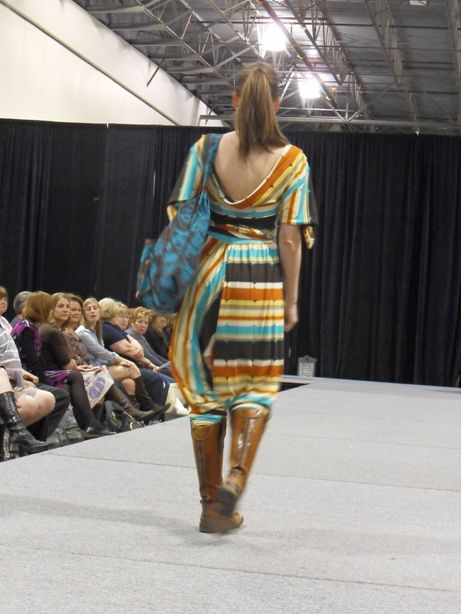 Erin's jumpsuit featured an open draped back. We didn't get to watch her through the whole process of making the garment, but she told us it was mostly formed from fabric rectangles.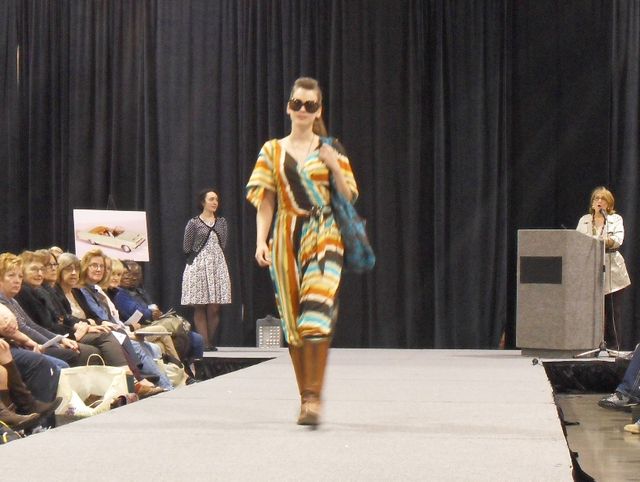 Erin watches as Nicole wears her jumpsuit - designed to complement a '66 Mercury Cyclone - on the runway during the 2010 ASE Passion for Fashion competition. Erin's design finished second out of 12.