More Sewing Misadventures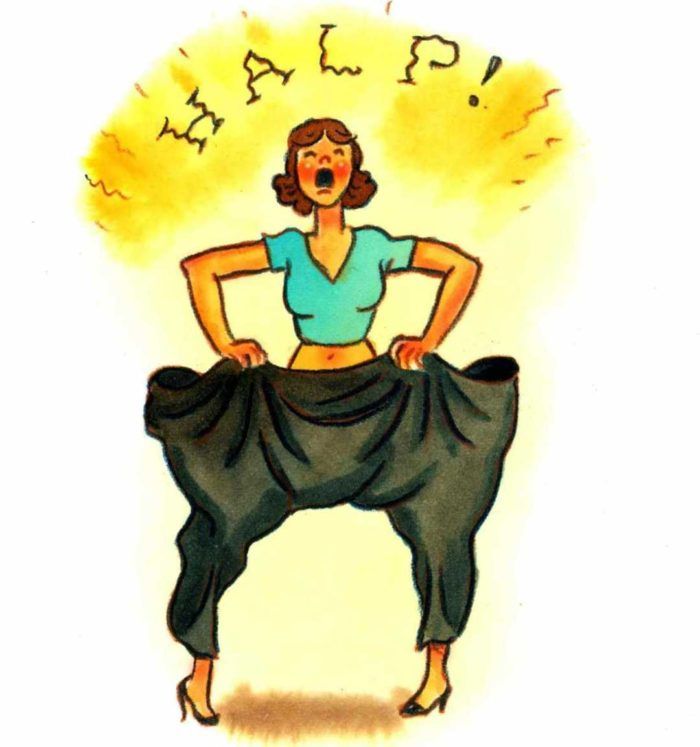 We couldn't possibly fit every funny story into "Misadventures in Sewing" for Threads no. 156. I received more tales of sewing disasters than a single feature could possibly contain! Luckily, the Threads blog allows us to share additional catastrophes – and encourage you to share your own stories here on ThreadsMagazine.com.
What was your worst sewing mishap? And how did you deal with it? We all know there's no use crying over cut fabric. And sometimes a project has to "rest" a long time before a necessary reconstruction can be faced. Then again, you can just forget any expectations (or the image on the pattern envelope) and just wear your creation anyway.
Here are a few more sewing calamity stories. I'll add more a few at a time, and I hope you'll add your own!
Zip on the flip side
"Several years ago I quickly made a pair of black linen pants. I used a very simple pattern with full legs, two darts front and back, a waist facing instead of a waistband, and a side zipper. I sewed up the side seams, leaving one side open for the zipper, basted it closed, and inserted the zipper. When I took out the basting Idiscovered I had sewn the zipper on the right side instead of the left!
I decided to leave it since it really didn't affect the appearance of the pants—it was a centered zipper—and I was sure no one would notice my error. However, I was aware of it every time I wore the pants. In fact, one time I even wore them backwards because I was so used to zipping on the left side instead of the right.
But that's not the end of it. I didn't use that pants pattern again until several years later. When I did, I remembered my zipper insertion blooper and really thought I was paying careful attention. But, lo and behold, I made the exact same mistake—this time with an invisible zipper. And, once again, I decided not to rip it out.
Yes, they're awkward to zip, but I love the style and I put a label in the back to avoid wearing them backwards. I always get a lot of compliments on those pants. Do I dare make that pattern one more time?"
—Mary Ray, a Threads contributing editor, teaches fashion design and sewing techniques. Her website is MaryRayDesigns.com.
Haste makes … fashion?
"Always short on time, and meeting a deadline , I spent hours perfecting a scalloped hem on a chiffon skirt. I finished with little time to spare, and while dressing I realized that the back of the hem was at least 5 inches longer than the front! Did I follow my rule to 'measure twice, cut once'? Nope, but after getting several compliments on the unique style realized I was the only one who REALLY knew the mishap!"
—Charlene Phillips, owner of TheSewBox.com.
Waist of time
"All excited about a new technique I had just learned, I got up early on Christmas day with just enough time to put the zipper in a skirt I was making before I had to put the turkey in the oven. My objective was to accomplish the task in less than 3 minutes. I succeeded. It was beautiful! The only problem was that I put it in the hem rather than the waistline."
—Judy Barlup teaches and writes about sewing. She's the founder of UniqueTechniques.com.
The eyes have it (Not!)

"Late one night, I was trying to finish a notepad cover by zigzagging over the edges. I broke the needle, so I took a new one from a pack I'd just bought and put it in the machine. I threaded it with fancy rayon variegated thread and started zigzagging.
Something was wrong, however. The thread kept coming out of the needle! Then I couldn't thread the needle at all. It didn't matter if I used the attached needle threader or tried it by hand. I thought I got the thread through – when I pulled on it, I'd swear it was through the eye. But when I pulled on it again – it wasn't in the eye!
I thought my 'old lady' eyes were bad. I fought this needle for 15 minutes, then screamed, turned off the machine and left it.
The next day, a friend was visiting and I asked her to thread the needle. She did, but then the same problem occurred. The thread was in the eye, then it wasn't … then it was in again, then it wasn't…
I thought I was losing my mind. 'Now I can't thread a needle?' I thought. 'Is that a sign of early Alzheimer's?'
I said to my friend, "Let's throw out that needle and get another." I went to my notions and grabbed the needle pack, which I suddenly realize has 'Handicap' on it! I really looked at a needle and saw that the eye has a small slit on one side so it can be threaded easily!
I had just bought the needles at a quilt store, from a sale bin. I only noticed the size – 90 – when I grabbed the pack."
– Linda Teufel is the founder of the Dragon Threads publishing firm (DragonThreads.com and the blog DragonThreadsOpenBook.BlogSpot.com).