What sewing skill do you want to learn next?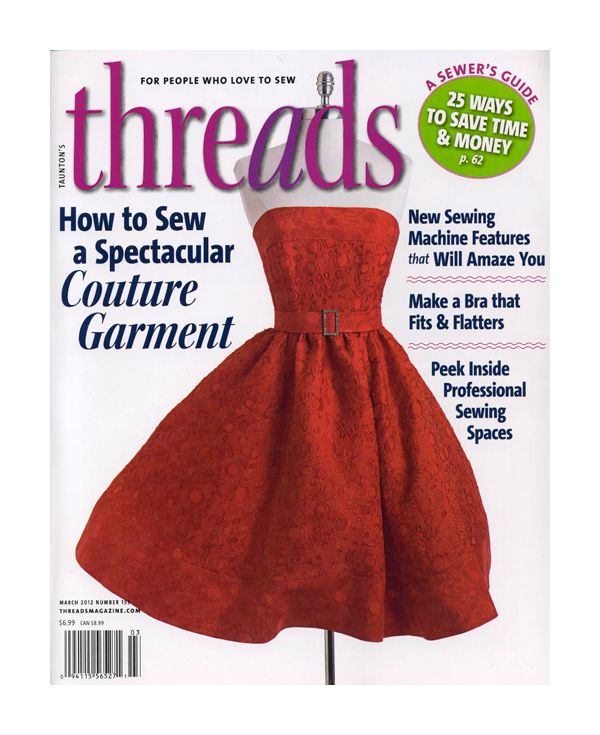 THREADS ISSUE #159 IS NOW AVAILABLE
The March 2012 issue of Threads is available on newsstands today. We asked the authors featured on the Contributors page "What sewing skill do you want to learn next?" Ruth Ciemnoczolowski, Threads associate editor Stephani Miller, Patty Robison and Ann Williamson were featured. With so many learning possibilities out there, I thought it was surprising that two of them wanted to learn more about hand-smocking, and the other two had desires that were similar to each other—one to learn the manipulation of fabric into new shapes and silhouettes (á la Alexander McQueen) and the other to learn techniques that will support structural and sculptural garment features (á la Shingo Sato).
I WOULD LIKE MY GARMENT DETAILS TO BE COUTURE
I thought long and hard about what I would most like to learn next, and it's hard to pinpoint one learning goal—I have so many! Looking at the cover of this issue helped me decide. The lead article by Susan Khalje is about couture construction. I would like to learn to improve my sewing skills so that they could be considered couture. I don't particularly like hand sewing, but so many couture techniques achieve precision because of the hand stitching used to secure fabric pieces and help provide structure. Susan makes it all seem so simple and logical. I want to learn for myself how valuable those hand stitches are so that I am able to execute them with a smile, understanding their importance. If I can produce beautiful couture garments, doing more hand stitching will be a small consolation!
WHAT WOULD YOU LIKE TO LEARN NEXT?
What sewing skill would you like to learn more about? Perhaps your comment will encourage the Threads editors to cover the topic in a future issue. Please leave a comment below with your thoughts.