Explore the Fashions of Titanic's Passengers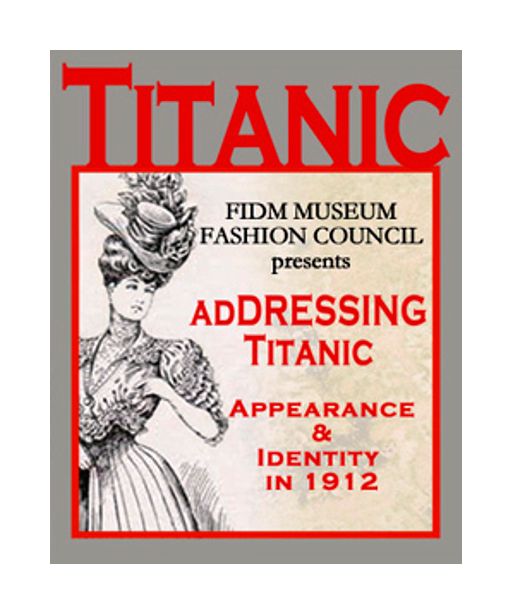 If the fashions and culture of the late Edwardian period and the tragic sinking of the luxury oceanliner Titanic in 1912 fascinate you, a lecture by Los Angeles's FIDM Museum & Galleries may be right up your alley.
"AdDRESSING Titanic: Appearance and Identity in 1912" will be held on the 100-year anniversary of Titanic's sinking-April 14-at the FIDM Orange County campus in Irvine, California, 10 a.m. – 12 p.m. FIDM Museum curator Kevin Jones will give an illustrated lecture comparing and contrasting the sartorial identities of Titanic's four passenger categories: First Class, Second Class, Steerage, and Crew. Highlights of circa 1912 fashions from the Helen Larson Historic Fashion Collection (which FIDM Museum is currently raising funds to acquire) will provide visual accompaniment. The lecture will be preceded by a champagne toast and hors d'oeuvres. Event tickets are $100 and must be purchased by April 1 via the FIDM Museum Shop.
2012 is the centennial of Titanic's sinking, which happened on April 14-15, 1912, and special events in remembrance of it will be held throughout the year.
Fashion tells us so much about how people live, from the broader aspects of their lives, such as economic status, nationality, and social class, to the more minute details of their personalities, professions, character, and aesthetic preferences. The fashions of an era also tell us about the culture itself; its society, politics, technological advancements, concepts of beauty, and expectations for the future. It's no wonder that many of us look back at the early 1900s and the time of the Titanic (or any other era) and become entranced by the glorious fashions, or fascinated by the minutiae of the social structures in place and how they dictated the directions and possibilities of people's lives. Many people involved in historical costuming, interpretation, or re-enactment aren't only captivated by the garments worn during a particular era-they're just as interested in the culture and history of the period.
Titanic, carrying people from a broad spectrum of society (cultural as well as economic), became a time capsule of sorts. Exploring the clothing worn by contemporaries of its passengers and crew offers more than a superficial glimpse at social class. It gives us the chance to explore the lives of the people who might have worn the clothes.
Do you view fashion as a key element of history and culture? What do you learn from sewing or examining garments from other eras? Will you be attending commemorative events for Titanic's centennial?