Vogue Patterns: Winter/Holiday 2013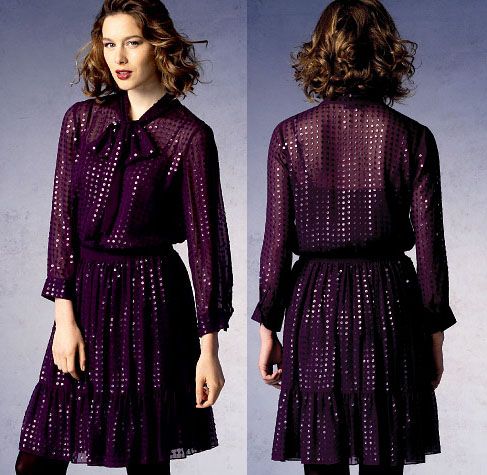 Keep warm and stylish this season with these fashionable, new patterns from Vogue!
DONNA KARAN NEW YORK
Look your best at a holiday party or special event with this flattering outfit.
Vogue pattern V1368 includes a loose-fitting shirt with a collar extending into tie ends, left front band, and a shaped hemline. The sleeves are pleated into button cuffs with a continuous lap-and-fly button closure. The skirt has a high waistband, ruffles, and an invisible side zipper. The last piece is a close-fitting, bias pullover camisole that has shoulder straps, binding, and a very narrow hem.
Suggested fabrics for these patterns are sequined chiffon, devoré velvet, silk jacquard, chiffon, crepe de chine, or china silk. Other materials needed are nine 3/8-inch buttons and snaps, an invisible zipper, and a hook and eye.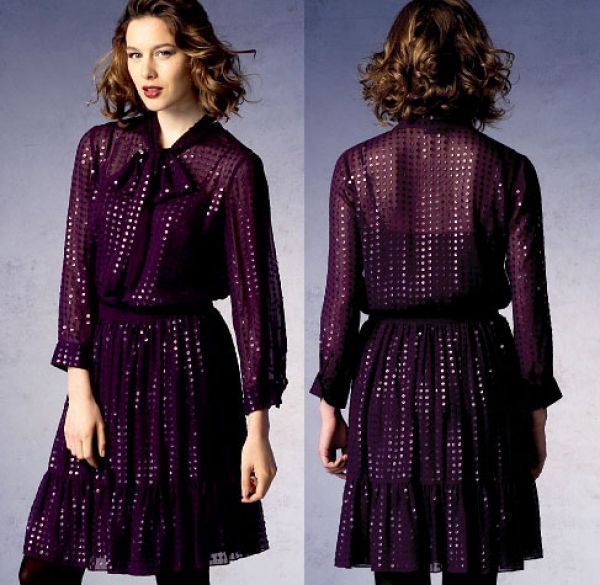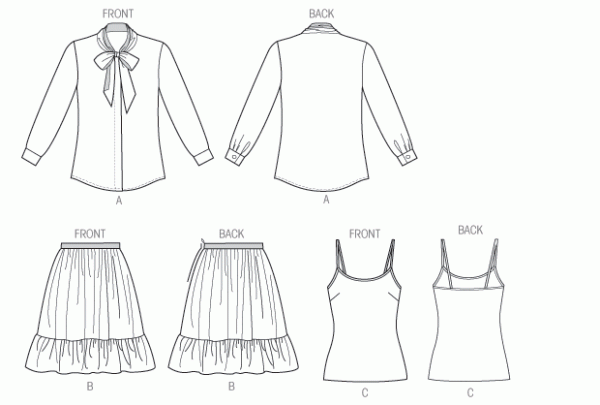 SIX DIFFERENT OUTFITS WITH ONE PATTERN
With Vogue pattern V8963, you can make yourself six different outfits: the dress, the dress and jacket, the jacket and skirt, the jacket and pants, the top and pants, and the top and skirt. That's an outfit for almost every day of the week!
The jacket is fitted, lined, has shoulder pads, princess seams, and two-piece sleeves. The bias pullover top and dress are fitted through the bust and have side-back seams and flutter sleeves. The skirt and straight-legged pants are semi-fitted with a back zipper for the skirt and a waistband and invisible side zipper for the pants.
Suggested fabrics for views A, D, and E are tropical wool crepe, or ponte knit. Also for view A, you can use sweater knits or tweeds. For views B and C, crepe-back satin or crepe de chine are best. Notions needed are one 1-inch button, a 7″ zipper, and a hook and eye for view D, and a 9-inch invisible zipper and a hook and eye for view E.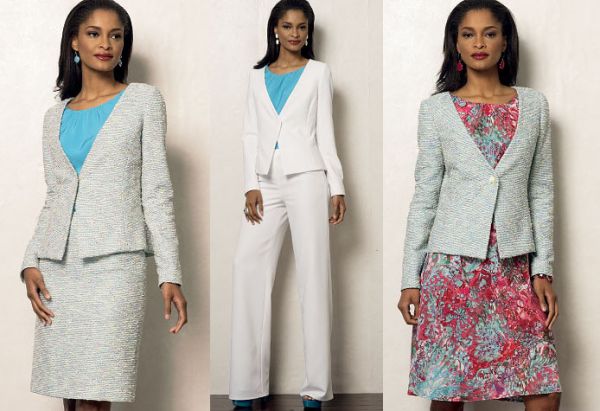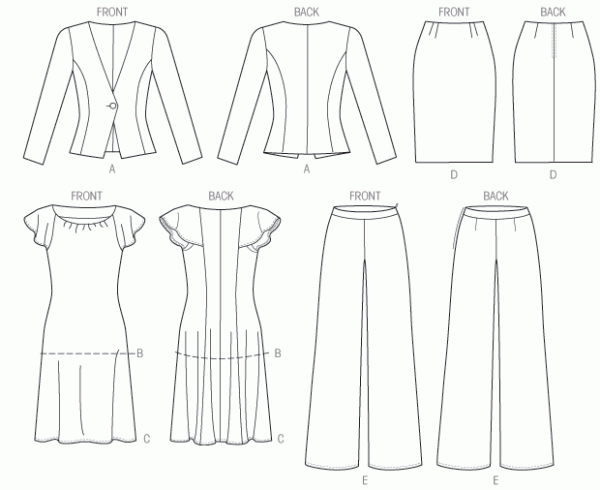 COMFORT AND STYLE
Sew yourself a comfortable new outfit with Vogue pattern V8962. This outfit would be nice for a day out shopping with friends or a day at work. Either way, you'll wear it in comfort and style.
The pullover top has a yoke back, bias back extending to side front, no side seams, and a shaped hemline with wrong sides showing. The skirt and straight-legged pants have an elasticized waist. All patterns are close-fitting and have stitched hems. Suggested fabrics for these patterns are rayon/spandex or cotton/spandex. The only notion required is 1-1/2 yards of 1-inch elastic.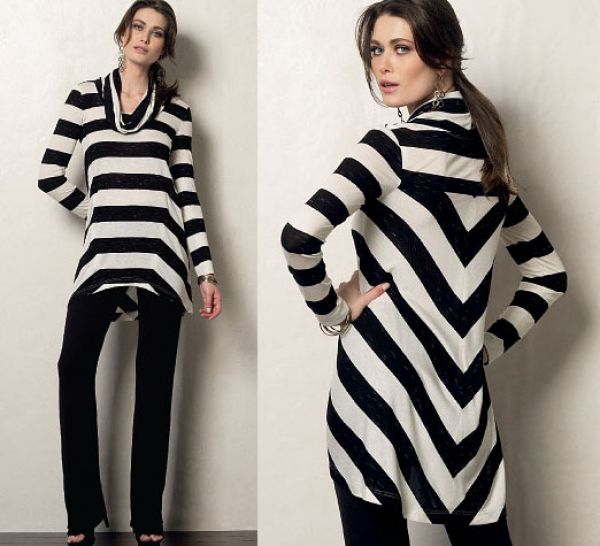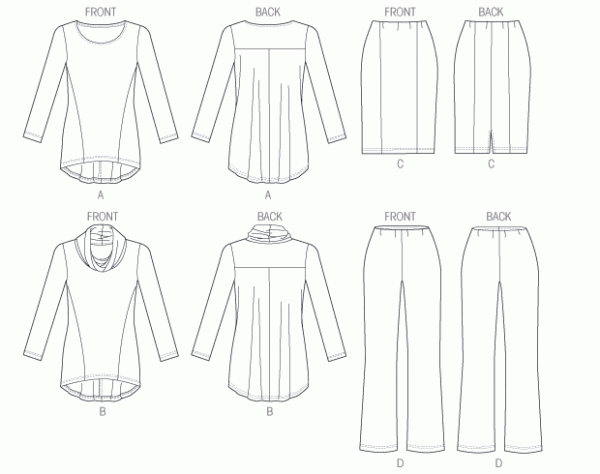 THREE STYLED SKIRTS
Stay warm this winter with Vogue pattern V8956's longer styled skirt. This skirt can be made to drape to the left or both sides. You could also make a simple pencil skirt to match your wardrobe!
This semi-fitted, wrap skirt has a button and/or hook-and-eye closing and a narrow hem. Views A, B, C, and D have a waistband and view F has tie ends. On views A, B. E, and F the sides extend into a drape and the wrong side may show.
Suggested fabrics for this pattern are wool flannel, gabardine, or crepe. Other notions needed are two hook-and-eye closures for A, B, and D, two 5/8-inch buttons for view C, and one 1/2-inch button and one hook-and-eye closure for views E and F.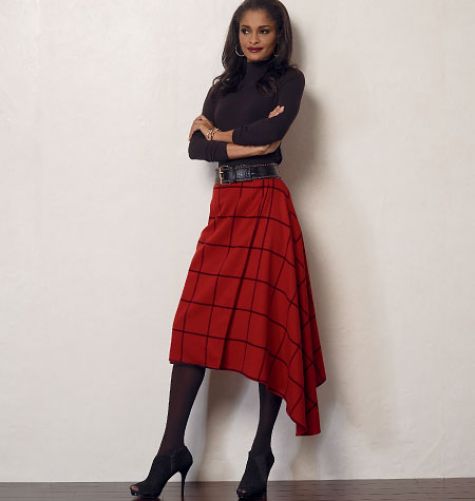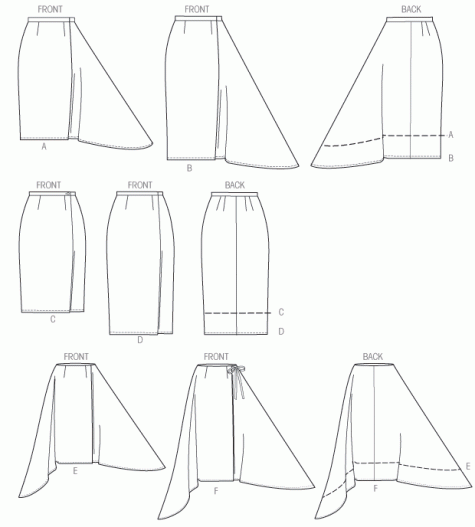 COLOR BLOCK TUNIC
Hang around the house or go out shopping with Vogue pattern V8950. This simple, color blocked t-shirt can be worn all year long with either short or long sleeves!
This semi-fitted, pullover tunic has yokes, side slits, and stitched hems. The back is longer than the front and is cut off crosswise grain. The best fabrics to use for this shirt are rayon/spandex, cotton/spandex, stretch mesh, or sheer knits.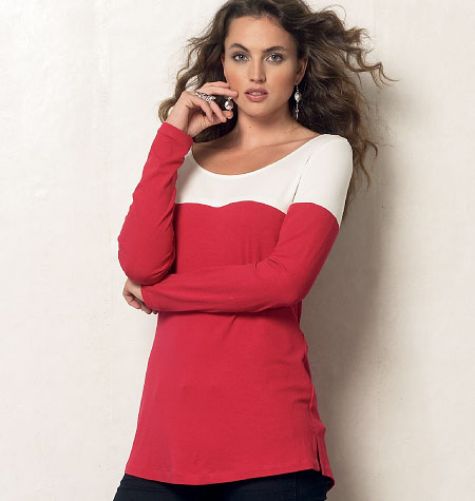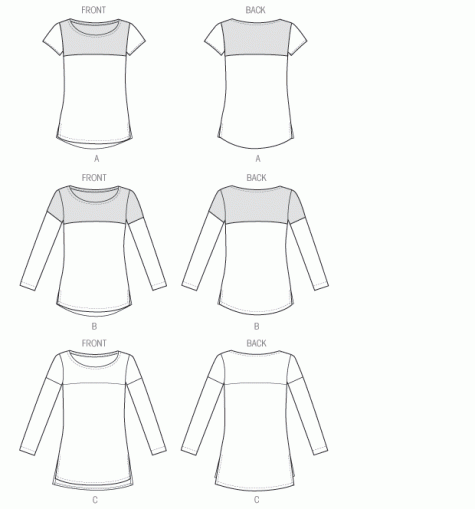 What do you plan to make this winter? We'd love to hear what you have to say, so leave a comment and have a happy winter!