SewGreen Helps Youth Build Skills and Success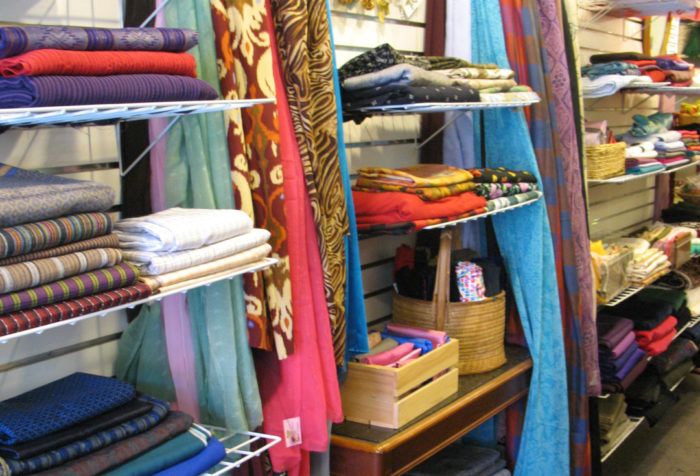 Wouldn't it be awesome if there was a fabric store in your town stocked entirely with quality, well-priced vintage materials, offering sewing classes for kids and adults, and also able to fix your well-loved old sewing machine? SewGreen, a not-for-profit, largely volunteer-based reuse and community education program in Ithaca, New York, accepts donations of sewing and knitting materials, resells them, and uses the proceeds to help support its youth sewing program.
SewGreen's mission is to mainstream the concept of sustainability in everyday practice; empower youth by helping them develop lifetime skills; and provide a welcoming learning environment for children, teens, and adults. It fills a role that is not provided by the local government or schools, according to SewGreen coordinator Wendy Skinner: landfill diversion (preventing 22 tons of materials from entering landfills in 2013) and sewing education.
Occupying four storefronts in an historic building in downtown Ithaca, SewGreen encompasses a reuse shop where yarns, fabrics, notions, and sewing tools are sold, as well as a sewing classroom, a sewing machine tune-up shop, and a studio for the organization's youth fashion apprenticeship program. The shop is close to public transportation and is within walking distance of the local high school and inner city neighborhoods, making it accessible to kids and teens who are most in need of its services.
All of SewGreen's activities revolve around education, particularly for youth. "During the school year, about 30 third- to fifth-graders, 12 middle-schoolers, and 12 teens come to weekly classes; and about one in six is a boy," says Wendy. "In the summer, we teach about 100 [day] campers."
The most important aspect of SewGreen's educational mission is its for-youth apprenticeships and jobs program for ages 14 to 21 (and not yet in college). Through these apprenticeships, young people gain lifetime skills, work towards future design and fashion careers, develop leadership qualities, and take full advantage of the safe haven that SewGreen provides for them to be creative and express themselves. Apprenticeships for the past three years served about 15 youth each school semester. SewGreen also offers internships for college students.
SewGreen's success–in diverting materials from landfills, fostering interest in reuse, and educating the next generation of home sewers and sewing professionals–makes it a viable model for anyone wishing to create a similar organization elsewhere.
"The SewGreen model is replicable, and needed," says Wendy. "We often hear from people who live in other communities that they wish something like this existed where they live."
To learn more about SewGreen, visit SewGreen.org.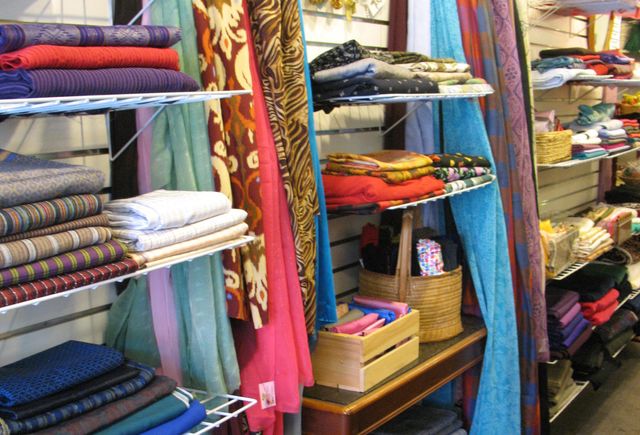 SewGreen's resale store offers an eclectic stock of vintage and contemporary fabrics and notions.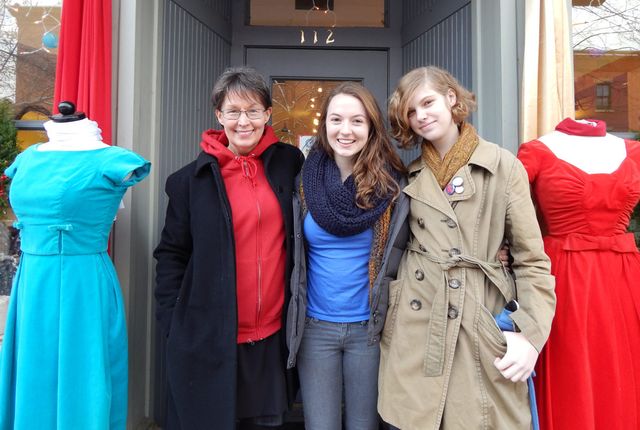 SewGreen founder Wendy Skinner and youth apprentices Nora Noone and Kathryn Barden outside the shop in Ithaca's downtown mercantile center.