Create a Foam-Cup Bra
It's easy to achieve a comfortable, custom shape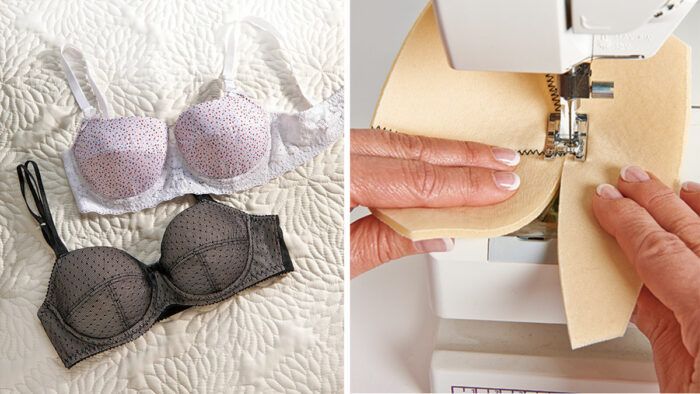 Synopsis: This article from Threads #174 (August/September 2014) by Norma Loehr will allow you to begin creating your own foam-cup bras.
---
Add a foam layer when you sew luxurious, custom-made bras for contouring and support. Pattern: author's design, available at Orange-Lingerie.com in late 2014; fabric: (top) Lycra from Merckwaerdigh, no longer available, and lace band from KantjeBoord-Amsterdam.nl; (bottom) 100-percent polyester Duoplex, BraMakersSupply.com.
Bras are easy to sew and considerably less expensive than ready-to-wear alternatives. An especially versatile type of bra I like to make is one with thin foam cups. Not only can a light foam padding be added to any lovely bra pattern to create a smooth silhouette, it can be covered with almost any fabric that is comfortable against the skin, including silk, lace, or spandex, without having to refit the bra or sacrifice support. This approach to bra-making enables you to customize bras for the look and fit you want.
The foam material I use for bra-making is called poly laminate foam (or tricot-bonded poly filler). Each sheet is 1/8 inch thick and has a tricot fabric bonded to either side. Different widths are available from the suggested list of vendors on, ranging from 28 inches to 60 inches wide, and sell for between $17 and $30 per yard. For the largest cup size, 1/3 yard of foam is recommended and should provide enough material for several bras. For smaller cup sizes, 1/4 yard is plenty.
Here's how to cut, cover, line, and finish a foam-cup bra for expert results. I use my full-frame bra pattern with a three piece cup and an underwire to demonstrate this technique. A "full frame" pattern means the bra cups are sewn into a frame that surrounds the cups. These techniques can be applied to any underwire bra pattern in which the cup is shaped by…
Start your 14-day FREE trial to access this story.
Start your FREE trial today and get instant access to this article plus access to all Threads Insider content.
Start Your Free Trial
Already an Insider? Log in