Interview with Designer Joi Mahon and Giveaway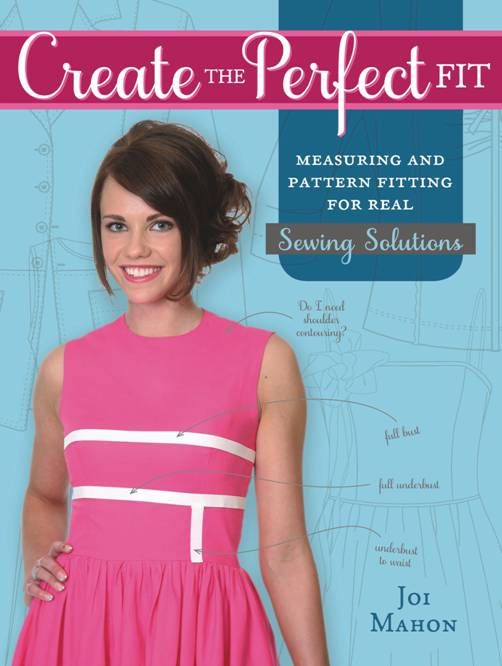 CREATE THE PERFECT FIT
Designer and popular sewing instructor Joi Mahon recently published her first book, Create the Perfect Fit (Fons & Porter, 2014). Joi, who was the audience choice winner of the 2012 Threads/ASDP Innovative Lace Challenge, also has a new pattern line for McCall's. We caught up with her for an exclusive interview revealing insider details of her latest project.
As a bonus, we're giving you the chance to win a copy of Joi's book and two of her new patterns for the McCall Pattern Company.
AN INTERVIEW WITH JOI MAHON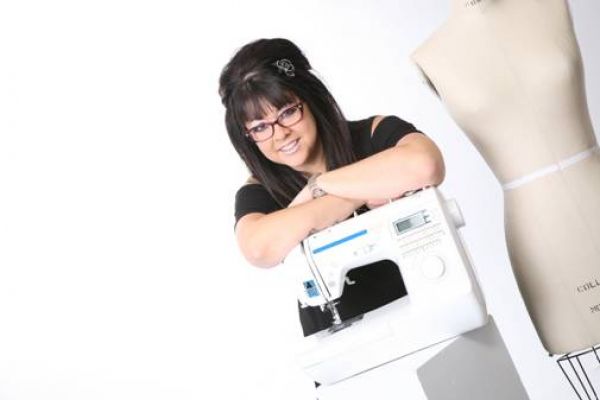 Threads Magazine (TM): What inspired you to write a measuring and fitting book?
Joi Mahon (JM): It was the natural progression in my career. I have been fitting people professionally since I was 14 while working in a tailor shop, and I have the amazing opportunity to go around the country to teach. As you can imagine, I can't see everyone in person. This makes my content more available to the masses.
TM: What makes your book stand out from other fitting books?
JM: I approach fit differently than others, but it is also different in the look and feel. I did not want another boring tissue-fitting encyclopedia of generic solutions to fitting issues that have always been done and regurgitated.
I have not read books, remembered generic solutions, but I am showing what I have done for over 20 years and what works for me. I was able to design all my art and look of the book. That was one thing I told my editor, that it has to be reflective of my aesthetic, have a clean modern look and feel. I designed color-coded pattern adjustments to match the color-coded fit samples and tabs in the book. Each image and specific body measurement in those chapters is a lesson in itself. Not every person needs every measurement, so you can go to one specific measurement that applies to you and study that.
TM: Where did you learn the techniques you demonstrate in the book?
JM: Experience. I have been fitting since I was 14, in a tailor shop. Obviously, I am more experienced now than back then, but I do this every day for clients in my studio. More often than not, as in 95 percent of the time, I use my method on people who I never see in person. That is the proof of how it works. I have college professors who teach fashion design and patternmaking ask how I can design long distance and make it fit. This is what I do. What is the process? It is looking less at a pattern as something that is going to be bad-fitting, but more looking at any pattern, any shape, and any size and being able to look at it in smaller areas of fit. Then, it is making those smaller areas match your body measurements. Measure you, measure your pattern.
TM: What is the best tip you can give readers pertaining to fitting their own clothes?
JM: Well, there are lots, but learning to use patterns differently for the body of today rather than applying old-school or outdated fitting tips to bodies of today. Those things worked years ago, but we are different now, and patterns fit different. To bring that full circle, I teach to utilize your measurements and correct a pattern prior to cutting anything. You will eliminate 99 percent of fit issues when a pattern matches your body vertically and horizontally. Fit is all polishing after that.
TM: How is the process of writing a fitting book different from teaching a class or producing a video?
JM: First of all, my absolute favorite is teaching in person because I love, most of all, answering student questions where I can elaborate and really make sure they have an answer that works. There are many ways I can explain any one part of what I teach. People learn differently, so I am aware that some sewers need analytical explanations, and others need the freedom to experiment. In a live class, I can cater an explanation toward a learning style because, contrary to popular belief, not all sewers are creative or visual. Some are very literal.
In a video, you do not have live people. You have to anticipate questions, but you are limited to time constraints so you are limited in explanations. Inevitably, you can't include some subtle details in any class. I also think people forget this when they review classes. They often want it all and are not realistic in that a video has to be very specific. So in writing a book, because I have done both video and live classes for years, I think it is a fabulous companion to those. I enjoyed every aspect of the process, and I felt it was a visual way to compile my content and being able to have written explanations and cover my most common questions in written form personally is the most rewarding.
TM: What skill level of sewer do you think would best benefit from reading your book?
JM: All skill levels. I really approach fit in a fun and easy fashion. It is funny, however, that some things that are the most difficult can often be taken easy from a student, and another very simple aspect can have a learning curve. Again, that just reflects different levels of experience and learning styles. What I find fascinating is I get three major types of students.
One, the new sewer who does not know what they are doing and are so happy they found me. I love this type because they have no reservations and are not comparing me to anything else. These students tend to have amazing results, and it is so exciting to me because I really love working with new sewers (a demographic many fit teachers turn off because many teachers make fit seem so difficult or unachievable, which I find unfortunate). There is a huge market out there wanting relatable information.
The second type of student is the older sewer who has sewn longer than I have been alive but are always searching for fit information. Their body has changed and the information out there is not giving them solutions (again because it is outdated and this demographic is dealing with the changing body). This is another rewarding group because they come to me telling me they have looked all their life for fit info that works, and they finally have solid results. I really take that to heart, and it is so rewarding to me.
The third group I run into is the middle-age group or experienced sewer who finds that I don't teach the same as everyone else, which, if I did, there would be no point in reinventing the wheel. They tend to be most critical. They can often not investigate my entire process start to finish and they make quick judgment saying it is not useful. This is the most difficult group to reach because they tend to be close-minded, which is always funny. They are wanting new fit info because it is obvious what they are doing is not working, but they are not open to a new approach. However, when I win one of these over, they are blown away. Overall, if I can work with any skeptics and they give me a chance, I can win anyone over. Plus, I am so darn passionate about teaching this.
TM: What do you think is the most difficult part of the body to fit?
JM: I really don't think there is one difficult part to fit. People often ask that because we have been so inundated with the idea that fit is hard. If you scale a pattern to match your body, then you eliminate fit issues and you just have polishing.
I don't think fit has to be hard at all. As I work with people all around the country, I see what I call "fit anxiety," which is so sad. People are so anxious about finding the right fit, and often, the things they are fretting about have very simple solutions. I think people also need someone to give them permission to customize their fit. Some sewers are used to seeing traditional pattern shapes. That is great for standard sizing and the assembly line, but when you custom-sew, pattern pieces often look slightly modified to the individual. And that is OK.
TM: When did you realize sewing was going to be a part of your life and that you had a passion for it?
JM: Forever. I grew up like many sewing when I was very young. At about sixth grade, it really clicked with me and made sense. I really think it is my gift. We all have one. This just happens to be my area. It is not hard for me. It just flows, so I felt very strongly about using it for good and helping others. I apprenticed for a tailor starting at 14 and studied fashion design in college, but I was always advanced.
TM: What was the most rewarding experience you had when creating this book?
JM: Getting the first book in the mail was pretty surreal, but I think now that it has been out a few months, it's all the feedback from my students. It is less about me and more about people having success in their sewing. I love being a part of each person's successful sewing, because we all know sewing is immensely rewarding.
TM: What was the most difficult obstacle you faced when creating this book?
JM: It really flowed, so the only obstacle was the page limit. I talk and talk and talk and have so much more detail and could have written a few more chapters. But you have to stop somewhere. On a positive note, Designer Joi's Sewing Boot Camp is my next book that is already contracted. It will be out in February 2016, and they gave me about 40 more pages. It was kind of a big deal that I got a second contract before sales numbers on this book, but they liked how I worked and my ideas, so I have no doubt book number two will be just as much fun. I get to work with the same editor. We clicked, and it is very collaborative process. Those pieces all have to mesh symbiotically to make a successful product.
YOUR CHANCE TO WIN
For a chance to win one (1) copy of Create the Perfect Fit, McCall's Designer Joi pattern M7017, and McCall's Designer Joi pattern M7025, you must leave a comment explaining what fitting issues you would like to address with the help from Joi's book. To be eligible to win, comments must be made by 11:59 p.m. EST, on October 17, 2014. The winner will be randomly selected, contacted via email, and announced during the week of October 20, 2014.