Tip: Upcycled "Tincushions"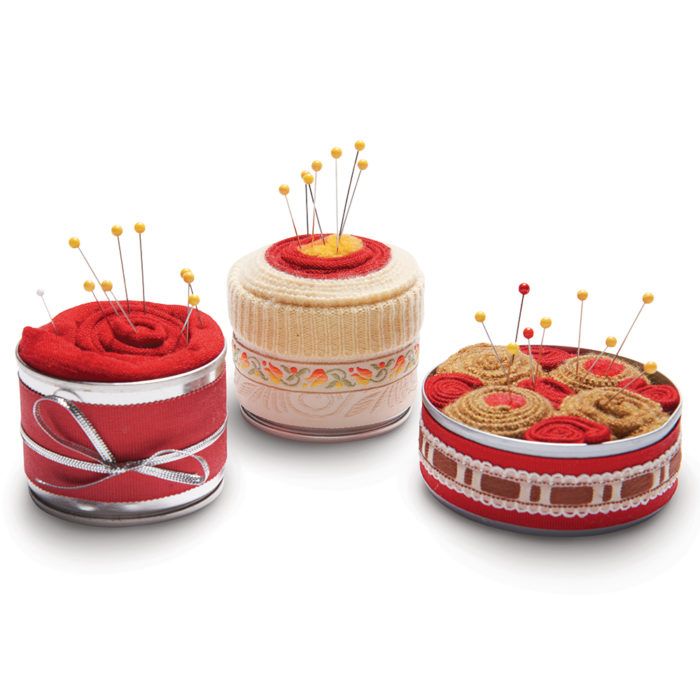 This reader-submitted tip was originally featured in Threads #181 (October/November 2015).
I've been sewing for more than 60 years and never found the perfect pincushion. Most were either too shallow or too deep, or caused my needles and pins to rust. Now I make my own.
I save small metal cans, like those from tuna. I clean them thoroughly and soak off the labels. I make the cushion part from wool sweaters-it's a great way to reuse knitwear that's been attacked by insects. I cut strips as wide as the can's depth, and roll them tightly into spirals. I then stuff them into the cans, making sure they fit snugly enough that they won't come out. You can make one large spiral, or several small ones. You can even use different colors to create an interesting design or to make separate areas for needles and pins. When you put the rolled knit strips in the can, place the edges more prone to raveling against the bottom of the can. The cans look beautiful trimmed with ribbon, lace, buttons, and bows, and make decorative and practical gifts for sewing friends who like to recycle, too.
-Carole Rothstein, Columbia, South Carolina


---
Submit your tip!
At Threads magazine, we're always on the hunt for smart tips, tricks, and solutions to help you sew smarter, better, and faster. Send us your great ideas for a chance to be featured in the magazine's Tips department.
Tips can be emailed directly to Threads or mailed to Threads Tips, P.O. Box 5506, Newtown, CT 06470.
We pay for any tips published in our magazine.